/ Source: msnbc.com contributor
In the ABC series "life as we know it," Kelly Osbourne's character Debbie's most prominent attribute is that she is, well, kinda fat.
Nobody notices her "every day is a bad-hair day" 'do, which, coupled with black eyeliner and pale skin, gives her a kind of Goth look from the neck up. Or that nobody else in school dresses like her, with pleated skirts and loud graphic tees. Or that she's the shortest member of the show's cast (except for another character's kid brother). Or that she has a high, squeaky voice (awkwardly stripped of her real-life British accent — when she can manage to hide it).
Her boyfriend, the most over-sensitive of the show's three male leads, is simultaneously attracted to her and fearful of being ridiculed for being seen with the high-density Debbie. (Forget the girl, bud; they're probably laughing at your haircut that makes you look like a guest star on "That '70s Show.")
And Debbie hangs out with some of the hottest girls on campus from whom she gets advice, not abuse. (Haven't the producers of this show ever seen "Mean Girls"?) But still, at one point in the first episode, the producers apparently realized that she wasn't looking fat enough, so in one pivotal scene, she trades in her pleated skirts for a pair of too-tight-for-anybody-in-their-right-mind jeans.
But that's just the way things are done on television, where fewer people are shocked by Penn and Teller naming their show "Bull S***" than by Kirstie Alley naming hers "Fat Actress."
By the numbers
"Fat Actress," which debuts on Showtime Monday night, is billed as a comedy/reality series, similar to Larry David's "Curb Your Enthusiasm. This redefinition of the term "reality" means the stories are based on Kirstie's real life, and are performed improvisationally, without scripts.
Thus, even with the executive contributions of the creator of "7th Heaven" and a former "Curb" producer, the full weight of the success or failure of "Fat Actress" will fall on Kirstie's shoulders. But without the focus on the fat, Kirstie's project certainly wouldn't have been the beneficiary of summer's biggest show-that-hasn't-even-gotten-out-of-pre-development hype.
It is a cliche to call any subject television's last taboo (we're still waiting for the first cannibalism show on Food Network), but obesity is high on the list of topics TV doesn't handle often and rarely handles well.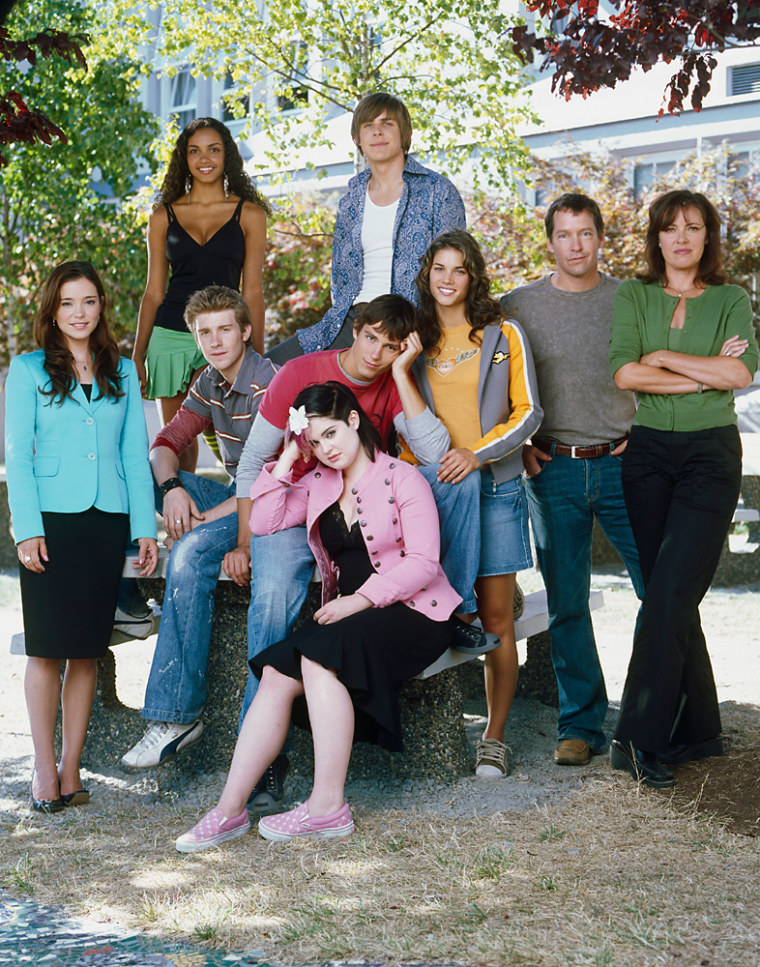 The industry either follows the lead of appearance-obsessed tabloids (Back in 2000, the Enquirer published a chart of Oprah's weight fluctuations "totaling 750 pounds") or just ignore the elephant in the room (usually, an elephant-sized male actor).
The Centers for Disease Control and Prevention defines overweight and obesity based on a body mass index calculated based on height and weight. If you're five feet tall, you're considered overweight if you're 128 pounds or over, obese at 154. If you're six feet tall, you're overweight at 184 pounds, obese at 221. (You can .)
Based on the B.M.I. for people weighed in 1999-2000, almost 65 percent of women in Kirstie's age group (45-54) were overweight, and 38 percent obese, while for men of that age, 71 percent were overweight and 30 percent obese (just like the political surveys, there's about a 4 percent margin of error).
Meanwhile, in the 12-19 group (which Kelly Osbourne will age out of this year) 15.5 percent were obese, up from 10.5 percent less than a decade earlier, and while there used to be more fat boys than fat girls, they've now pulled even.
If anyone kept statistics on the number of overweight people on TV, the numbers would be much lower. Real-life fat teenagers have just gotten used to seeing nobody like them on TV, and the producers of "life as we know it" are counting on them to relate to Debbie's weight, even if they don't see anything else in her to relate to.
Fat husband, hot wifeOf course, there is one sub-category where overweight is not underrepresented — the sitcom husband. TV's first great fat actor was Jackie Gleason, whose "Honeymooners" series with Audrey Meadows was the origin of the casting combination known as fat husband/hot wife.
That formula has proliferated widely in recent years, starting with Kevin James and Leah Remini in "King of Queens," spreading across the CBS schedule to Mark Addy and Jami Gertz in "Still Standing," to ABC with Jim Belushi and Courtney Thorne-Smith in "According to Jim." 
Back in the 1990s, John Goodman was the TV husband of Roseanne Barr (for the record, she has gone back to using that name), who tried to legitimatize the lives of the obese on her eponymous sitcom. Today, "Roseanne" is remembered more as reflecting stereotypes of fat folk as funny and low-class. It was also one of the very few series that showed the consequences of obesity, as Goodman's character, Dan Conner, suffered a heart attack at the end of the eighth season.
Dan supposedly recovered for the final year of the show. But then in the last episode Roseanne's character revealed that the whole series actually was a book she was writing, in which she had fictionalized the parts of her life she couldn't cope with, including her husband's death.
The media feeding frenzy over "Fat Actress" certainly was not unexpected. When ABC's Sara Rue comedy, "Less Than Perfect," debuted two years ago, the show's biggest buzz was that the title reportedly referred to Rue's figure.
The whole premise of the show pits Rue's character and friends (the top-heavy Sherri Shepherd, the pear-shaped Will Sasso and the never-cool-no-matter-how-thin-he-is Andy Dick) against the slim, sophisticated, impeccably dressed 'cool kids'.
In essence, "Less Than Perfect" is a supposedly-adult-world version of the 1980s high-school comedy "Square Pegs," which starred Amy Linker, who wore padding to make her look heavier than Kelly Osbourne, and Sarah Jessica Parker, who wore thick glasses she didn't need. Guess which one of those actresses went on to star on "Sex and the City."
Here's to the losersWhile many performers gradually gain weight as they grow older, others lose weight and attempt to change their images. After Oprah's first public weight loss, Ricki Lake dropped more than 100 pounds and started her own talk show. 
Al Roker's significant weight loss hasn't kept him from continuing to host shows on Food Network (I suspect the channel has a new rule requiring all hosts to be smaller than Emeril). And after having her stomach stapled, Roseanne is now at the slimmest of her public life, but it's unclear whether the health problems that stopped her comeback project last year (a cooking/reality show combination — don't ask) were caused by her weight or her weight loss.
But celebrity weight-losers are not always rewarded for their self-improvement. At more than 300 pounds, Wayne Knight grabbed a lot of impressive comedic roles, from the evil mailman Newman on "Seinfeld" to Kristen Johnston's wacky love interest in "Third Rock from the Sun" (a classic example of "fat boyfriend/alien girlfriend"). But since his well-publicized weight loss, he's gotten only two guest roles on canceled sitcoms ("I'm With Her" and "Drew Carey"), and is the lead voice on an upcoming Nickelodeon cartoon.
While many large actors are comfortable with their weight, nobody wants to be considered a "typical" fat actor or actress. Which is why, as part of the publicity for "Fat Actress," Kirstie Alley insists that the tabloids had badly overestimated her weight (she says 203, they said up to 310) and that she doesn't overeat because of anxiety or unhappiness.
"When I'm really upset about something, I don't eat," Alley said. "If I'm really happy, then I live my life like it's Christmas vacation."
Which, ironically, means that if things don't go well with "Fat Actress", she might lose more than the show... she might lose a lot of weight.  
Disclaimer: The author of this piece currently outweighs most of the "fat" celebrities mentioned herein, and is not particularly proud of it. Please take that into account when you write your angry emails. 
is the online alias of a writer from Southern California