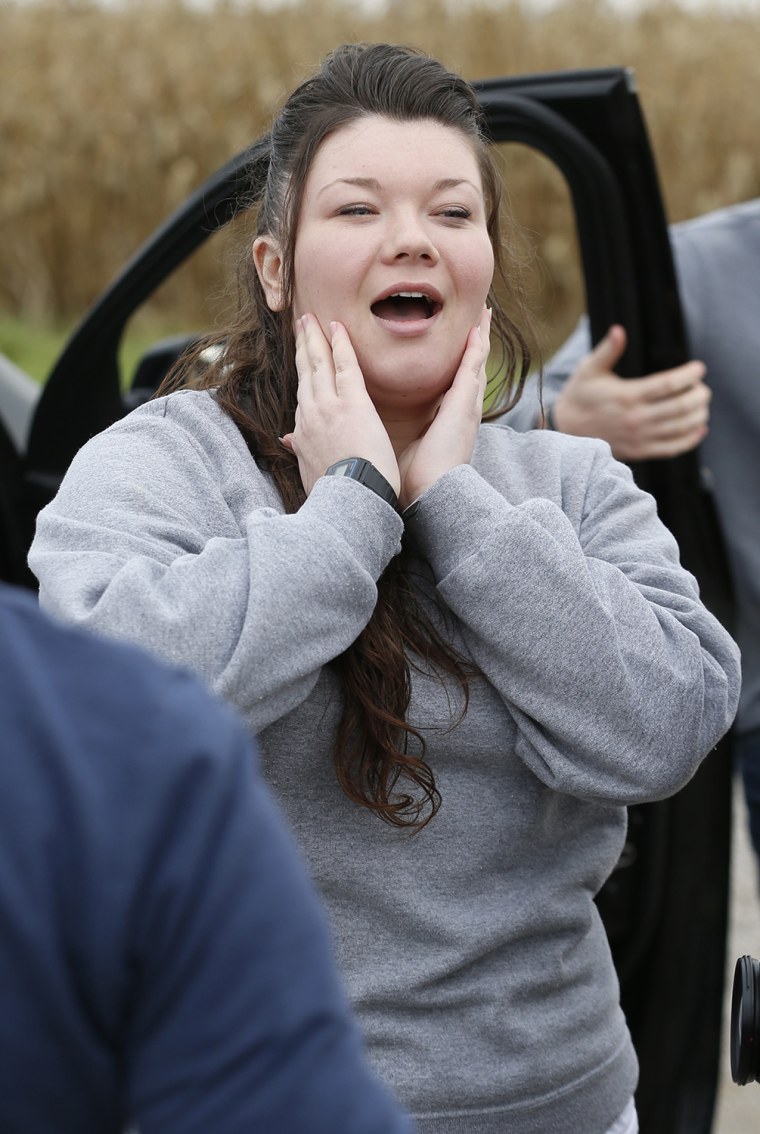 Amber Portwood is officially a free woman. The "Teen Mom" star was released from the Rockville Correctional Facility around 11 a.m. Monday, Douglas S. Garrison, chief communications officer of the Indiana Department of Correction, confirmed to TODAY.
"She was released today and she'll be going on parole," he said of the MTV reality star, who, in June 2012, was sentenced to five years behind bars. "Each parolee has a number of stipulations, and she may have to check in with her parole officer a couple times a month, possibly every week. That could last up to a year or so."
Garrison said that Portwood will also need to find employment and submit to random drug testing to satisfy the requirements of her parole. 
To avoid media attention, Portwood was sent out a back exit, but her release still drew a crowd to the prison.
"I think there were some people that took an interest (in her release), but as far as I know it was fairly standard," Garrison said.
Portwood's brother, Shawn, said he would be heading to Indiana to welcome his sister home.
Portwood, who first shot to reality TV fame in 2009 when she starred on the first season of "16 and Pregnant" and later starred on its "Teen Mom" spin-off, came under fire when she was shown punching and kicking her daughter's father, Gary Shirley, in an 2010 episode of the show. 
The reality personality was arrested for domestic battery and was placed on probation. She later violated the terms of her probation when she was found to be in possession of a controlled substance. After opting out of drug court, which she had been ordered to complete, Portwood was sentenced to five years in prison.
"I actually said to the judge, 'Send me to prison,' which is weird but I did," Portwood told Dr. Drew Pinsky during the October 2011 MTV special "Amber Behind Bars."
"I knew, and I don't know how, but I knew that I was going to die (if I didn't go to prison)," she told Pinsky.
Neither Shirley nor Portwood's lawyer, Evan Broderick, have responded to requests for comment.
Portwood, now 23, has really turned her life around, according to her brother.
"She's really grown and matured — she completed her drug rehab, got her G.E.D., she completed parenting classes, and she became the administrator of the CLIFF program, which helps inmates get sober," Shawn Portwood recently told OK! Magazine.
He recently shared his excitement about his sister's early release.