Oscar night is always emotional for Hollywood's finest as they're honored by their peers. But at the 87th Annual Academy Awards, the tears and cheers weren't limited to those accepting the gold statuettes.
Those emotions spilled off the stage and right into the audience, making a night full of memorable moments even more memorable.
Speech! Speech!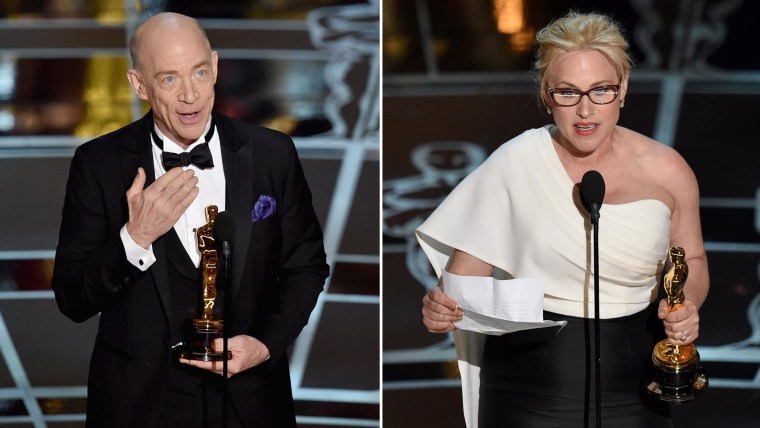 Best supporting actress Patricia Arquette won early in the evening Sunday, but when she hit the stage what she delivered wasn't a simple thank-you speech. She announced that it was time for "wage equality" and "equal rights for women in the United States of America," and she got raves from the audience — especially Oscar odd couple Meryl Streep and Jennifer Lopez, who were seated next to each other.
And then there were the were folks who just wouldn't be played off the stage (like Pawel Pawlikowski, who won the best foreign film Oscar for "Ida" and kept talking despite being given his musical cue) and those like supporting actor winner J.K. Simmons, who gave a good portion of his speech to entreating everyone to get in touch with their parents ("call your mom, call your dad, if you are lucky enough to have a parent alive on this planet").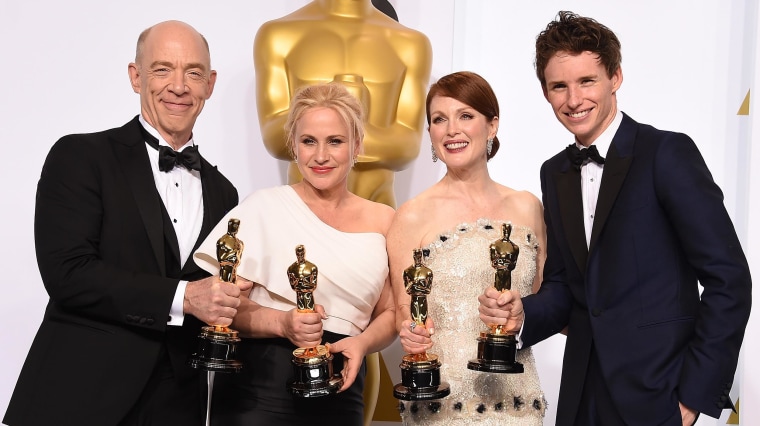 Screenplay winner Graham Moore ("Imitation Game") dedicated his speech to the memory of "Imitation" subject Alan Turing, who was persecuted and prosecuted for being gay. Moore announced that when he was 16 he tried to commit suicide because he felt "weird" and "different" and encouraged kids who felt the same way to understand that they do fit in and have a place in the world.
Who won? Who lost? Check out our list of all the 2015 Oscar winners!
Glorious
If speeches like those didn't have the tears flowing (and they certainly did), then John Legend and Common would have more than made up for the waterworks with their bring-down-the-house rendition of best song winner "Glory," from the film "Selma."
Images from the Selma-to-Montgomery march and of march leader Martin Luther King, Jr. played out behind them, as a growing chorus joined the stage. By the time the powerful performance was over, the audience was out of their seats applauding and "Selma" lead David Oyelowo had tears streaming down his face.
And the winner is....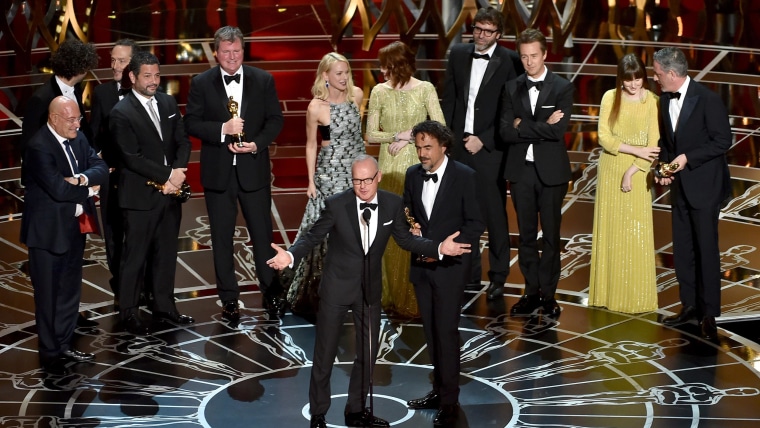 Another reaction that set the tone of the evening was surprise. For some, "Birdman or (The Unexpected Virtue of Ignorance)" was a unexpected choice to win best picture; for others (particularly after Alejandro G. Iñárritu won for best director) it wasn't exactly a stunner.
But presenter Sean Penn put a highly controversial twist on the announcement of that win, pausing an extra beat before reading the name, then joking, "Who gave this son of a b***h his green card?" (a reference to Iñárritu, who is from Mexico) before announcing "Birdman" as the winner.
How'd Neil Patrick Harris do?
Neil Patrick Harris is the king of awards show hosting, but in his first-ever shot at the Academy Awards, his routine was uneven when it came to getting big reactions. He kicked things off with an edgy joke, launched into a love song about movie magic, and took to the seats to banter with celebs and seatfillers alike, some jokes drawing more laughs than others. Be sure to check out our full report here!
Boxed in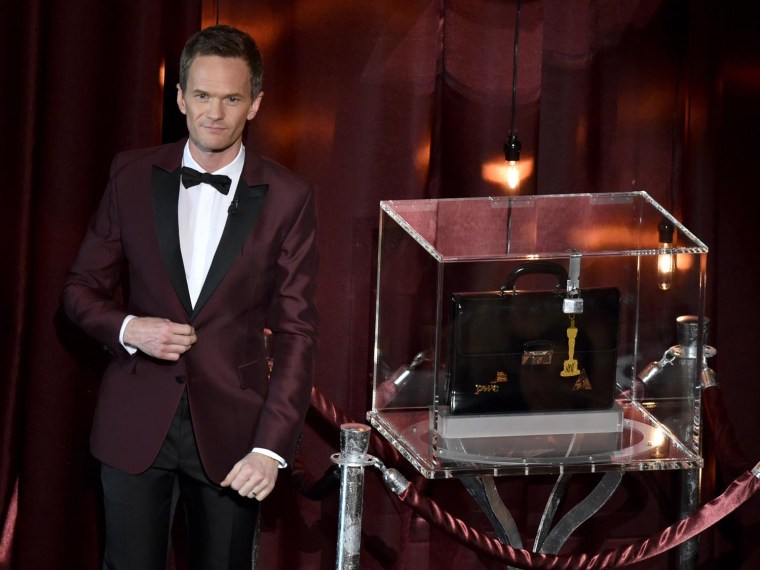 Harris is an actor, a song-and-dance man and a magician in his spare time, and all of that came in handy for one of his best bits.
When he asked audience member Octavia Spencer to keep an eye on a clear box onstage that held a briefcase allegedly containing Harris' predictions for Oscar winners, we were intrigued. It also had the air of a long lead-up for a big magic reveal. But the longer the wait went on, the more the joke began to turn into something else, as #FreeOctavia hashtags and jokes began cropping up (like the one below from actor Wil Wheaton):
So what was the result of all of that box watching? A well-done magic trick — Harris's "predictions" weren't just about who he thought would win, but what would happen on stage through the whole ceremony. How did he do it? Magic. Of course!
We remember you!
It's hard to do an In Memoriam segment and not miss someone — but the omission of Joan Rivers from Sunday night's list of talents lost in the previous year sent fans into a Twitter tizzy. A statement from the Academy given to The Hollywood Reporter about the omission read simply, "Joan Rivers is among the many worthy artists and filmmakers we were unfortunately unable to feature in the In Memoriam segment of this year's Oscar show. She is, however, included in our In Memoriam gallery on Oscar.com."
Adele Dazeem and Glom Gazingo, together at last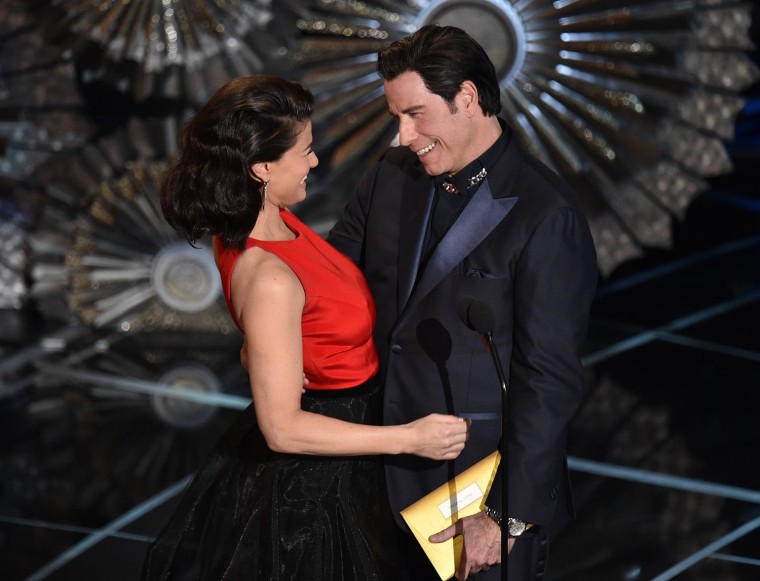 One of last year's most memorably wacky moments came when John Travolta gloriously mangled Idina Menzel's name just before she came out on stage to sing "Let It Go" from "Frozen." Well, this time around, Nazim — er — Menzel, got even by purposefully introducing him as "Glom Gazingo."
But Travolta still managed to overshadow her when it came to memorable behavior for the night. He was, after all, very hands-on with the star — as in, hands on her face.
The actor's awkward physical gestures even made it into Harris' aforementioned box of predictions: "Travolta will be back again next year," the host said, "to apologize to Idina for all the face touching."
Well, we'll all just have to tune in next year to see for ourselves.