A sold-out Arrowhead Stadium will be rocking for a Super Bowl rematch on Monday Night Football between the Kansas City Chiefs and the Philadelphia Eagles, but a certain internationally famous fan of both teams will not be among the crowd.
Taylor Swift fans were hopeful she would be there in her Chiefs gear on Nov. 20 watching her boyfriend, Chiefs All-Pro tight end Travis Kelce, and his brother, Eagles All-Pro center Jason Kelce, as their teams square off in a huge regular-season showdown. Unfortunately, a change in her tour plans means the "Karma" singer cannot make an appearance.
After postponing her "Eras Tour" performance in Rio de Janeiro, Brazil, on Nov. 18, Swift rescheduled the concert for Nov. 20. Because Rio de Janeiro and Kansas City have just a three-hour time difference, it would be impossible for the singer to be there Monday night. Not even Taylor Swift can bend time.
Fans were awaiting Swift's possible appearance because, ever since she started dating Travis Kelce, she's been showing up to his games and cheering him on from a luxury box. So far, Swift has been to three Kansas City games, most recently their win over the Denver Broncos on Oct. 12.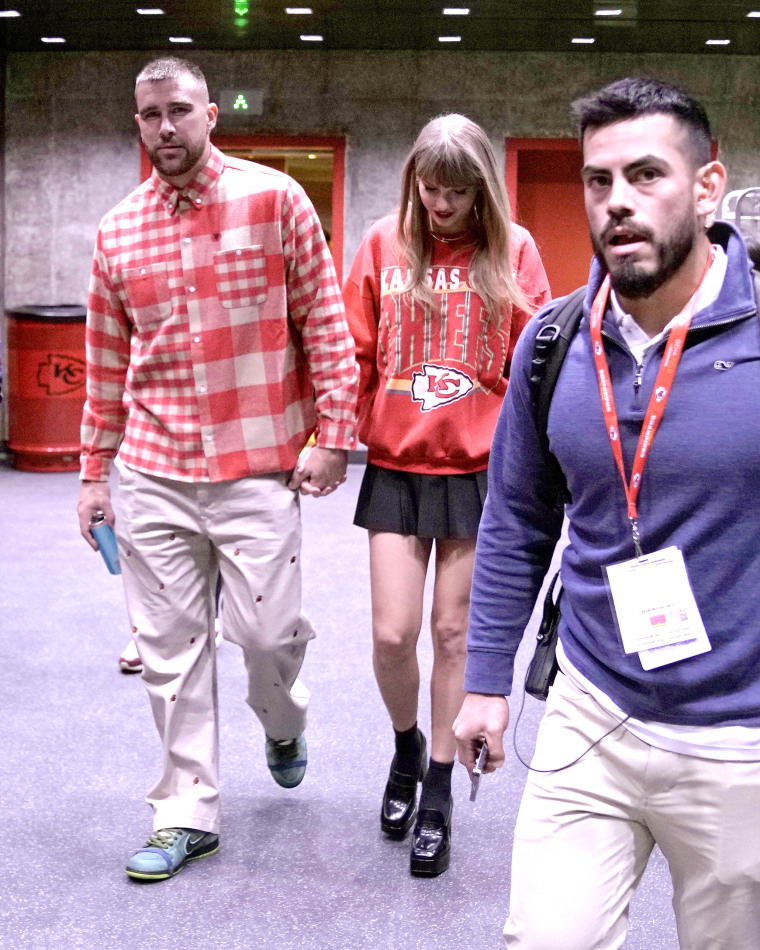 The Chiefs were probably hoping the "Blank Space" singer could make it considering they are undefeated at games where Swift has been in the house. Kelce has also played his best games of the season with her watching in person.
Monday's game is a rematch of last season's Super Bowl in which the Chiefs came away with a thrilling 38-35 victory. The burgeoning rivalry between two teams that play in separate conferences features all kinds of connections, including Swift's allegiances to both teams, the Kelce brothers, and Chiefs head coach Andy Reid, who previously coached the Eagles.
A Philadelphia radio station even temporarily banned the playing of Swift's music starting on Nov. 17 leading up to the game.
To promote the upcoming game, the official Instagram account for the Chiefs posted some photos of the Kelce brothers together, and in the comments, fans said they couldn't wait for Swift to make an appearance.
"As long as Taylor Swift comes to the game, lol," one person wrote with three crying-laughing emoji.
Another said, "I can't wait to see Taylor!! And you guys," adding a smiley face emoji.
A third added, "The Swifties will be our secret weapon to get this win," with three fire emoji.
Aside from the Kelce brothers showdown, the game was expected to show where Swift's support truly lies — although maybe she'll be cheering from Brazil.
The "Karma" singer notably grew up an Eagles fan in Pennsylvania and hasn't been shy about being faithful to her roots. During an "Eras Tour" concert in May, Swift confirmed that the "Eagles" mention in her 2020 song, "Gold Rush," was in reference to the team.
The West Reading, Pennsylvania, native clarified that the T-shirt in question during the line, "With my Eagles t-shirt hanging from the door," was paying tribute to the football team — and not the classic rock act.
"Guys, like, c'mon. I'm from Philly. Of course it's the team," she told the crowd at Lincoln Financial Field in Philadelphia in a video shared by the NFL.
Swift has also been known to wear a custom Eagles jersey in the past, according to ESPN.
Despite her allegiance to the Chiefs now, the Eagles still seem to claim Swift as one of their own, including her among the crowd of Philadelphia icons on the cover of "A Philly Special Christmas Special."
When asked if Swift's loyalty shift to Kansas City has been a sting for the Eagles, the team's quarterback Jalen Hurts told TODAY.com that he understands her decision.
"It's nothing personal," he said, with a laugh. "I'm just focused on winning games. Nothing else really matters."
The first game that Swift attended was the Chiefs matchup against the Chicago Bears. For the Sept. 24 game, Swift wore a red and white jacket and she also sported her signature red lipstick when she cheered on Kelce alongside his mother, Donna Kelce.
Then, on Oct. 1, Swift attended her second Chiefs game, where she saw the team play against the New York Jets at MetLife Stadium in East Rutherford, New Jersey.
At the event, Swift was spotted with an entourage of famous friends, including Ryan Reynolds, Blake Lively, Sophie Turner, Hugh Jackman and more. Then, before the game, she was seen grabbing a bite to eat with her girlfriends, including Brittany Mahomes, who's married to Chiefs quarterback Patrick Mahomes.
The last game that Swift attended was the Chiefs matchup against the Denver Broncos. During the game, Swift was photographed chatting with Travis Kelce's mom, who sported a TODAY friendship bracelet, alongside her husband.