People magazine is celebrating its 40th year, and to mark the occasion the iconic weekly has re-created its very first cover, which featured actress Mia Farrow, by using a new shot of singer Taylor Swift.
Wearing a white blouse and clutching a string of pearls in her teeth, Swift strikes a nearly identical pose to the one Farrow employed on People's cover on March 4, 1974.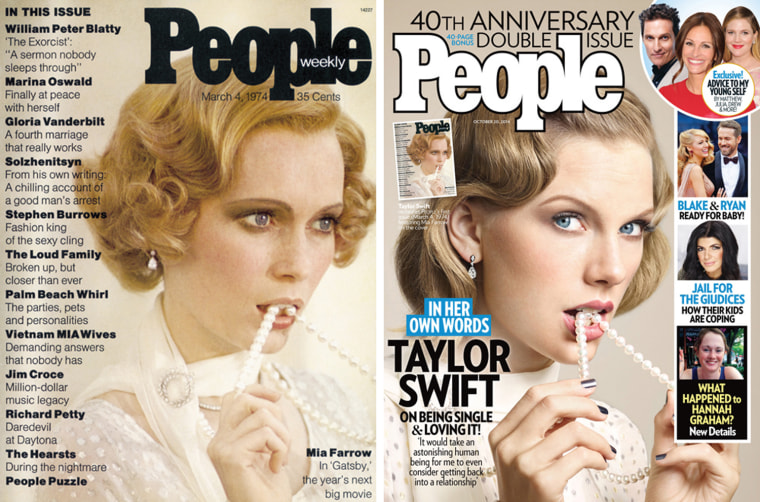 The 69-year-old Farrow was 29 at the time and was starring in "The Great Gatsby" alongside Robert Redford. Her cover blurb called the film "the year's next big movie." Other headlines teased stories on the "fourth marriage that really works" for Gloria Vanderbilt, and Richard Petty as the "daredevil at Daytona." The issue cost 35 cents.
Swift, 24, graces her double issue cover next to a headline that teases, in her own words, how she is "single and loving it!" Swift shares the cover with new teases about Blake Lively and Ryan Reynolds who are "ready for baby!" and Teresa Giudice, who is headed to jail. The newsstand price is $4.99.
Inside the mag, the "Shake It Off" singer reveals her current take on matters of the heart, saying, "I used to be fascinated by romance. Now I'm more realistic." 
Also inside, more photo recreations take aim at some famous film duos. Seth Meyers and Andy Samberg re-create 1982's "E.T. The Extra-Terrestrial" — with Samberg as the lovable alien. Television legends Betty White and Bob Newhart take on 1994's "Pulp Fiction." And the magazine recasts "Thelma & Louise" with funny women Sarah Silverman and Chelsea Handler. 
The issue also takes focuses on Hollywood's next generation of famous faces with a rundown of 40 rising stars, including Kiernan Shipka, Meghan Trainor and Billy Magnussen.
In its 40 years of covering big stars and ordinary newsmakers, the biggest seller for People was after Sept. 11, 2001, when the magazine scrapped what it had planned and redid the entire issue in 24 hours for the newsstands. 
Princess Diana tops the list of celebrities featured on the cover with 57 appearances over the years. The 40th anniversary issue will feature Diana in a "poised princesses then and now" item, with a look back at her and look ahead at her daughter-in-law, Duchess Kate.
Follow Kurt Schlosser on Google+