Fans around the world are remembering Prince, who died Thursday at the age of 57. Some are mourning the loss of a cultural icon — for others, a groundbreaking musician. But TODAY's Tamron Hall is missing her friend.
"I'm a lucky person that I have had a friend like this. But it is not lost on me that he was much more than music and I think that people know that," she told Craig Melvin for MSNBC.
Tamron said that he and Prince came to be friend after the musical icon reached out to her years ago. "We just bonded over his interest in news, his interest in family," she said. "It just turned into what was one of the most incredible relationships of my life," she added. "I'm a lucky person that I have had a friend like this."
After the news of the music icon's death broke Thursday, Tamron shared her condolences on social media.
"When I tweeted out that I have lost one of my best friends, that was not something that I ever imagined I would say," she said.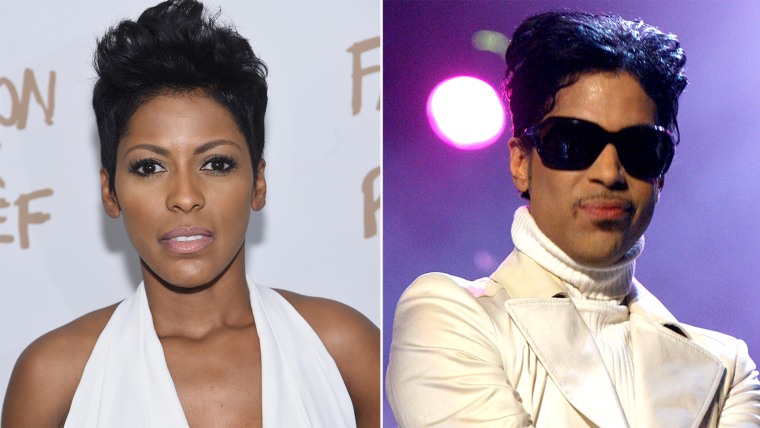 WATCH: Tamron Hall discuss her friendship with Prince
It was a sentiment the TODAY's Take host shared with the TODAY family on Friday as Willie Geist shared a message from Tamron on the show:
"We talked for hours Monday and I said he did not sound sick. He assured me he was okay. All Saturday he kept saying he was fine and asked me to come to Paisley to see his new piano and for a fan party. I was working and didn't go. Monday, we exchanged emails after I sent him a video from a restaurant playing a song. I talked about how he was everywhere I go. It was a sweet moment and I had no idea it would be our last time talking. I never imagined it."
RELATED: L.A. Reid reflects on Prince's 'genius,' says 'he was the greatest at everything'
"The only other person I spoke with more than Prince is my mother. This the person I communicate with more than anyone," she said.
Their friendship was a fun topic during the TODAY's Take throughout the past year.
In November 2015, Prince picked a selfie of Tamron as the cover for his love song "If I Could Get Ur Attention."
And as treat, last September, Tamron surprised TODAY's Take with a phone call from Prince.
RELATED: Remembering Prince: 5 reasons the music legend was one of a kind
But there were many facets to Prince's life that those only close to him knew about.
"Prince was such a compassionate person... It wasn't just about his money, and his royalties, he wanted to challenge what he saw was an unfair system for artists," she said. "I'm sorry for the world losing his gift but he's not gone."
RELATED: Carson Daly remembers Prince, explains why 'everybody wanted to be like' him