The Genie is out!
During Sunday night's Grammy Awards, Disney released a new trailer for their upcoming live-action version of "Aladdin," and we finally got a first look at many of our main characters walking, talking ... and hovering above a mist of blue smoke.
At least that's how the Genie, played by Will Smith, seems to be moving about:
Entertainment Weekly previously gave a glimpse of Smith in character, but he had yet to be tinted blue! The Sunday night video gives us a closer look at his elaborate transformation. There's a point to his ears and goatee, a top braid on his head, gold jewelry around his wrists and neck, a red sash around his waist and a twinkle in his eye as he greets an astonished Aladdin, played by Mena Massoud, deep in a cave.
Smith posted the trailer on Instagram (which is also available on YouTube), plus a terrific still of himself in character (click the arrow on the photo to scroll through), bearing down and grinning at Aladdin.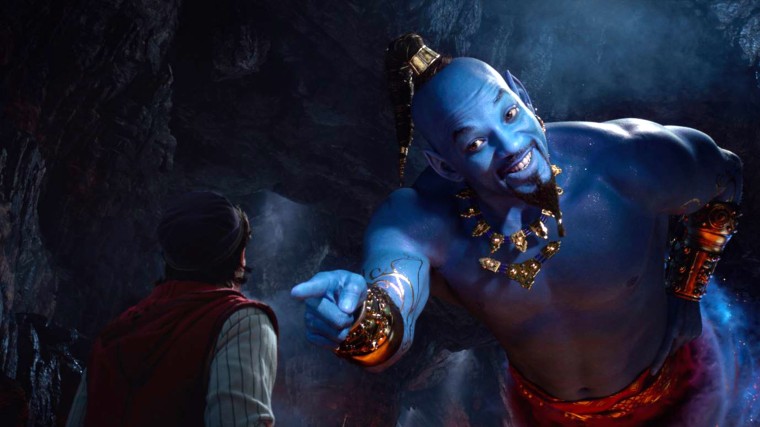 Among social media fans, reactions were ... mixed. Some did not care for the look, while others compared it to "Avatar's" blue characters. Others are still waiting to see what the finished film will offer.
But there's other treasure in the tease! We get to see who's standing outside the cave: Jafar (Marwan Kenzari) with Iago on his shoulder, watching Aladdin and Abu venture inside. Plus, Princess Jasmine (Naomi Scott), looking radiant in pink and jewels, and a pretty spectacular-looking street parade, complete with elephants!
"Aladdin" opens in theaters on May 24.