/ Source: TODAY contributor
It was a pop-culture shock wave: the news last May that the most venerable romantic triangle in comics was finally coming to an end. And what an end: Archie Andrews, the all-American boy, was choosing rich, raven-haired heiress Veronica Lodge over wholesome girl-next-door Betty Cooper.
The news made headlines and TV news reports, and reaction was swift and vocal. Complaints poured into ArchieComics.com. A Dallas comic-book shop owner put his rare Archie Comics No. 1 on sale in protest. And a poll over whether Archie had made the right choice brought more than 15,000 votes flooding into community news site Newsvine — with more than eight in 10 agreeing that he needed to get his red head examined.
But hold on: Now it turns out that wedding the heiress to the Lodge zillions was only one of two possible directions in the arc of Archie's life. In an upcoming issue, we see Riverdale's favorite son, now settled into domestic bliss with Veronica, fondly kissing her goodbye before coming upon a crossroads in the "Yellow Woods" — one that takes him down an alternate life path in which he marries Betty after all.
How have fans responded this time? "People are shocked, surprised and delighted," said Archie Comics publisher Jon Goldwater. "They're saying, 'THAT's our Archie.' "
The road not takenAnyone who paid attention in Ms. Grundy's English class will recognize the "Yellow Woods" as an allusion to Robert Frost's much-loved poem "The Road Not Taken," which begins: "Two roads diverged in a yellow wood." But the idea of following a single character in different directions also owes a lot to movies such as "Peggy Sue Got Married," "Sliding Doors" and Woody Allen's "Melinda and Melinda."
In fact, Michael E. Uslan, who wrote the doubleheader story line, is a film producer who has worked on all the Batman films since 1989. "Uslan has been a tremendous Archie fan all his life," Goldwater explained. "He's very friendly with Victor Gorelick, our editor-in-chief, and he was the one who came to Victor and said, 'What do you think about this idea?' "
"At first I thought it was a little loony," Gorelick confessed. "But the more I thought about it, the better I liked it. And it worked out better than I expected, that's for sure."
It was also Uslan who decided that the first path Archie would choose would be the one leading down the aisle with Veronica. "He very correctly identified that Archie marrying Veronica would be the lightning rod," Goldwater explained. "People said, 'Is he doing it for the money? Is he doing it because he loves her?' "
But Archie Comics is profoundly protective of its namesake character's uniquely wholesome niche in Americana; bringing him to a literal crossroads was not a decision they took lightly. "We weigh everything we do here with intensity," Goldwater said. "Every coloration, every word balloon is scrutinized and goes through 10 different layers. We even talked to people outside the box, which we normally don't do. Truthfully, I was awake at night, as was everybody here."
From Riverdale to Hollywood?So was it the right decision? "I knew there was going to be a reaction, but it was so much bigger than we could have anticipated," Goldwater said. "We were shocked — but in a very positive way."
"This was one of the biggest events we ever had here at Archie," Gorelick agreed. "We got letters from parents, from grandparents, people who hadn't bought an issue in 20 years. It was nice to find out how much Archie is loved."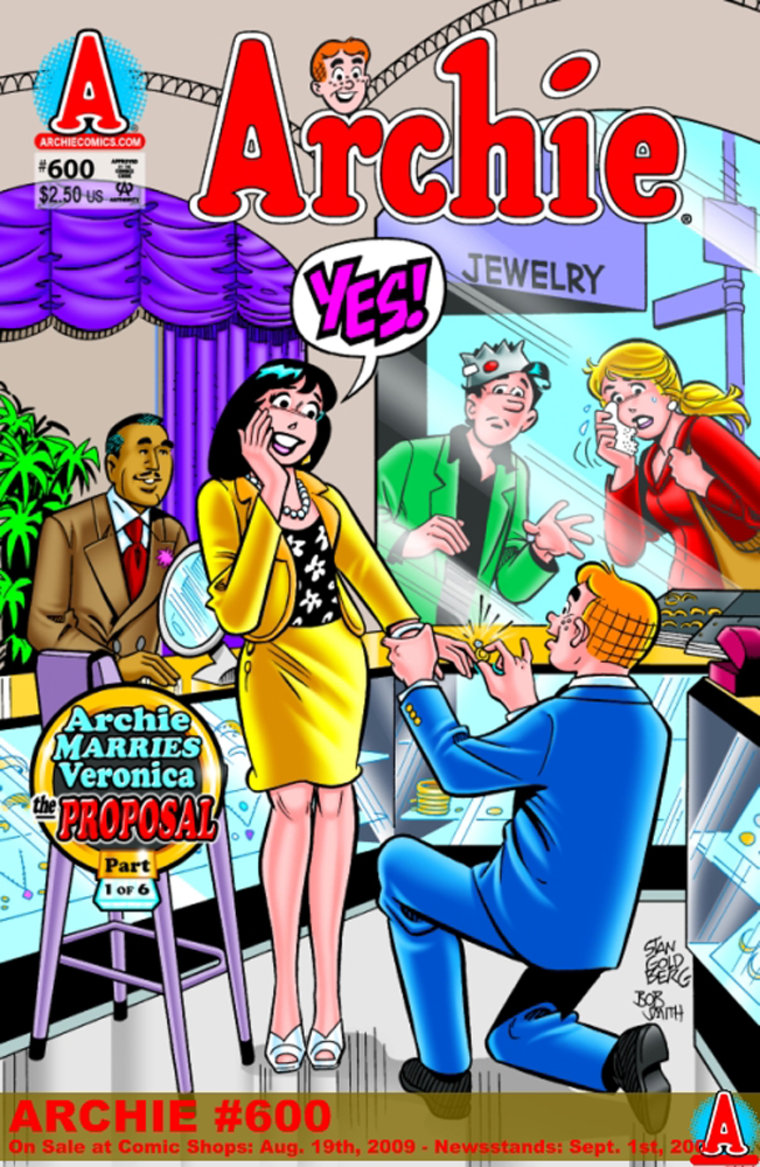 But wasn't there backlash from readers who felt the Veronica proposal was a cheat? "You always get the people who say, 'You've pulled a fast one,' " Goldwater acknowledged. "But mostly people are delighted. People were grabbed by this. Sales and numbers have been fantastic."
And Archie's journey down the road not taken may be the first step toward a higher profile for his venerable publisher — which, unlike Manhattan-based comics behemoths Marvel and DC Comics, is based in the more rustic Westchester County village of Mamaroneck. The company recently signed with Hollywood's high-powered Creative Artists Agency with an eye toward expanding Archie's franchise into television and movies. "It's sort of like a fresh beginning," Goldwater enthused. "Sixty-eight-plus years and now I feel like we're at year one again.
Heroes and villains in colorful costumes meet and mingle in all their super-powered splendor at Comic-Con International 2009, which attracted more than 100,000 comics, fantasy and science-fiction fans to the San Diego Convention Center.
"We're taking Archie into places he's never been before," he added, "but always maintaining the integrity of the character."
But what about the age-old question: Betty or Veronica?
Archie's editor-in-chief, Gorelick is unequivocal: "If I had to live with someone for the rest of my life, it would be Betty."
But like his redheaded hero, the publisher of Archie Comics wants to have it both ways. "Some days I'm a Betty man, some days I'm a Veronica man," Goldwater said. "It depends on my vibe."