A three-hour awards show can't possibly slip by without a few head-scratchers. From inside jokes to out-and-out bizarre moments, here are your burning questions about Sunday's Golden Globes explained — so far as we know.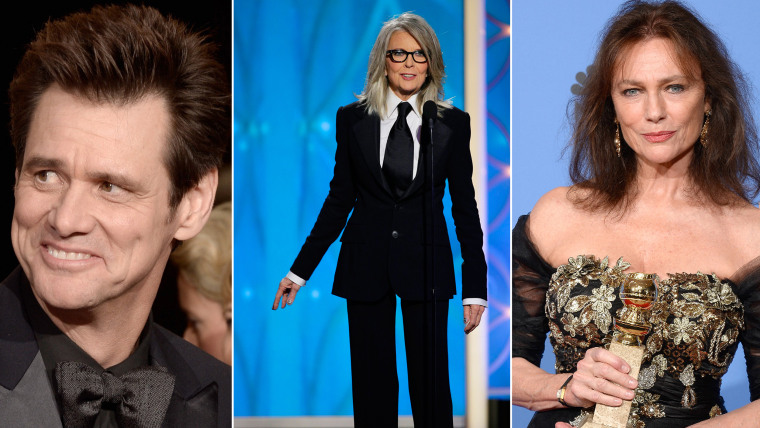 Were some of the winners seemingly seated in San Diego?
It sure seemed like some of Sunday night's victors had to hop a Greyhound bus to make it to the stage. The ballroom at the Beverly Hilton hotel is decent-sized, but not huge. Still, some of the winners were seated way in the back, some were blocked by closely-pressed-together tables, and still others stopped to chat with friends along the way, making their paths about as straightforward as Little Billy's dotted-line routes in the "Family Circus" comic strip. Robin Wright had to break into a jog to make it to the stage in time to claim her best actress prize for "House of Cards," while others, including original score winner Alex Ebert (also noted for his man bun — mun?) truly seemed stunned and in no real hurry to make the hike. Viewers noticed.
Were the speeches a little unprepared?
Winner after winner claimed they hadn't expected to hear their name, and seemed taken aback by finding themselves in front of a microphone. It didn't take long for the random babble to start — early winner Jacqueline Bisset's speech included numerous sighs, lip-smacks, a claim that she needed to see "Dancing on the Edge" co-star Chiwetel Ejiofor for inspiration, a swear word that wasn't quite bleeped, and a mention of her mother telling her "go to hell and don't come back." Bisset told Variety she was confused because she was expecting her category to come much later in the show.

Why was Jim Carrey talking about Shia LaBeouf? 
When Carrey took the stage as a presenter, he quipped, "Dying is easy; comedy is hard. I believe it was Shia LaBeouf who said that. So young, so wise." It might have seemed an odd reference, as the "Transformers" actor was nowhere to be seen at the show. The quote is generally attributed to 18th century actor Edmund King — so the mention is a backhanded way of referring to recent accusations that LaBeouf ripped off a graphic novel's story to make a short film, and his Tweeted apologies were also reportedly plagiarized. On Jan. 10, the actor announced on Twitter he was "retiring from all public life." But after Carrey's mention, LaBeouf tweeted a slam at Carrey's parenting, and later deleted the remark and apologized.
What's with all the potty-mouth celebs?
"The Wolf of Wall Street" may have broken a record for 506 uses of the f-word, but it's doubtful that Golden Globe producers meant to create an homage by letting a few naughty words drop through. Early on during Jacqueline Bisset's speech, censors hit the bleep button, but not quite in time. Aaron Paul hollered out a good "hey b----!" at one point, and during the tribute to Woody Allen, Diane Keaton's taking of the Lord's name in vain also got a healthy bleep. Still, it's hardly unprecedented to have a somewhat vulgar Golden Globes: In 2012, Meryl Streep dropped her own s-bomb while accepting her prize for "The Iron Lady." 

Diane Keaton sings
Toward the end of her Allen tribute, Keaton sang a few verses of a song that had a rather childlike tone. "Make new friends, but keep the old/ One is silver, and the other's gold," however, is familiar to anyone who ever joined the Girl Scouts, so brush up for Keaton's next awards appearance by checking out the lyrics here. Apparently she was singing it to Allen, as a reminder that they'd eternally be friends. The Girl Scouts were pretty pleased.

Did Tina Fey get a dig in at Taylor Swift?
After show host Amy Poehler won her Golden Globe for "Parks and Recreation," co-host and pal Tina Fey joked, "I love you, and there's a special place in hell for you!" Some viewers thought the "special place in hell" mention was a dig at country singer Taylor Swift, who was in attendance. Last year, Fey and Poehler joked that Swift should "stay away from Michael J. Fox's son," a light joke based on Swift's frequent musical skewering of her exes. Swift later told Vanity Fair that there was "a special place in hell" for women who didn't help other women, and Fey's Sunday night mention sure seemed like a reference to that. 

Not everyone was worried about being caught in the crosshairs of the funny hosts. "Girls" star Lena Dunham told TODAY in the ballroom Sunday night that she wouldn't have minded being skewered by the hosts, saying "They can do whatever they want to us because they are geniuses," she said.