"Curb Your Enthusiasm" returned for a 10th season in January 2020 with a mix of topical humor (Larry dons a MAGA hat as a "people repellent") and the brand of evergreen etiquette situations that have served as the show's hallmark (Larry argues with coffee shop proprietor "Mocha Joe" over a wobbly table).
And, of course, Larry's notorious germaphobia is on full display. In one episode, he avoids a hug with Laverne Cox, playing herself, because she has a cold. In another, he's irked when a restaurant server (Abbi Jacobson) perspires into his soup. And most notably, the "spite store" he plans throughout the season offers no shortage of Purell.
"When Larry opened Latte Larry's coffee shop on 'Curb' this season, he had hand sanitizer on every table," star Cheryl Hines told TODAY via email. "At the time when we shot that, it seemed like he was just being neurotic about germs and that was the joke. Who knew that, a few months later, would become the norm? Now it's perfectly normal to be neurotic about germs!"
"I'm sure Larry is taking a victory lap right now. He's been 'social distancing' for decades — even when no one else was doing it," she added.
"Larry is prescient," explained co-star Susie Essman. "He's the guy who says what everyone else is thinking but is afraid to say and he knows what they're thinking before they do. Now the world is catching to him!"
Earlier in 2020, Hines and Essman weighed in on how the "HBO" comedy stays relevant, in interviews with TODAY.
"I think what gives it staying power certainly is Larry David and his comedic genius," said Hines, who plays Larry's ex-wife, Cheryl. "He's got a very unique voice that people respond to, and there's nobody like him out there."
And while the characters are 20 years older, their lives haven't changed all that much since the show began.
"I think that's what keeps it real, instead of a show where they're all 30-year-olds trying to figure life out — you know, it would be weird to be doing that show 20 years later," Hines added.
"All those little things that annoy everybody still annoy everybody," said Essman, who plays Susie Greene, the wife of Larry's manager, Jeff. "Nothing changes. And then, for example, this season, there are little political things that (Larry David) brings. He always brings current stuff into whatever season it is. And yet I was watching the marathon the other day, and I'm watching all the old episodes. And they still work. So I think it comes down to funniness. I think funny is still funny."
While today it's not unusual to see TV personalities playing fictional versions of themselves — from Showtime's "Episodes," featuring a post-"Friends" Matt LeBlanc, to Fox's "BH90210" — the premise was highly original when "Curb" debuted in 2000.
Essman, who's known David since the mid-1980s, recalled reading an outline for an early episode (the series doesn't use traditional scripts) and thinking the concept was "groundbreaking."
"The way that he structured that outline, and the way he puts the story together, I remember reading it and just thinking, 'This is something like I've never seen before,'" she said.
Essman first delivered one of Susie Greene's signature expletive-filled rants in the series' sixth episode, "The Wire."
"Larry's only direction to me for that scene was, 'I want you to rip Jeff a new one,'" Essman recalled. "I had been in many relationships. I knew I was capable of that. So, I'm screaming at him. I'm yelling at him. And Larry pulls me over. He kept on saying, 'Go further. Go further. I want you to curse more.' So I'm cursing more. And then finally, Larry pulled me aside. And he said, 'Make fun of Jeff's fat.' And I was like, 'Wow, I don't want to do that. I don't like to make fun of people's physical characteristics. He goes, 'Just do it. Just do it. He knows you're just kidding.' And that was the first time I called him a fat f---."
Hines' first scene in the series' pilot, "The Pants Tent," involved a conversation in which Larry worries that a bunch-up in his trousers might be mistaken for something else.
"I still didn't really know him," she recalled. "But in my background as an improviser, one of the things that they teach you is to assume a relationship, so that's what I had to do for the show."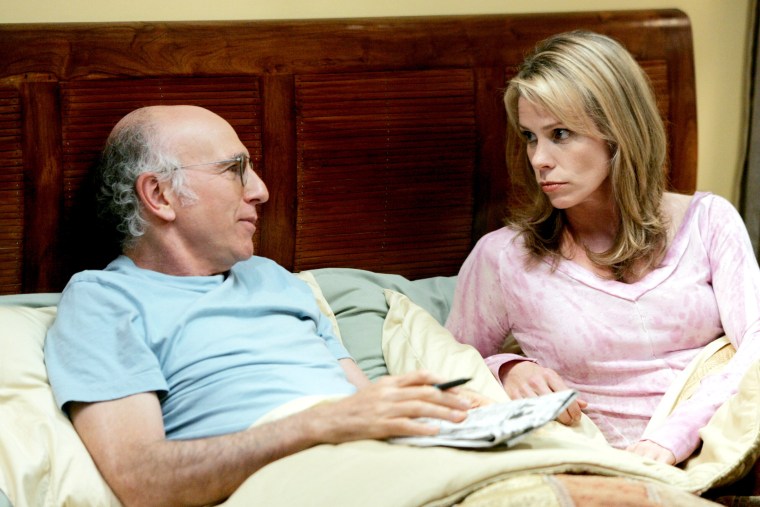 "I had to just assume that Larry and I had been married for a long time," she said. "And I'm imagining if my husband was talking about a 'pants tent' where there wasn't really anything going on down there, I would touch it and flatten it down, which I did. And then knowing what I know now about Larry, he doesn't like people touching him. I'm glad I didn't know too much about Larry at the time, because it probably would have been so weird."
Some of Hines' most memorable "Curb" episodes include the "Seinfeld" reunion storyline in season seven, "Mary, Joseph and Larry" in season three and an episode in which Cheryl is stuck in a car wash just as a colon cleanse product kicks in.
"I literally had to walk through the car wash," she said. "You would think that there would be some sort of movie magic, you know, a set that was built with a car wash. But it was literally a car wash, so that was funny to me."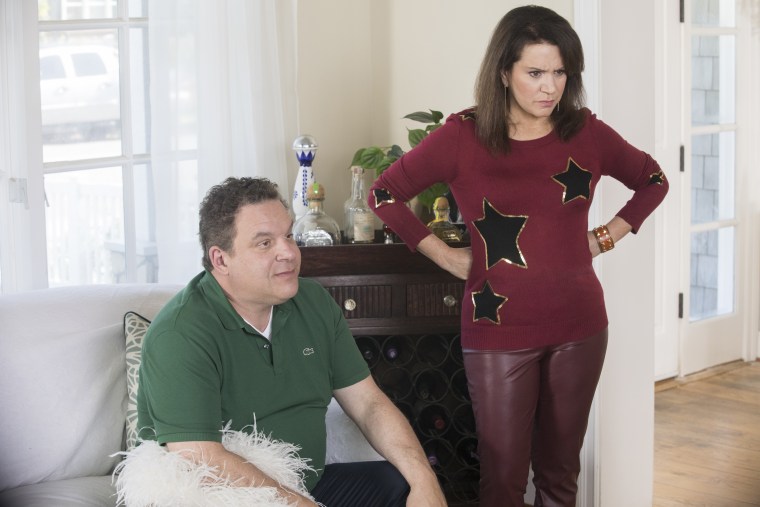 Essman counts the season-two episode "The Doll" — in which Larry attends a party and is asked by the host's child to cut the hair of her expensive doll, later attempting to replace it by decapitating an identical toy owned by Susie's daughter — as one of her all-time favorites. "It's the first time that you really see Larry and Jeff living in fear of Susie Greene," she said.
She's also partial to "The Ski Lift," in which she and Larry pose as an Orthodox Jewish couple, and "Mister Softee," in which Susie has a memorable reaction to the vibrating passenger seat in Larry's car.
The foulmouthed character has become so much of a fan favorite that Essman is sometimes asked to unleash her trademark insults on strangers.
"People love this show so much, and they stop me on the street and either want me to curse at them or just want to tell me how much the show means to them," she said. "I've had really poignant moments where somebody will tell me, you know, 'My father was dying and all he wanted to do was watch "Curb" episodes. And it was the last thing he watched.' Things like that touch me, that we bring such joy to people from our little show. It's kind of amazing."
"The most unusual (place) that I ever had a fan approach me and ask me to curse at them was at my mother-in-law's wake," she added. "Totally inappropriate."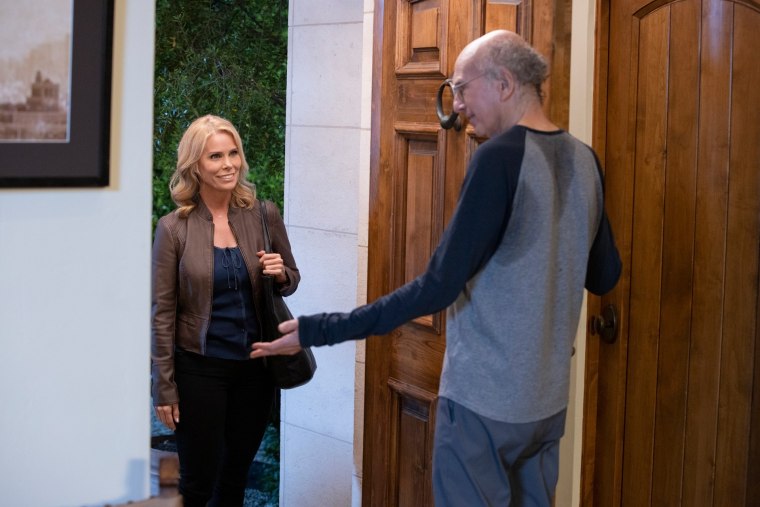 Hines has had her own share of interesting encounters with "Curb" enthusiasts.
"They love to quote the show," she said. "One time, I was, like, minding my own business, walking down the sidewalk, and a guy came up to me and said, 'Cheryl, how's your vagina?'"
Remembering that the line was a reference to the fourth-season episode "Wandering Bear," Hines replied, "Oh, it's great. Thank you."
Hines also recalled a glamorous Emmys night when she was asked a rather unglamorous question.
"I was asked on the red carpet about the diarrhea scene in the car wash," she said. "And I was like, 'Oh, right, yeah. No, I didn't actually have diarrhea. I was acting like that. But I did actually walk through the car wash.' 'And who are you wearing?' So yeah, people feel very comfortable asking me questions about our show."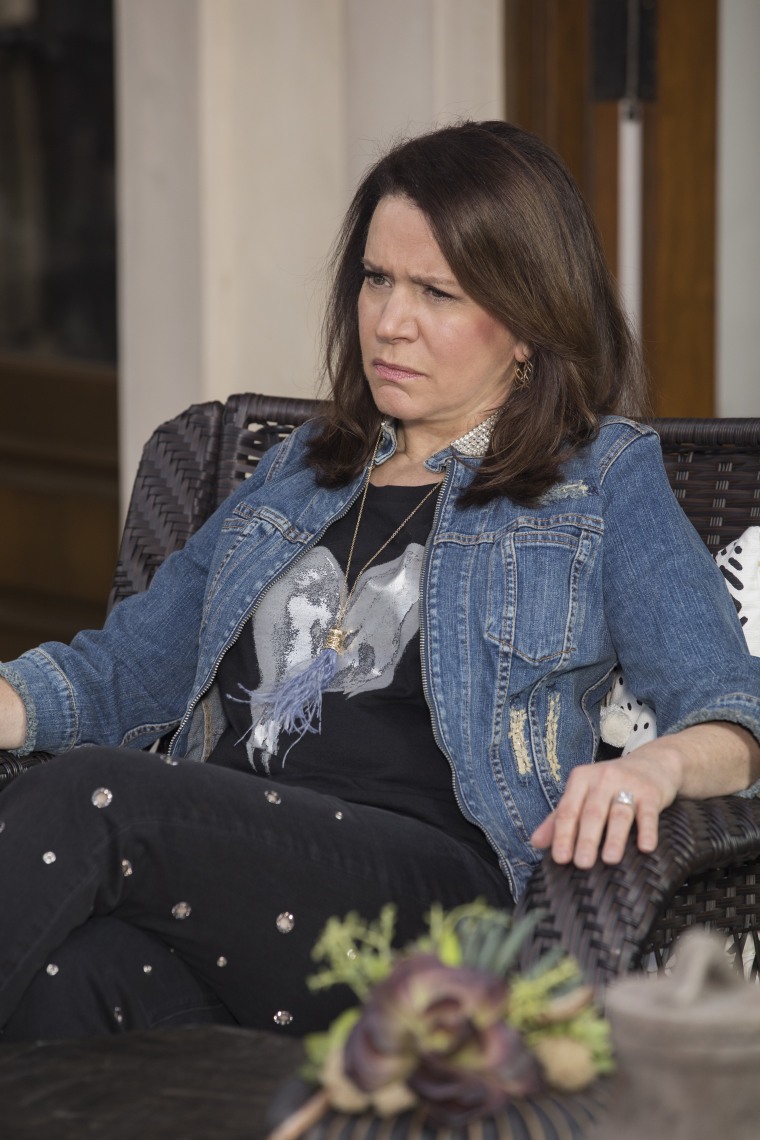 Susie Greene's ability to speak her mind has resonated strongly with female viewers.
"I think that Susie has given women permission to be angry, which I love," said Essman. "Because we're all taught to be nice little girls. And then anger isn't pretty. Now, I have men come up to me all the time and say to me, 'My wife is exactly like you.' And I'm thinking, 'Oh, you poor guy.' But they seem to say it with joy."
Essman said the appeal of both her character and David's is that they say things everybody's afraid to say — but for anyone wondering, David would never say them in real life.
"It's so freeing for him to just say all these things that are in his unconscious or conscious mind that he censors," she said. "So I think the key is that it's really politically incorrect, which everybody wants to be but is afraid to be. And Larry is the mouthpiece for the entire country, in some ways."
"Larry does all the things that we want to do but don't because it's social suicide," Hines added. "But Larry doesn't care. And there's a freedom that comes with that."