"Survivor: Caramoan: Fans vs. Favorites" is the 26th season of the CBS reality series, and it is yet another season to feature returning players playing alongside new contestants.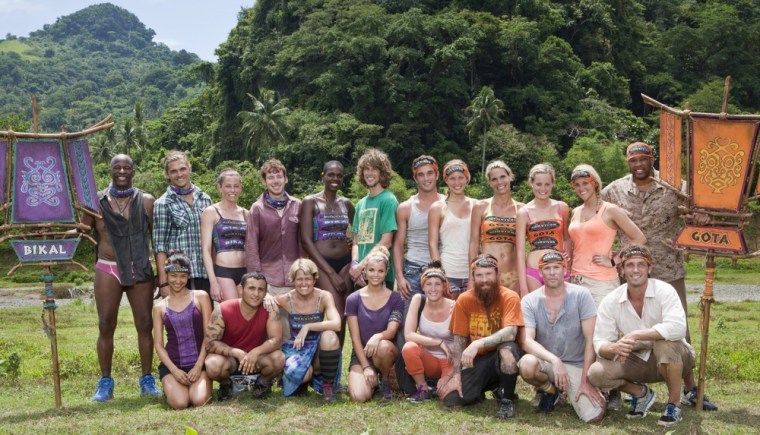 This is "Survivor's" new reality: returning contestants every season. What began with Stephenie and Bobby Jon's triumphant return for "Survivor: Guatemala," after their tribe was decimated the previous season, has now become routine.
Host and executive producer Jeff Probst told me that the show will feature returning contestants "as often as possible" because "our fans like their stars."
Whether the cast members returning for "Survivor: Caramoan" constitute "stars" is definitely up for debate. They mostly seem like characters — from Brandon Hantz to Corinne Kaplan — though one of last season's strongest players, Malcolm, is among the returnees.
Regardless, "Survivor" is becoming more like ABC's "The Bachelor," which has turned into an ongoing soap opera by bringing back rejected cast members. This makes sense for two reasons.
First, "Survivor" has become harder to cast over the last few years.  Lynne Spilleman, the show's casting director, told me in the past that the competition was receiving fewer applications, and more of those represented people who just want to be on TV.
As a result, it's resorted to recruiting cast members. That sometimes results in dynamic, interesting characters, and other times just adds to the parade of Southern California model/actor/bartenders.
Also, bringing back cast members means viewers instantly know contestants and love or hate them right from the start. There's no learning curve, though fans of the show can be surprised by their behavior — for example, Benjamin "Coach" Wade, who grew as a person and player throughout his three seasons.
However, having returnees every season can be problematic and unfair.
As "Survivor: Caramoan" proves, the returning players are often chosen for their personality, not their game play. Sometimes the two go together, but other times it's just re-introducing an annoyance.
Bringing back people can give someone such as "Caramoan" returnee Francesca, who was the first person voted out of "Survivor: Redemption Island," a chance at actual redemption since she seemed like an interesting player with a lot of potential. Or it can irritate us by giving "Redemption Island's" Phillip Sheppard, aka Special Agent Phillip, a chance to wander around the island in his droopy briefs and annoy viewers before he's inevitably voted out.
Worse, whether new players are starstruck or just grateful to have the knowledge of someone who's been through "Survivor" before, they tend to not vote off returnees. Rob Mariano's "Survivor: Redemption Island" win was deserved, but also appeared to be unnaturally easy. The strategic sea just parted for him and he walked right up and took his $1 million check.
That's an imbalance in a game that otherwise has an even playing field: Young and old, female and male, straight and gay, weak and strong — all kinds of people have won or made it to that final Tribal Council.
"Survivor" has lasted 26 seasons in part because its combination of social and strategic game works exceptionally well. It has also evolved, shifting its focus from survival to strategy, for example. Returnees are the next chapter in that evolution, and there's no point in fighting it any more, even if that changes the nature of the fight.
"Survivor: Caramoan: Fans vs. Favorites" kicks off on Wednesday, Feb. 13 at 8 p.m. on CBS.
What do you think of having returnees each season? Share your thoughts on our Facebook page!
More in The Clicker: