"Toy Story" fans have long known that Woody has a snake in his boot, but they had no idea his pal, Buzz Lightyear, has hair under his helmet.
On Wednesday, the first teaser trailer from Disney Pixar's upcoming animated feature "Lightyear" dropped, and it packed a reveal no one saw coming. But maybe they should have.
"Lightyear" is the fictional tale of the "real" space ranger that inspired the talking toy, a guy who, unlike his plastic counterpart, can actually take off the purple Snoopy cap he wears under his visor to reveal what he's got going on underneath it.
What he's got is hair — and we're not talking about a buzzcut.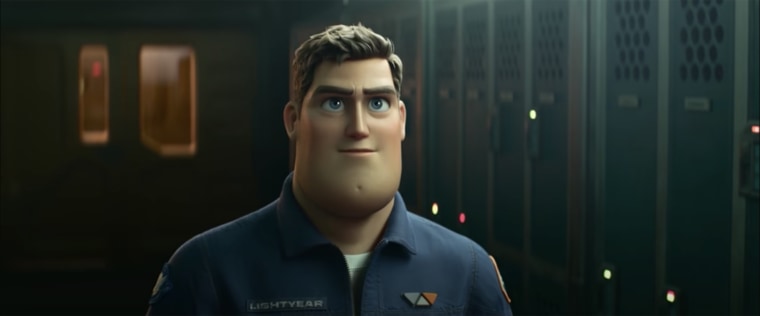 Yes, those luscious locks belong to the man who, over the course of the movie, will go to "infinity and beyond."
And, as fans on social media have proven, the reveal itself was beyond anything they ever imagined for the character.
"What do you mean buzz lightyear has brown hair and isn't a bald purple man," one person tweeted.
"Buzz Lightyear has hair and I don't know how to feel," another wrote.
One fan joked that the hirsute discovery "destroyed" their childhood.
Still, others seemed to believe that hair added a swoon-worthy element to everyone's favorite space ranger, with one admirer tweeting, "Are you telling me Buzz Lightyear has been covering this beautiful hair this whole time?"
Just wait until they get a load of the guy playing Buzz!
"Captain America" star Chris Evans will voice the beloved character in "Lightyear," and according to the actor, the job is a dream come true.
In a tweet of his own, Evans wrote, "Animated movie were an enormous part of my childhood. They were my escape. My adventures. My dreams. They were my first window into the magic of storytelling and performing."
Then, addressing Pixar and "Lightyear" director Angus MacLane, he added, "'Thank you' doesn't even come close❤️"