/ Source: Access Hollywood
The Indianapolis Colts may have swept the Super Bowl, but what Hollywood will remember about the weekend is what an A-list affair it was.
Tom and Katie, J. Lo and Marc, Scarlett, Bruce, Demi and Ashton were just some of the stars so-famous-they-don't-even-need-last-names that plumped up parties across Miami Beach.
By far, the biggest starfest of the weekend was the Super Bowl Ocean Drive/Market America event Saturday evening, which featured a concert from Jennifer Lopez and husband Marc Anthony. Their first time performing together on a Miami stage brought out Tom Cruise, his mother Mary and son Connor and wife Katie Holmes who were all entranced by their friends' performances.
The celeb factor didn't stop there though. Fergie strolled up with her "Las Vegas" star boyfriend, Josh Duhamel, Miami legend Gloria Estefan came with husband Emilio while Brooke Hogan turned up with papa Hulk. Others filling up the packed event included Taye Diggs, Ron Livingston, former "Dancing With the Stars" contestant Stacy Keibler and possible soon-to-be "Dancing" contestant Joey Fatone.
Across town on the same evening, Tom's buddy John Travolta visited the Playboy party where a newly single Johnny Knoxville was caught buddying up with Alyssa Milano, before journeying to his own event alongside Marcus Allen at the International Sky Terrace. There stars came out to catch Dennis De Young and '70s rockers STYX, but helped out a cause — supporting the Youth AIDS organization.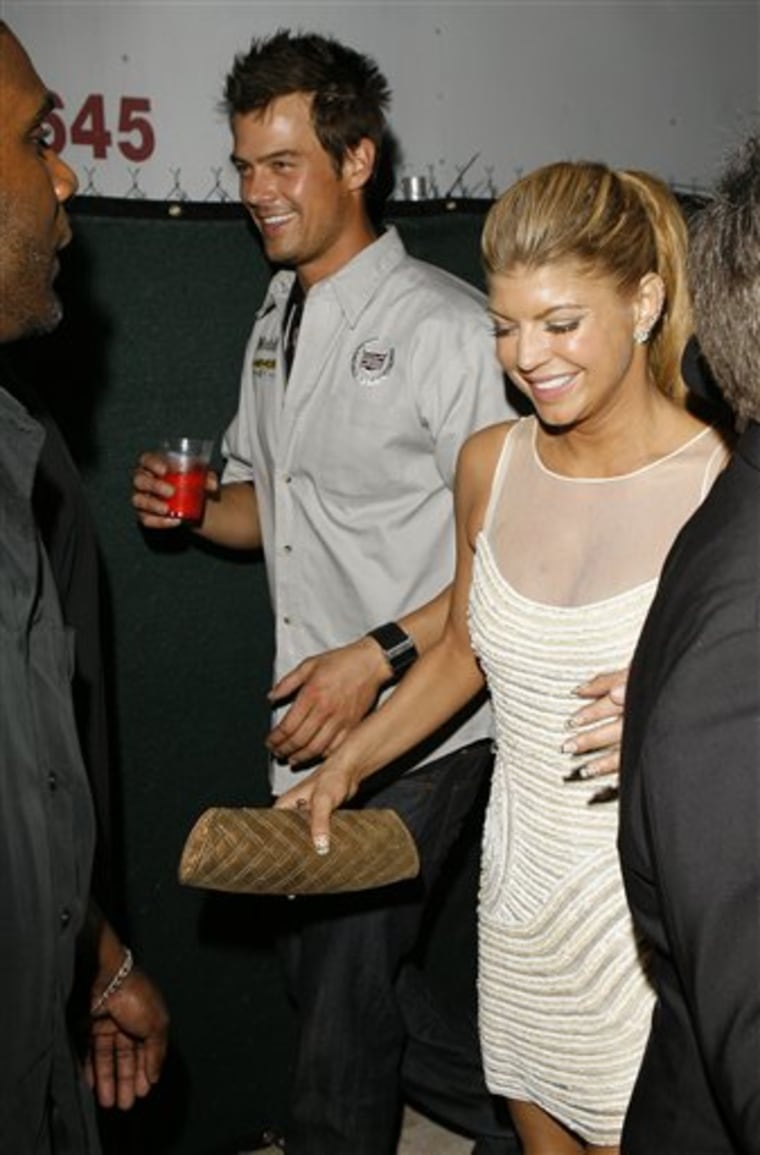 "The charity is good — Youth AIDS and awareness of AIDS for young people — because as time goes on they are the ones that are less aware of the specifics. That's a good purpose," Travolta told Access Hollywood on the eve of the event. "I think it's fun to celebrate and it's just fun to do something fun at the Super Bowl."
And there were day events too. Cadillac held its fifth annual Super Bowl Grand Prix where Queen Latifah faced off in go-kart races against stars like Oscar winner Terrence Howard and singing sensation Nick Lachey.
"That was a lot of fun," Fergie told Access about participating in the event and watching her boyfriend Duhamel take turns in his kart. "When I would see him getting close to the car #10, I was a little bit nervous. I didn't want him to get hurt, but you know, he can hold his own. He's the one who made it to the finals, I didn't. I crashed and burned on the first round, but it was cool. I gave the loser wave."
Friday night, it was the lovely ladies who helped make the Leather & Lace event at Chakra a major draw thanks to hosts Jenny McCarthy, Kelly Monaco and Carmen Electra. They pulled in some major stars, but faced super competition from Maxim's event across town. Maxim's location — at the Sagamore hotel, was kept secret until just before doors, but that didn't stop Matt Leinart and Access' own Maria Menounos from finding their way in.
As for the game itself? There was halftime with Prince, the national anthem with Billy Joel and Marlee Matlin and some super Bears fans peppering the stadium. Not only did Jim Belushi make it on the field before the game, but so did a rare citing — former couple Bruce and Demi with daughter's Tallulah and Rumer and Demi's new husband Ashton Kutcher.