When pop star Katy Perry headlines the Super Bowl halftime show on Sunday, she'll have her work cut out for her.
Super Bowl halftime has come a long way since 1967, when the first such show featured college marching bands and trumpeter Al Hirt. (OK, Michael Jackson's halftime show was a pretty big deal in 1993 — slight deduction for lip-syncing, however.)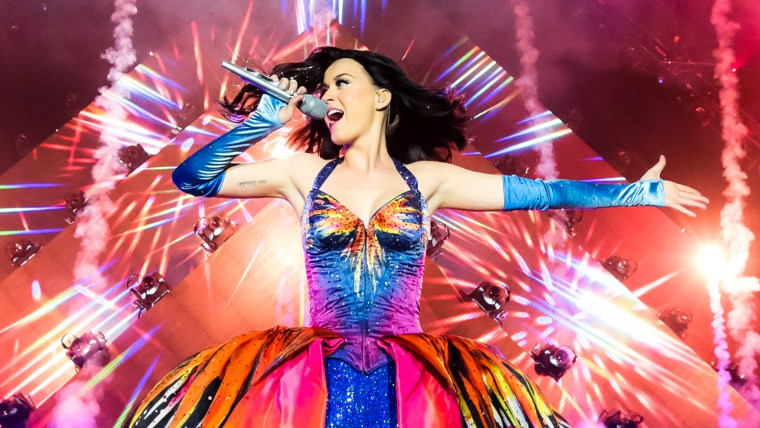 But in the 21st century, the halftime performers have become consistently A-list, adding prestige to the coveted gig in the process. They fall into three main categories:
Classic-rock icons: The Rolling Stones; Paul McCartney; The Who; Bruce Springsteen; Tom Petty.
Buzzworthy pop stars: Madonna; Janet Jackson with Justin Timberlake (and several artists not involved with Jackson's notorious "wardrobe malfunction").
But Perry has a bigger social-media support system than any of those artists: More than 64 million Twitter followers — the largest following on that platform — and over 76 million Facebook fans. Still, if she wants to go down in history, these may be the three halftime performances to beat:
Beyoncé
While Bruno Mars made a few new fans at 2014's Super Bowl, many would argue that the most memorable halftime show of the past five years belongs to his 2013 predecessor, Beyoncé. Queen Bey sang and danced to "Love on Top," "Crazy in Love," "End of Time," "Baby Boy" and "Halo." But it was the mini-Destiny's Child reunion, albeit brief, that dominated discussions around the water cooler the following day.

(If you didn't enjoy the 2013 show, The Beygency is already onto you; plan your escape route with Andrew Garfield accordingly.)
U2
While the all-time "best" halftime show may be up for debate, most would agree that the most emotional Super Bowl performance was U2's, performed just months after the terrorist attacks of Sept. 11, 2001. After the activist rock band opened with an electrifying rendition of "Beautiful Day," the lights were dimmed, and Bono's reverent take on the song "MLK" echoed through the stadium while names of 9/11 victims scrolled across the stage backdrop.

With the help of The Edge's distinctive guitar riff on "Where the Streets Have No Name," Bono shouted, "America!" to the audience. In response to the crowd's deafening roar, Bono belted a note that brought goosebumps to millions of viewers still coping with the aftermath of the tragedy.
Prince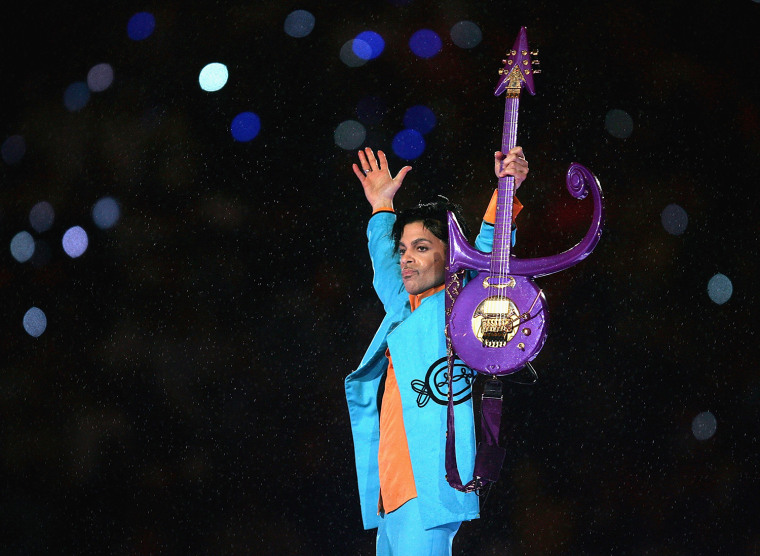 For anyone who saw it — catch it on the bottom of this page, while you can — Prince's halftime show in 2007 just might be the greatest of all time. In addition to a medley of his hits, including "Let's Go Crazy" and "1999," The Artist Formerly And Once Again Known As Prince offered his unique takes on "Proud Mary" and "All Along the Watchtower," as well as an unexpected, mind-blowing cover of Foo Fighters' "Best of You."

Closing his set with "Purple Rain" proved appropriate, as a naturally occurring downpour fell on an undaunted Prince while he demonstrated his face-melting guitar skills. He even persuaded rough-and-tumble football fans in the stands to sing along to the coda's falsetto.

From the Boss to Madonna to the Blues Brothers to the most famous "wardrobe malfunction" of all time.
It may be tough for Perry to end Prince's purple reign, but we'll be watching to see her try!
Follow TODAY.com writer Chris Serico on Twitter.