Coldplay delivered some of their greatest hits in a colorful Super Bowl 50 halftime show that leaned heavily on previous headliners Beyoncé and Bruno Mars.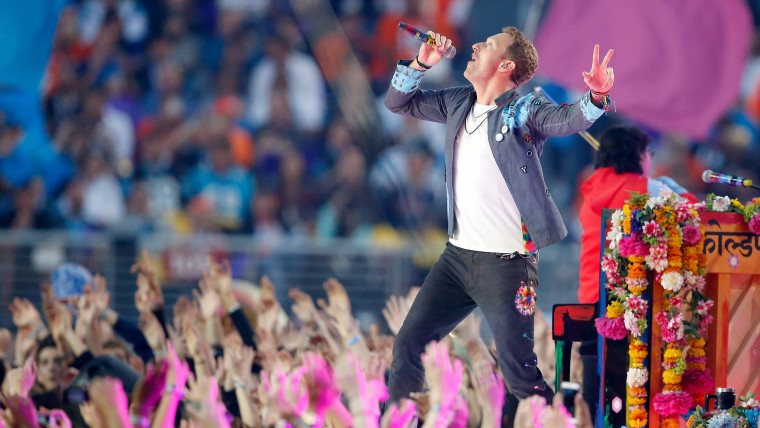 Martin opened the Sunday night show with the refrain of "Yellow" — "Look at the stars / look how they shine for you" — before hoping onto a colorful stage whose platform was backlit by LED lights. He segued into the band's hit "Viva La Vida," then invited the audience, "Wherever you are, we're in this together! Let's go!"
From there, Coldplay shifted into the 2011 hit "Paradise" and their latest charter, "Adventure of a Lifetime." Soon thereafter, they stepped aside as Mark Ronson appeared behind two turntables to play the familiar refrain of his monster jam with Bruno Mars, "Uptown Funk."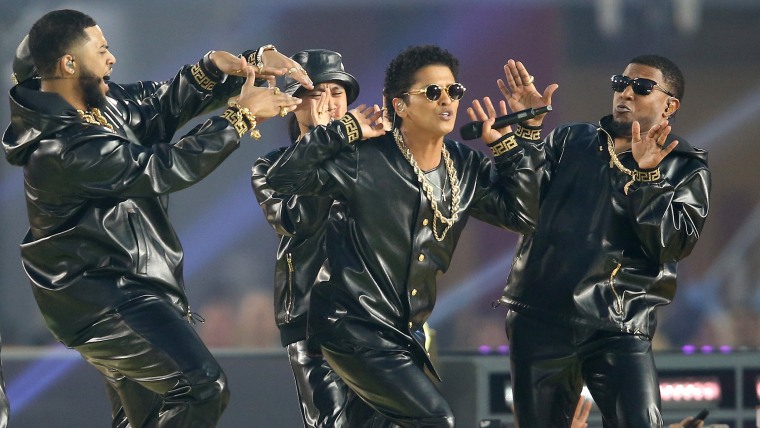 Mars emerged with a group of leather-clad male backup dancers to perform the hit. Beyoncé soon followed and figuratively (and perhaps literally) tore up the turf with her own dance crew, dressed in matching leather outfits, stockings and heels to perform her new single, "Formation."
RELATED: Super Bowl halftime: Coldplay, Beyonce's daughters hang out before performance
A choreographed battle of the sexes ensued as Mars and Beyoncé's crews approached one another and met in the center of the stage, where Martin rejoined the fray and sang the coda to "Uptown Funk."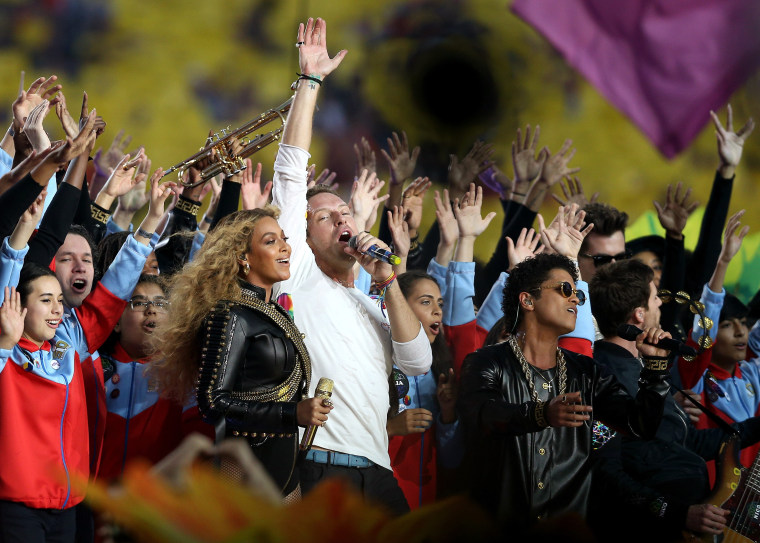 RELATED: Lady Gaga's National Anthem brings glittery start to Super Bowl 50
Martin returned to the piano to play a medley of the Coldplay hits "Clocks" and "Fix You," which accompanied a video montage of memorable moments from Super Bowls past, starting with Bruce Springsteen's shouted inquiry from 2009: "What I want to know is: Is there anybody alive out there?!"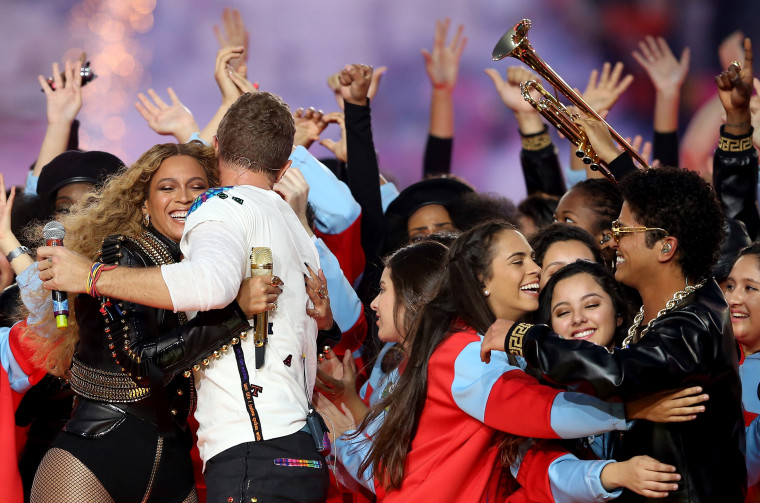 Clips of halftime performers Katy Perry, the Rolling Stones, Paul McCartney, Stevie Wonder, James Brown, Michael Jackson and U2 were among the many music icons who appeared in the montage. Whitney Houston's memorable Super Bowl XXV national anthem also was featured.
Beyoncé and Mars rejoined Martin for the final stanzas of "Fix You" to wrap the halftime performance.
RELATED: 10 most unforgettable Super Bowl halftime shows
Follow TODAY.com writer Chris Serico on Twitter.