Married to David Bowie for 23 years, supermodel Iman reflected on the rock legend's career, life and death in a series of emotional and nostalgic Instagram posts.
"The struggle is real, but so is God," reads an unattributed quote posted as an image to her Instagram account Sunday, when Bowie died after an 18-month cancer battle that was shrouded in secret. That quote is accompanied by the caption: "Rise," and the hashtag #ImanDaily.
RELATED: 'I lost a hero': David Bowie's death inspires touching celebrity reactions
The couple met in 1990, when Bowie reportedly fell in love at first sight, and married two years later. Their family includes daughter Alexandria, born in 2000, and two children from previous relationships — Iman's older daughter, Zulekha Haywood, and Bowie's son, Duncan Jones. While Iman and Bowie thrived professionally on international stages, they strove to keep their personal lives away from the public spotlight over the past decade. As Iman once told talk-show host Wendy Williams, "Home is private."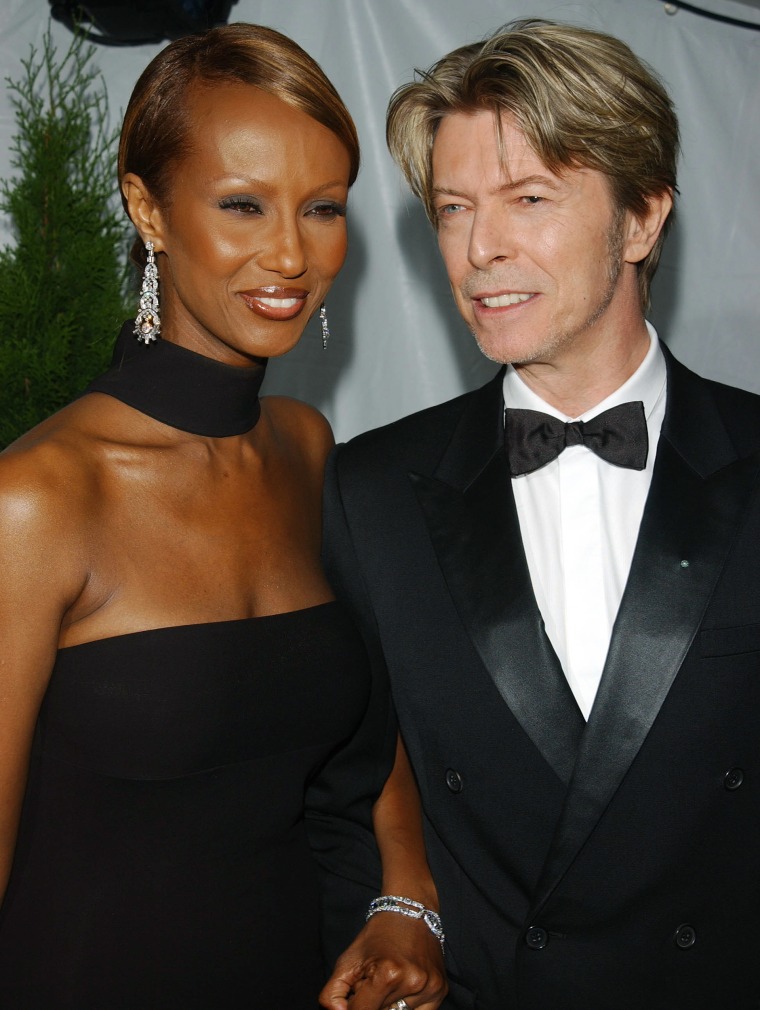 That private lifestyle is a major reason why Iman's recent social-media activity, especially in retrospect, has resonated among fans who continue to mourn the loss of one of music, art and pop culture's most celebrated visionaries.
The last photo Iman's Instagram account posted before Sunday's announcement of Bowie's death was one of several celebrating his life, as the rocker had just turned 69 years old on Friday. Posted Saturday, one picture shows a Ziggy Stardust-era Bowie getting a few last-minute adjustments to his glam-rock look.
RELATED: Slideshow: David Bowie's iconic style
Earlier Saturday, Iman posted a more ominous quote: "Sometimes you will never know the true value of a moment until it becomes a memory." That, too, is captioned with "Rise," and the hashtag #ImanDaily.
On Friday, she celebrated Bowie's 69th birthday in bittersweet fashion. One early-'80s photo of Bowie onstage with Tina Turner was accompanied by the all-lowercase caption, "'i will love you til i die, i will see you in the sky #tonight' happy birthday mr. bowie."
For another birthday tribute, Iman also revisited a photo of Bowie looking vibrant and full of swagger while perched behind a camera lens.
RELATED: Flashback: David Bowie talks about age, creativity in 1993 TODAY interview
Another black-and-white photo posted on his birthday shows his looking stoic and includes the caption, "Merry birthday mister Bowie."
A fourth Bowie image appearing Friday on Iman's Instagram page — previously posted to actress Zoe Saldana's account — holds new meaning after Bowie's death. "I don't know where I'm going from here," reads the quote attributed to Bowie, "but I promise it won't be boring."
Just three days earlier, Iman posted a clip of Bowie's new music video for one of his last singles, "Lazarus," officially released Friday. The full song's lyrics and video, in retrospect, appear to reflect a man resigned to the reality of death.
RELATED: David Bowie kept cancer secret, allowed new album 'to speak for itself'
"Look up here, I'm in heaven," sings a blindfolded Bowie from his bed. "I've got scars that can't be seen / I've got drama, can't be stolen / Everybody knows me now."
Follow TODAY.com writer Chris Serico on Twitter.