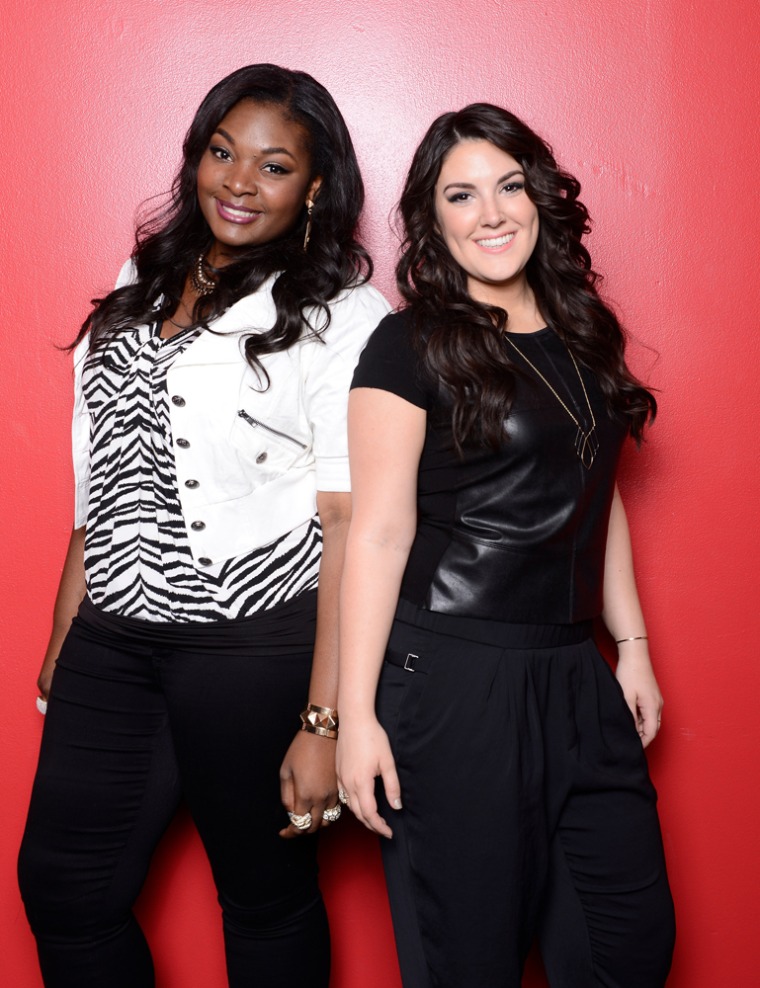 Kree Harrison won the coin toss for the "American Idol" finale, and elected to sing first. In hindsight, that wasn't a great choice.
On a night when both singers showed they didn't make it this far by accident, Candice Glover saved her best performance of season 12 for the most opportune moment. Her reprise of "I (Who Have Nothing)" showed the power, range, and swagger that was hard for the audience to ignore, and gave her a ton of momentum just as the voting lines were opened for the final time this year.
Moreover, the song choice also showed some daring. She began the song a capella, ensuring that the only thing the audience would hear was the sound of her voice. No instruments to drown her out or smooth over the rough spots. Certainly no background singers. Just her pipes. She had to be strong to make that work, and she was equal to the challenge.
Both Kree and Candice sang three songs: a Simon Fuller selection, their first single, and a reprise of their favorite performance thus far. And both saw their three songs fit their season-long storylines as though it were a made-for-TV movie.
Kree started with "Angel," by Sarah McLachlan. Her first single would be called "All Cried Out," and she chose "Up to the Mountain" by Patty Griffin to close her night. For someone who has experienced horrible setbacks, and has had to bury both of her parents, the themes of love and loss and perseverance show how she made it to this point.
Candice, on the other hand, had been cut from "Idol" twice before, in seasons nine and 11. In season nine she forgot the words to "Chasing Pavements" by Adele right before getting sent home. Simon Fuller chose to have her sing that again, and this time the lyrics were flawless. Her original, "I Am Beautiful," was perfect for someone who has said she's lacked confidence in herself in the past. And her final song blasted through any reservations critics might have had about what her voice can do.
Predictably the weakest for both was their coronation song, in part because it was as unfamiliar to them as it was to the audience. And to their credit, both were better than the Carly Rae Jepsen crowdsourced single that debuted on the "Idol" stage as well.
The judges, meanwhile, were quiet, getting less of a role than in previous seasons. Perhaps that's an indication that we shouldn't get too comfortable with them since rumors are that Randy Jackson isn't the only one on his way out the door. He and Mariah Carey were the only two to speak after round one, and Randy only made that memorable by saying of his boss's song selection, ""I'm not sure either of the songs are ones I would have chosen. They were a little sleepy, to be honest." Wonder if he would have gone down that road if he wasn't already out the door?
Nicki Minaj and Keith Urban finally got to open their mouths in round two, with Keith declaring Kree the winner and Nicki favoring Candice. Sadly, they disagreed politely, so no drama here. And in both cases, the singers had already gone backstage, so they were only talking to the audience.
Everyone got to say their piece in front of the finalists after their third and final acts of the night, and given the sheer volume of praise this season it was fitting that both were immediately ordained as superstars.
"I'm so glad you did that one, Kreedom. That energy is so uplifting. I loved it even more than the single performance because it just felt so rich," Nicki Minaj said after Kree sang "Up on the Mountain."
"That girl can flat-out sing. This is how you do it," Randy said about Candice. "It's about singing and baby, you've got it all."
She certainly did at the finish, and that's why she'll probably be crowned the "American Idol" season 12 champion on Thursday.