Millie Bobby Brown may have extrasensory powers as Eleven in "Stranger Things," but in real life she has overcome a partial loss of one of her senses to pursue her dreams.
The 13-year-old British star of the Netflix sci-fi hit revealed to Variety that she is deaf in one ear. She was born with a partial loss of hearing and then gradually lost her hearing in that ear entirely.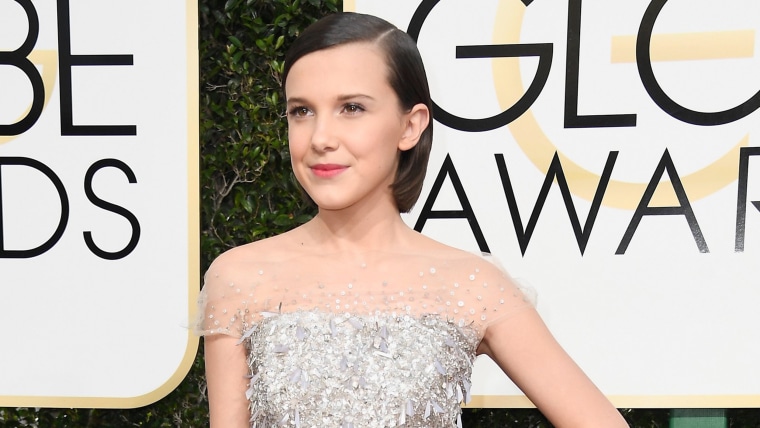 She has refused to let it stop her from pursuing her love of singing and acting.
"I just started to sing, and if I sound bad I don't care, because I'm just doing what I love,'' she said. "You don't have to be good at singing. You don't have to be good at dancing or acting. If you like to do it, if you genuinely enjoy doing it, then do it. No one should stop you."
Brown, who was nominated for an Emmy this year for her role as Eleven, said she cannot fully hear her own performances.
However, her singing sounds just fine to anyone who saw her rapping a verse of Nicki Minaj's "Monster" on "The Tonight Show" alongside her "Stranger Things" co-stars in September.
Brown also has become noted for her style, as the fashion-forward teen showed off a grown-up look at the premiere of "Stranger Things 2" last week.
Her strong will to perform despite her hearing loss is emblematic of her overall determination. She told Variety she has never gone to acting school or taken an acting class.
She simply told her parents when she was 8 that she wanted to be on screen, and they moved from Birmingham, England, to Orlando to give her a chance.
"It was like a bug," she said. "I know this sounds crazy, but once I find something I want to do, nobody's stopping me. If I don't know how to sew, and I really had that passion to sew, that's it, I'm going to sew. That's also with acting. So here I am."
Follow TODAY.com writer Scott Stump on Twitter.