/ Source: The Associated Press
Just when you thought the Rolling Stones were starting to gather some moss, the World's Greatest Rock 'n' Roll Band proves otherwise with their new offering, "A Bigger Bang." Also this week, Syleena Johnson turns up the heat with "Chapter 3: The Flesh."
The Rolling Stones, "A Bigger Bang"They're old, but they're not dead, yet. For 40-plus years, the Rolling Stones have strutted their way across rock 'n' roll's youthful terrain. Now "A Bigger Bang," the band's first studio album since 1997's "Bridges to Babylon," hammers home the fact that The Rolling Stones still have "it" — and they're willing to grow.
The famously sparring duo of Mick Jagger and guitarist Keith Richards set aside their differences after drummer Charlie Watts developed throat cancer. With producer Don Was at the helm and longtime guitarist Ron Wood in the studio, Jagger and Richards scribed an array of their classically R&B-tinged rock tunes, plus some uncharacteristically confessional songs.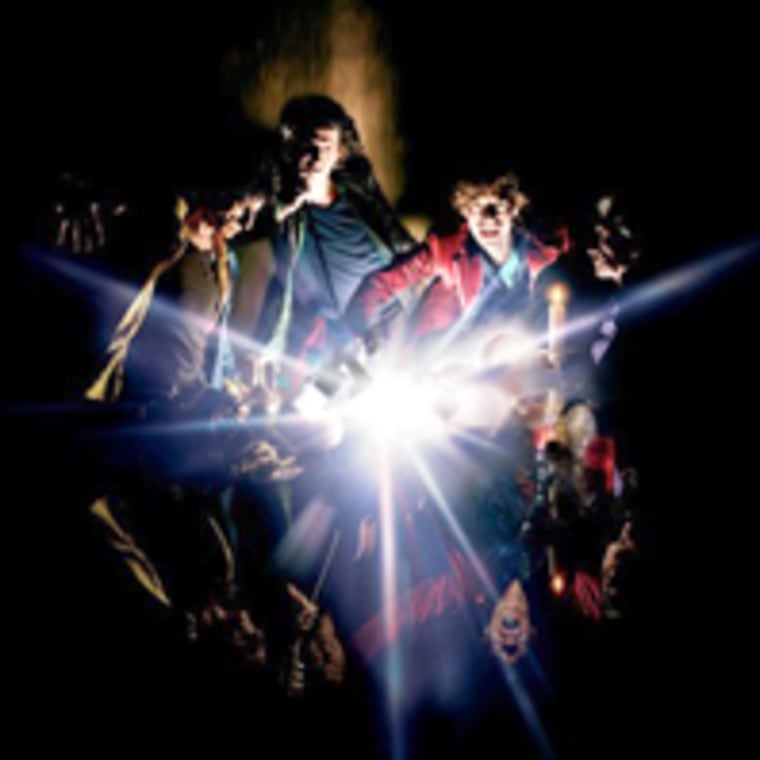 "Sweet Neo Con," a critical rant for this generally apolitical band, finds Jagger jabbing at President George Bush harder than Green Day: "You call yourself a Christian/ I think that you're a hypocrite/ You say you're a patriot/ I think you're a crock of ..."
On "Biggest Mistake," the 62-year-old singer showcases a refreshing vulnerability, considering his famed take-no-prisoners sexuality (i.e. 1971's "Brown Sugar" and 1966's "Under My Thumb"). Here, Jagger has made "the biggest mistake of my life" by walking out of a relationship because of succumbing to past "rebel" ways. "I acted impatient, acted unkind/ I took her for granted," he sings. Jagger even admits, after realizing his wrongdoing, that he's "becoming a grouch," drinking on the couch and watching TV.
This from the man who once crooned "I only get my rocks off while I'm sleeping."
Similarly, "Laugh, I Nearly Died" grooves on Richards' bluesy momentum and Jagger's falsetto pleading and wailing groans — a lost soul looking for love and wandering the world. Richards also rips open his soft side on "This Place Is Empty," a slow piano-sprinkled number sweetly darkened by his deep, underrated drawl.
But the Stones wouldn't be the Stones without reminding us of their boot-stomping heyday. Big swiveling riffs in "Look What the Cat Dragged In" and "Driving Too Fast" recall the band's penchant for sweaty guitar assaults. Jagger even contributes stellar slide guitar on the simple swagger of "Back of My Hand."
No, Jagger can't chicken-strut forever, and Richards has skimmed death's surface a few times already. But for now, time is still on the Stones' side. Yes it is.—Solvej Schou
Syleena Johnson, "Chapter 3: The Flesh"Syleena Johnson turns up the heat on her latest and most seductive release, "Chapter 3: The Flesh."
In her first album in nearly three years, the sultry 28-year-old leaves little to the imagination with sensual songs like "The Flesh," "Slowly" and "Phone Sex," the latter featuring fellow Chi-town native Twista.
"Can you see me in a red thong? Red pump heels, nothing else on," she teases on "Phone Sex," adding much-needed flair to a mediocre collection focusing on the ups and downs of love.
Fabolous and Johnson's mentor R. Kelly appear on the first single, the uptempo club banger "Hypnotic." Kelly also joins Johnson on "Special Occasion," where he provides yet another step routine.
Standouts include Anthony Hamilton on the powerful duet "More," Common on the Kanye West-produced "Bulls Eye" and Jermaine Dupri on "Classic Love Song." These tracks help make the album a good alternative to the bubble-gum R&B from artists like Teairra Marie and Ciara.—Michael Feeney
Nnenna Freelon, "Blueprint of a Lady — Sketches of Billie Holiday"Nnenna Freelon took a big risk by inviting comparison to Billie Holiday, but has come up with an innovative, intelligent, deeply spiritual album that pays sincere homage without trying to imitate the legendary Lady Day.
From the opening "I Didn't Know What Time It Was" with its pulsating, buoyant Latin percussive rhythms to the closing standard "All of Me" set to a reggae beat, Freelon puts her own contemporary stamp on many of the 15 tunes by altering the melodies, rhythms and moods. Instead of Holiday's flirtatious take on "Them There Eyes," Freelon turns it into a darker musing on Holiday's childhood rape. Holiday's anti-lynching song "Strange Fruit" is sung in a jarring medley with a Latin-accented "Willow Weep For Me," while "God Bless The Child" gets a slightly funky treatment.
Freelon takes a more traditional approach on some tunes. Her calming version of the African-American spiritual "Balm in Gilead" is done as a gospel-inspired duet with pianist Brandon McCune. And "You've Changed" starts as a slow-tempo, languid romantic ballad with Freelon trading lines with tenor saxophonist Doug Lawrence in a manner reminiscent of Holiday's recordings with Lester Young.
Freelon's overall approach is best summed up on her one original song, "Only You Will Know," an imagined dialogue between Lady Day and a young singer seeking to emulate her: Lady Day advises her young protege to be yourself: "Sing until you know who you are and why you came/ Sing until you know your own name. ... You may sing a ladysong, sweet drawl soft and low/ but only if the song is you and only you will know."—Charles J. Gans
Super Furry Animals, "Love Kraft"It's difficult not to use the word "weird" in describing the Super Furry Animals. Not many rock bands are Welsh; even fewer dress as yetis.
The first sound on "Love Kraft," the Furries' seventh album, is guitarist Bunf splashing into a swimming pool. Kerplunk goes the Super Soggy Animal.
Then comes "Zoom," a blistering, 7-minute swirl of slashing guitar and foreboding choir. Gruff Rhys sings, "I can't get enough of it/ Kiss me with apocolypse/ An instant hit." After the band's overtly political "Phantom Power" in 2003, it sounds as though Rhys has thrown up his hands at the world: "dug myself a hole/ then I fell into a vacuum."
Though the Furries exhibited a more even-keeled melody on "Phantom," here they are back to their usual unpredictability — thanks partly to writing and singing contributions from all four members.
The sweeping strings and sugary lilt of "Walk You Home" is followed by "Lazer Beam," a call to revolution and "no more romantic comedies" via groovy, utopia-making space chariots — which are really the best kind of space chariots.
Obviously, the Super Furry Animals can be a bit much. But they steer one of the most entertaining and beautiful trips down an LP this side of the Flaming Lips.
In a stunning bridge on "Frequency," the Furries show they still have some fight left in them: "Hand in hand we can break the command."
But it's impossible to actually think about politics during "Frequency" — or most any SFA song. Thankfully, in the sonic world of the Furries, the real world doesn't make a splash.—Jake Coyle