Steve Harvey said he was smitten with Marjorie Harvey from the first moment they met. In fact, he said they would get married during their 1987 meeting, per an interview with Good Housekeeping.
"The best thing that ever happened to me," Harvey said on the TODAY With Hoda & Jenna in 2023.
As Steven Harvey predicted, the couple got married — it only took 20 years and three marriages. Steve Harvey was married to Marcia Harvey from 1981 to 1994 and Mary Lee Harvey from 1996 to 2005. Marjorie Harvey was also previously married.
Marjorie and Steve Harvey married in 2007 and blended their families. Today, the couple is parents to Brandi, Karli, Broderick, Wynton, Morgan, Jason and Lori Harvey.
Recently, the couple has been addressing cheating allegations, which surfaced on social media, head-on. Steve Harvey took to his morning radio show in September 2023 to address rumors that his wife had been unfaithful.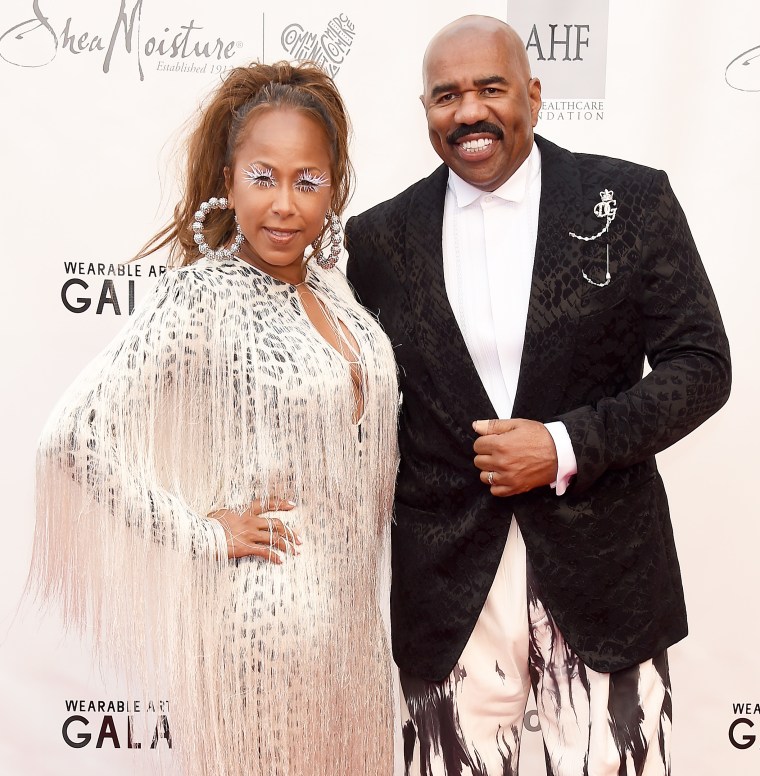 "The woman I married is a good woman," he said. "She's the best thing to ever happen to me. She's God-fearing, she's loyal, she's faithful, and she's a kind and loving person. I don't care what nobody say. And y'all quit talking about she was in my other marriage and ruined it. She didn't. She was nowhere around that." 
"I got divorced in 2005," Steve Harvey continued. "My marriage was over when the 'Kings of Comedy' was out. Y'all ain't know that though, did you? It was over then. It wasn't worth a quarter then. It took us this long to get to the divorce, that's when the official paperwork came out." 
Marjorie Harvey also responded in an Instagram post in August.
"My husband and I don't usually stop to address all the foolishness and lies that have been spread about us," she wrote. "However to whom much is given much is required. I understand that with my platform comes some sort of responsibility to those that may not be as strong as we are. Read and share this with your love ones that may not know how to properly cope."
Read on to learn more about Steve Harvey and Marjorie Harvey's relationship timeline, and how they got to this moment.
1987: Steve Harvey and Marjorie Harvey meet for the first time
Speaking to Good Housekeeping, Steve Harvey recalled the first time he met his wife. Per Harvey, they crossed paths in 1987 when he was performing at a comedy club in Memphis, Tennessee.
At the time, Steve Harvey was still married to his first wife, Marcia Harvey, whom he divorced in 1994.
"The very first thing I said to Marjorie was, 'I don't know who you are, but I'm going to marry you one day.' That was the beginning," Steve Harvey said.
Late 1980s: They start dating for the first time
During an ad break on "Family Feud," Steve Harvey talked about his relationship history with Marjorie Harvey and said they started dating somewhere between 1987 to 1989.
Marjorie Harvey told Essence in a 2020 interview that she knew the comedian was "the one" shortly after they started dating.
She also told Essence he wasn't in a stable place financially. "Before a man can be of use to a woman … he's got to know who he is, what he does and how much he's going to make," she said.
Steve Harvey clarified what Marjorie Harvey was referring to during the "Family Feud" ad break: He was homeless and living out of his car.
2005: Steve Harvey and Marjorie Harvey reconnect
After securing one major gig at the Apollo Theater in New York, Steve Harvey remarried. He told People it was for the "wrong reasons."
"I got married for the wrong reasons. I was tired of being alone. I have to own that, It was me, not her. But it was bad for a long time," he said.
After his divorce, Steve Harvey reconnected with Marjorie Harvey in 2005 thanks to his bodyguard.
"He told me, 'Look, the only time I've ever seen you happy was when you were with that woman Marjorie. Now before you go and do something stupid and marry another woman, I'm calling her,'" he told People.
Marjorie Harvey had also been married and divorced in that time.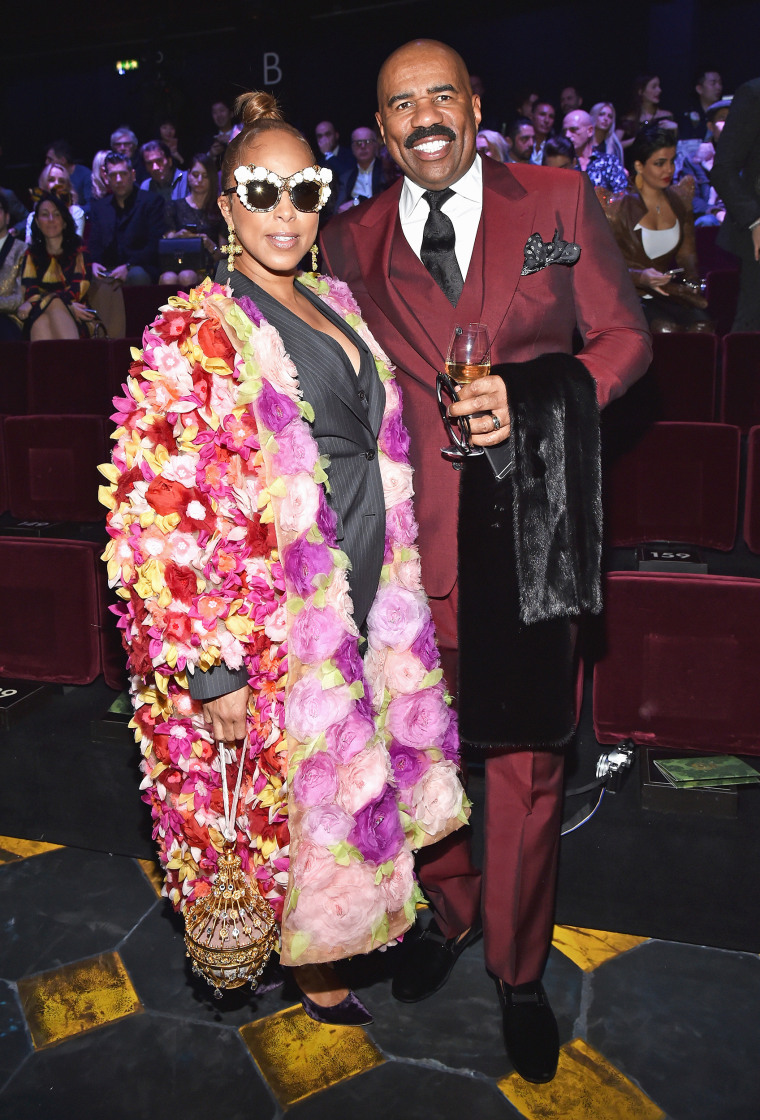 She echoed that same sentiment in an interview with People.
"When Steve came back into my life, it was effortless," she said. "I only wish he'd told me what was really going on with him when we were first dating. I told him, 'I owned my house. Honey, you wouldn't have been homeless.' We could have saved so much time."
2007: Steve and Marjorie Harvey get married and blend their familiesThe couple walked down the aisle in 2007.
Reuniting was a "second chance," Steve Harvey told People. "It was like being reborn. I messed up so many times in my life. She made all the difference. When you're happy at home, you can make a lot of things happen."
The couple also blended their families. Steve Harvey had daughters Brandi and Karli in his first marriage, and sons Broderick and Wynton in his second. Marjorie welcomed kids Morgan, Jason and Lori in her own previous marriage.
In an interview with People, Steve Harvey said their kids weren't fully on board with the idea of joining their families together.
"I said, 'Look, you don't like it? Deal with it. I don't need y'all's permission,'" he recalled himself saying at the time.
Marjorie Harvey took a different approach.
"When you're dealing with a blended family, everyone is coming from a place of broken," she also said in the interview. "We knew this was right. But I just told them, 'Everyone is included. Everyone has access to their parents. Whatever you didn't have before, don't let that interfere with what you can have now.'"
While speaking with Good Housekeeping, Steve Harvey said he learned about parenting from his wife.
"The way you handle motherhood is amazing," he told her. "You are a much better parent than I am because you take the time to parent. You understand our children in a way I never have, but I look at you as an example."
2015: Marjorie Harvey supports Steve Harvey amid backlash
In 2015, Steve Harvey made headlines when he announced the wrong winner at the 2015 Miss Universe pageant. During the event, Steve Harvey reappeared on stage and apologized for announcing the wrong winner.
During an interview with TODAY, Steve Harvey said he got some "pretty intense" backlash and "hate" from the whole situation.
While standing up for her hubby, Marjorie Harvey shared a picture of them together on Instagram and wrote, "You are a Stand Up Man and A True Class Act the way you went back out on the stage on live TV and took full responsibility alone. I am so proud to be your wife! I love you."
2023: Steve Harvey and Marjorie Harvey celebrate their 16th wedding anniversary
In July 2023, the couple celebrated 16 years of marriage in a series of Instagram posts. Steve Harvey wrote in a caption of an Instagram post, "Still going strong."
Marjorie Harvey shared the same post and wrote, "Anniversary time with the Love of My Life ❤️🙏🏾."