For comedians, anything can be a punchline. And in 2005's "The 40-Year-Old-Virgin," Steve Carell shouting out Kelly Clarkson's name while in pain certainly brought the laughs.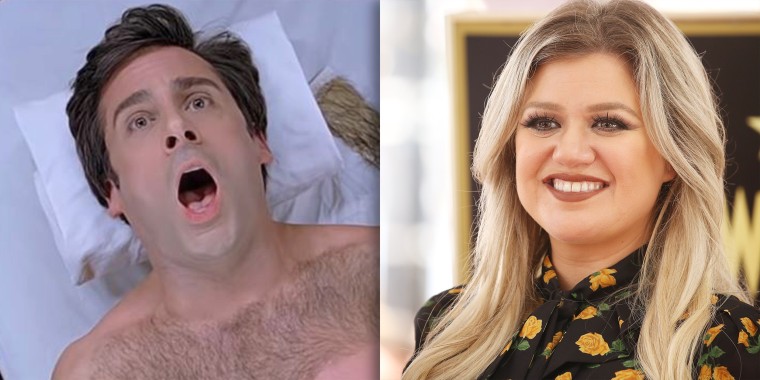 But when the pair finally met up at this year's Golden Globes, it looked like Carell might have some explaining to do. Was she just a joke?
That was Carell's concern, as he told "The Tonight Show's" Jimmy Fallon Thursday while visiting to talk about his new film, "Welcome to Marwen."
"My wife and I saw her (at the Globes) and my wife said, 'There she is!' And we had to go over and we kind of accosted her and said, 'Hi, we've never met but I really wanted to introduce myself," he recalled. "She could not have been nicer."
He also admitted to being a big fan of her music.
"I thought she'd be mad about me about (the scene)," he said. "Because I'd never met her over those years. Like, 'Is he making fun of me?' Like, 'Why would he say that in anguish?'"
In case you haven't seen the movie, in the scene in question Carell's character is having his very hairy chest waxed, patch by patch. He screams out all kinds of things ... including Clarkson's name.
In 2017, Clarkson told TODAY that she had mixed feelings about the scene. On the one hand, it was "pretty hilarious." But, she added, "I have yet to meet Steve Carell and I want to be like, 'So was it a compliment?' I don't know — if you're in pain and you think of Kelly Clarkson ..."
Fortunately, the two patched things up nicely, even posting a photo (and retweeting it) full of smiles from the gathering:
"She is awesome," said Carell. "She's the best."