History was made Sunday night when actor Steve Carell and singer Kelly Clarkson finally met 13 years after he famously shouted her name as a punch line in "The 40-Year-Old Virgin."
The meeting was captured shortly before a commercial break during Sunday night's Golden Globes Awards. Clarkson, whose name for many once conjured up images of painful chest waxes, was seen saying something that Carell found absolutely hilarious.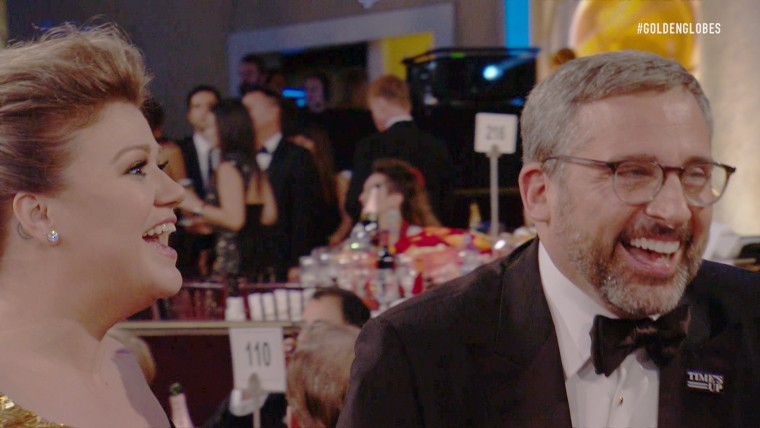 The actor plays the title character in the 2005 movie, which shows him getting waxed as part of a makeover by friends. As Carell's character screams in agony every time a strip of wax is ripped off his chest, he shouts out various expletives and, at one point, Clarkson's name.
Last fall, Clarkson told Willie Geist on Sunday TODAY that she felt "gypped" by the famous scene.
"I have yet to meet Steve Carell and I want to be like, 'So was it a compliment?' I don't know — if you're in pain and you think of Kelly Clarkson," she said, although she admitted she found the scene "pretty hilarious."
Still, she felt robbed by the hype that followed.
"I do feel gypped, though, because I've never met him, and I'm a huge fan. It was kind of a pop culture moment and I haven't even met him." Feel gypped no longer, Clarkson!
Carell was a Golden Globe best actor nominee for his role in "Battle of the Sexes," while Clarkson attended the awards to present, with Keith Urban, the Best Original Song award.
Carell lost the award to "The Disaster Artist" star James Franco, but it's obvious he still came away from the evening as a winner in the minds of pop culture fans everywhere.