/ Source: The Associated Press
Gwen Stefani had a handful of days free between the Asian and European legs of her concert tour — and they just happened to be during New York Fashion Week. The window allowed her to schedule what surely will be a standing-room-only runway show of her L.A.M.B. collection on Wednesday, the first of eight days of spring style previews.
Coincidence?
"I don't know how it worked out," said Stefani. "I might have been aware way back when that it was Fashion Week. Music has come first, but I started L.A.M.B. so I'd have a creative outlet after my music career and it's just taken off. ... But I would have never done it if I wasn't going to do it for real."
It's that attitude that has given Stefani credibility in the fashion community.
The somewhat jaded editors, stylists and retailers — who've also seen splashy shows by Jennifer Lopez and Sean "Diddy" Combs and have an unfulfilled promise by Beyonce to put her House of Dereon clothes on the catwalk — seem to be welcoming Stefani back for her second big gig here with open arms.
"We think Gwen Stefani's L.A.M.B. collection is a terrific kick off to the first evening of Mercedes-Benz Fashion Week. As more and more celebrities enter the fashion industry we see a great synergy and energy ... the L.A.M.B. line is clearly at the top of these lines and is as unique and individual as Gwen herself," said Fern Mallis, senior vice president of IMG Fashion, which organizes the event that attracts 14,000 people daily to the Bryant Park tents.
Most of the shows, 60 of them, will once again be at the tents right in Midtown. For the past few seasons, there had been talk that the shows would move elsewhere but it seems a dormant issue for now. Some big names in fashion, however, including Donna Karan, Marc Jacobs and for the first time in recent history, Oscar de la Renta, hold their shows in what they deem more atmospheric spaces throughout the city.
Highlights this year will include Ralph Lauren celebrating his 40 years in fashion with a special show and black-tie dinner at the Conservatory Gardens in Central Park on Saturday night.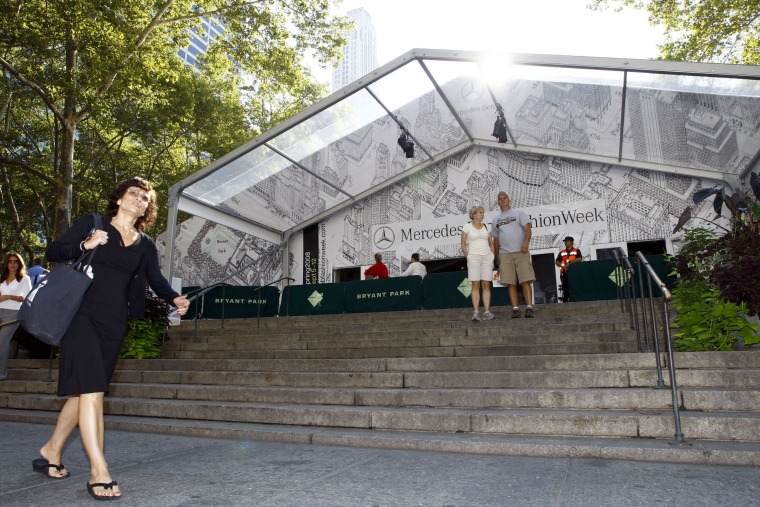 Lopez also is making a return engagement of sorts but this isn't the huge event — with a crystal-studded runway and all — that was staged for the Fashion Week debut of the Sweetface label in 2005. This show, for a line called JustSweet (described as focusing on status denim and sexy clothing) is in keeping with the lower profile that she's adopted for her fashion career. She is still involved in the business end of Sweetface Fashion Company, but not much in design.
Stefani, however, thinks fashion is likely a growing part of her life. "This is so in my heart," she told the Associated Press in a telephone interview. "I make the clothes for myself, clothes I'd want to wear. I want clothes that have quality and style."
But even if the look is her own, inspired by a combination of Jamaican rastafarians, English school girls and Orange County, Calif., teens, Stefani says L.A.M.B. couldn't happen without a larger team, especially stylist Andrea Lieberman, whom Stefani met on the set of an Eve video years ago.
"It just clicked. I found someone who got me. She grew up in New York and knows fashion. I went to the mall when I was young. She fills in my gaps," Stefani said.
And they've come a long way since that first Fashion Week show two years ago when they were scavenging for belts and shoes at the last minute. L.A.M.B. now makes its own accessories and the signature fragrance is rolling out. (In the interim she also has staged some smaller collection previews.)
Jake Johnson and Damon Wayans Jr. on the "Let's Be Cops," red carpet, Selena Gomez is immortalized in wax and more.
"We're still learning, but we also have accomplished stuff that shocks me. I don't want to brag, but I'm feel pretty proud of a lot of this," Stefani said.
Finola Hughes, the former TV soap star who has become a fixture at Fashion Week for the Style network and currently host of "How Do I Look?", likes Stefani's rock 'n' roll perspective.
"I actually think she's got a fantastic eye. Her clothing is well made and fits brilliantly," Hughes said. "She has great taste informed by Vivienne Westwood, Jean Paul Gaultier — some really good designers. And she's heavy into tailoring and detail."
Hughes says she owns some L.A.M.B. skirts and pants, and her favorite is a black suit with an intricate pirate-sleeve detail.
As for the upcoming spring looks, Stefani says she's been influenced by the whirlwind life she has led over the past year as a new mother traveling the globe. "Fashion is art, it's always affected by circumstance. ... The last collection when I was pregnant, I was totally affected by my weird body."
In general, the fall clothes on the runway last February and in stores now have a very polished look, which Hughes would like to see even more of.
She probably will.
For example, Designer Tracy Reese's spring collection continues the more fitted styles that are longer and leaner. The earlier trend of billowy minidresses weren't a match for her own figure so she's happy to see the closer-to-the-body silhouette making a lasting impression. "It's nice to see the waist again, but it won't be so bound and cinched. ... There'll be bias slips, sort of a 1930s meets the '70s," Reese says.
For her, this season marks her label's 10th anniversary and she wants the overall look to be effortless and comfortable.
"Everything is easier — that's where my head is at," she said. "Can you say what you want with your look in one or two pieces not three or four, but still make a bold statement? I think so."