/ Source: The Associated Press
A global mix of British stars, Hispanic ingenues, hip-hop royalty, politicos and Oscar winners united under one language at this year's Academy Awards parties: glamour.
From Vanity Fair's celebrity-packed after-party to Elton John's annual Oscar viewing bash, Sunday night's festivities were as diverse as they were glitzy.
Best supporting actress winner Jennifer Hudson, wearing a snug gold beaded gown, showed up to Vanity Fair's party at Morton's just before 1 a.m., thrusting her trophy for "Dreamgirls" into the air.
At the same time, best actor winner Forest Whitaker entered the bash and was trailed by a long line of fans and well-wishers.
Clutching his best director trophy for mob drama "The Departed," long-overdue Oscar winner Martin Scorsese answered heaps of praises and hugs with a grin plastered across his face.
A few feet away, "Departed" star and best actor nominee Leonardo DiCaprio wolfed down veggie egg rolls.
Accents and myriad languages swirled around the massive restaurant.
Mexican actors Gael Garcia Bernal and Diego Luna chatted in Spanish next to Bernal's one-time paramour Natalie Portman, while Spanish starlet and best actress nominee Penelope Cruz milled.
British actor Sacha Baron Cohen, sans his "Borat" natty threads and wearing a snazzy tux, joked with fellow Brit Orlando Bloom, and danced to Gnarls Barkley's hip-hop hit "Crazy."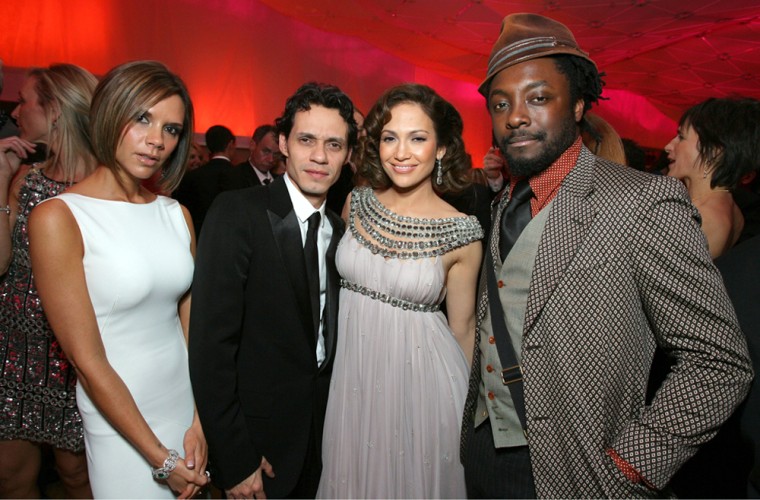 Victoria "Posh Spice" Beckham, in a slender, white gown, chatted up Jennifer Lopez and Lopez's husband, Marc Anthony.
Even former supermodel rivals Naomi Campbell and Tyra Banks laughed together, towering over everyone else in their dazzling dresses.
Al Gore, on hand to celebrate his documentary win for "An Inconvenient Truth," was a party favorite and was seen with "Prestige" actor Hugh Jackman and others as he made the rounds.
Other figures from the world of politics and punditry on the scene included Los Angeles Mayor Antonio Villaraigosa, Arianna Huffington, Anderson Cooper and comedian Bill Maher, who held court with Dennis Hopper and Sean Penn in a corner booth, smoking cigars and surrounded by beautiful women.
Earlier in the evening, at Elton John's 15th annual Oscar viewing party to benefit the Elton John Aids Foundation, Sean "Diddy" Combs, Sheryl Crow, Gloria Estefan and rapper Eve sat in silver-sheathed chairs and ate risotto, filet mignon and chocolate pudding on plates resting on mirrored table tops.
Designer Zac Posen sat with former Marilyn Manson flame Dita Von Teese, who chatted up British rock royals Ozzy, Sharon, Jack and Kelly Osbourne at the next table.
The party raised $4.2 million for John's foundation, due in large part to Sharon Stone.
After John complained about the Oscar telecast's beastly four-hour running time, saying that "people were snoozing" across the country, Stone helped out on-stage with the night's mega auction of prizes.
Stone, unsteady on her feet and slurring her words, rambled, "I've been sitting at my table with P. Diddy and Jon Bon Jovi, and I'm a little messed up," later calling herself a "bad girl."
She did manage, however, to get two different attendees bidding on a chance to attend John's 60th birthday bash to each front $250,000.
Earlier, Combs bid $65,000 on a lesson with soccer star David Beckham, but lost out.
After dinner, British singer James Blunt joined John with a rowdy set of tunes, including John's hit "Tiny Dancer."
Outside, drinking a beer, "American Idol" judge Simon Cowell waxed poetic on former "Idol" finalist Hudson.
"I feel like her foster parent," he said, beaming about the woman he once berated on "Idol."
Saturday night's Vibe magazine pre-Oscar bash continued the party pack's diverse, fun-loving vibe.
Hosted by one-time Oscar nominee Queen Latifah, the shindig at West Hollywood's Republic attracted a vibrant cross-section of the black community, who sipped vodka martinis and sweated to pounding hip-hop.
Combs and his entourage showed up on the dance floor. Former NBA star Dennis Rodman made an appearance, wearing hoop earrings and smoking a cigar.
Even Sunday night's traditional Governors Ball following the Academy Awards got a new, savvy look.
Instead of the usual rows of tables, the rooftop ballroom was filled with chairs and divans.
Gone were Wolfgang Puck's suppers served by waiters. Guests could fill their plates with delicacies at buffets stationed around room.
"I think it works," Clint Eastwood said.