With Donald Trump hosting "Saturday Night Live" this weekend, TODAY.com is revisiting some of the most memorable presidential candidates to campaign for laughs and votes on the iconic late-night comedy series.
Although this is only a partial list that doesn't include those who haven't formally run (sorry, Kanye West), the following presidential candidates are listed roughly in chronological order of their first "SNL" appearance. Keep in mind that some of these candidates may not have been holding or vying for that office at the time of their appearance(s).
1. Gerald Ford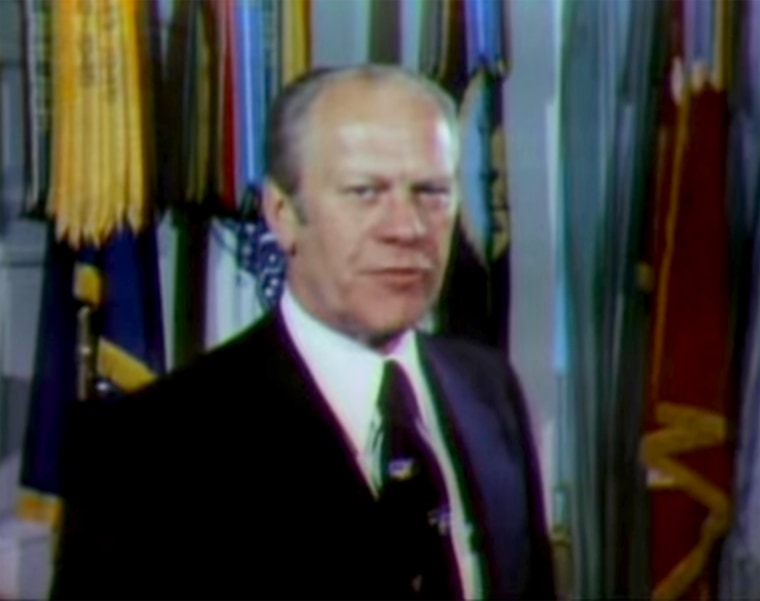 It took less than a year into "SNL's" run for the first sitting president to appear on the show. On April 17, 1976, the Republican even delivered the signature "Live from New York" exclamation to segue into the opening credits. You can catch a glimpse of that moment at the 1:11 mark of this video that aired during "SNL's" 40th anniversary special.
2. Ralph Nader
A Green Party candidate in the 2000 election, Nader had made a name for himself as a consumer advocate before hosting a Jan. 15, 1977 episode in which he fielded absurd questions from Not Ready For Prime-Time Players posing as members of the studio audience. He returned to Studio 8H in October 2000, when host Rob Lowe has trouble identifying the man introduced to him by "SNL" creator Lorne Michaels. "Lorne knows him," Lowe deduces, "so that means he used to be famous."
3. George McGovern
The Democratic nominee for the 1972 race hosted the show on April 14, 1984, and made light of his failed bids for president during his opening monologue: "Ever since I agreed to host 'Saturday Night Live,' people have been asking me, 'Why?' The answer's very simple: I need the money."
4. Jesse Jackson
The reverend hosted the Oct. 20, 1984, episode during his first pursuit of the Democratic nomination. While commending "SNL" for its diversity, a buzzing sound interrupted his monologue, prompting him to investigate. Cameras cut to the control room, where white crew members cleared out and were replaced by black counterparts just moments before Jackson arrived.
5. George H. W. Bush
"I was your president from 1989 to 1993, and during that time, 'Saturday Night Live' made fun of me on a fairly regular basis," the Republican said during the cold open to an Oct. 22, 1994, episode hosted by Dana Carvey, who frequently lampooned him on the show. "Do I have any hard feelings about that? Yes, I do, and I'll have my revenge when the time is right. Not now. It wouldn't be prudent at this juncture."
6. George Pataki
Soon after a major blizzard swept across the Northeast in January 1996, New York's then-governor joined New York City's then-mayor and fellow Republican, Rudy Giuliani, in asking the audience to forgive the cast if the episode wound up being less than hilarious. "If a sketch doesn't have an ending, well, so what?" Pataki, who's pursuing the 2016 GOP nomination, said at the time. "It's only television."
7. Rudy Giuliani
"SNL" must've seen something in Giuliani, who stumped for the 2008 Republican nomination. Nine months after appearing in that 1996 blizzard sketch, he hosted an episode in which he played a cab driver who was furious with "friggin' Giuliani." Giuliani also was part of one of "SNL's" most powerful moments: After participating in an opening tribute to 9/11 victims and first-responders in "SNL's" first episode to air after the tragedy, Giuliani assured Michaels it was important for the show to go on. "Can we be funny?" asked Michaels. "Why start now?" Giuliani replied.
8. Steve Forbes
A month after dropping out of the race for the 1996 Republican nomination, the magazine mogul hosted that year's April 13 episode, and tried to convince audience members who kept asking about his wealth he was just a regular guy. "I'm Steve Forbes, and I'm human," he insisted. "That's right, I am human, just like you. I may have run for president; I may be a publishing tycoon, but just like any Average Joe out there, I get frustrated when I lock my cars inside my helicopter."
9. Bob Dole
The 1996 Republican nominee's unsuccessful bid to unseat Bill Clinton appeared to disappoint "SNL's" Norm Macdonald, who played Dole on the show. The senator tried to console Macdonald during the episode that aired Nov. 16, 1996, just 11 days after that election. "Bob Dole knows how much it meant for you to play me on the show the next four years," said Dole with a laugh. "Bob Dole feels your pain."
10. John McCain
In addition to hosting the Oct. 19, 2002, episode, the 2008 Republican nominee since has made multiple cameos, including one in which he appeared with Tina Fey (playing his running mate, Sarah Palin) just three days before the 2008 election.
11. Al Gore
As host on Dec. 14, 2002, the 2000 Democratic nominee tried to convince himself that he was good enough and smart enough and that, doggone it, people liked him. He went on this journey with Stuart Smalley, played by longtime "SNL" writer-performer and fellow Democrat Al Franken, who, seven years later, would be sworn in as a Minnesota senator.
12. Al Sharpton
About four months before he gave up his pursuit of the 2004 Democratic nomination, Sharpton hosted a December 2003 "SNL" episode and played Ryan Fellow, the brother of recurring Tracy Morgan character Brian Fellow. As expected, the host informed the audience, "I'm Ryan Fellow!"
RELATED: 'That bird is a liar!' See Tracy Morgan's 5 funniest 'SNL' moments (so far)
13. Donald Trump
More than a decade before gunning for the 2016 GOP nomination, Trump hosted "SNL" in April 2004. The original host of the American version of "The Apprentice" introduced viewers to his "replacement": cast member Darrell Hammond, dressed in the same outfit and repeatedly declaring, "You're fired!"
14. Barack Obama
The two-term president was just a Democratic candidate when he appeared on the episode premiering Feb. 23, 2008. In a cold-open that featured the characters Hillary and Bill Clinton (Amy Poehler and Hammond, respectively) hosting a Halloween soiree attended by fellow party nominees, a guest removed his Obama mask to reveal he's actually Obama. "I'm not going to change who I am, just because it's Halloween," noted Obama.
15. Hillary Clinton
Just one week after Obama's cameo, the real Hillary Clinton, then vying for the 2008 Democratic nomination, stood beside a manically laughing and identically dressed Poehler and wondered, "Do I really laugh like that?" Just last month, the party front-runner for the 2016 nomination played Val, a bartender opposite Kate McKinnon's version of the former secretary of state, and offered a Trump impersonation of her own: "Isn't he the one that's like, 'Uh, you're all losers?'"
16. Jon Huntsman
As a guest on Weekend Update on Nov. 19, 2011, the Republican candidate for the 2012 nomination opened himself up to some self-effacing humor. Remarked anchor Seth Meyers, "You know, I'd like to start with something you never hear at the debates: Gov. Huntsman, the first question is for you." Said Huntsman of his poll results, "Only a few months ago, I was polling at 'margin of error,' so to have any digit at all is a pretty big deal."
17. Chris Christie
On Nov. 17, 2012, the New Jersey governor made a Weekend Update cameo of his own in a chat/bicker with Meyers about life after Hurricane Sandy. Christie, who years later would seek the 2016 GOP nomination, thanked his wife for putting up with a "husband who has smelled like a wet fleece for the past three weeks." He added, "It's basically fused to my skin at this point. … I'm going to die in this fleece, but that's OK. It's a good fleece."
If you'd rather watch "SNL" cast members impersonate political figures, TODAY.com's got you covered there, too.
Follow TODAY.com writer Chris Serico on Twitter.