If they were good enough for the Founding Fathers, you might think they'd have remained as common as apple pie. No, not quill pens, tri-corner hats or shoe buckles — we're talking about leggings.
George Washington and Thomas Jefferson were no strangers to the look. In fact, in paintings they're depicted sporting knee-highs, or tights, while signing the Declaration of Independence.
"It is always Revolutionary — with a capital 'R,'" says Joyce Caruso Corrigan, editor at large for Marie Claire magazine, which features some of the season's looks in its current issue.
As Fashion Week is set to begin Friday in New York, here's a glance at some of the styles that have made it from the spring show into autumn store racks.
Leggings — along with chunky knits, frocks and knee-high boots — are just one of the everything-old-is-new-again looks that came off the runways and into the malls.
A haute couture line comes courtesy of red-carpet favorite Zac Posen for Wolford, a leading legwear designer label. Wolford's Posen exclusives include a selection of stockings sporting "an intricate constellation of pinhole openings, tromp l'oeil lingerie, and a flirtatious playing-card motif."
Wolford's own collection includes an elegant variety of lattice patterned and striped legwear.
Like a little extra flair in your step — literally? There's a pair with embedded Swarovski crystals and sequins.
If the sparkly route isn't for you, never fear. The basics — from Donna Karan and Calvin Klein, for instance — still offer plenty of versatility for pairing up with fall's looks.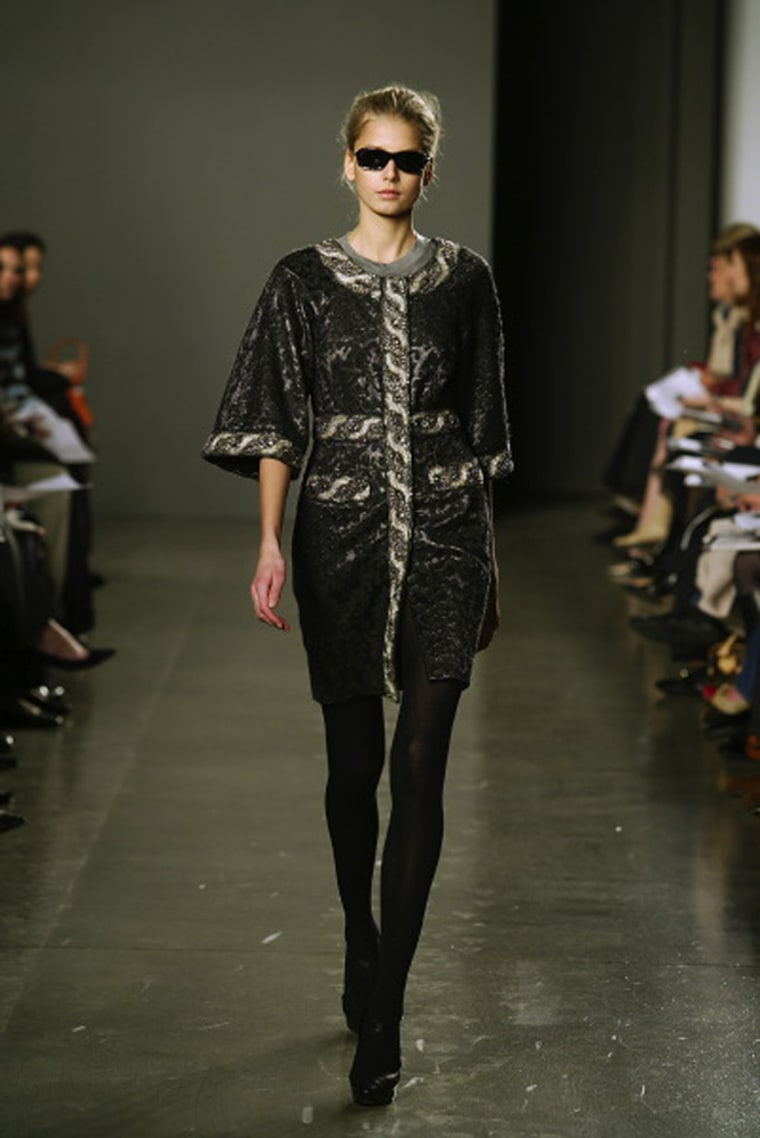 Among the other offerings that made their way off the runway are frocks — in simple A-line contours, jumper-style cuts and spiced-up house dresses, like those by Rebecca Tayor — and bulky tops.
For the cozy, big outerwear, Corrigan suggests taking a cue from the elegant, more luxurious looks put forth by Proenza Schouler and Stella McCartney this past spring — full knits and jackets, oversized sweaters that reach mid-thigh.
"You don't want to look like you just came out of a Pilates class," she says.
While these aren't your great-great-grandfather's leggings, they do hark back to an aesthetic seen in old family photographs. "We saw them in the '60s," Corrigan says. "We saw them again in the '80s."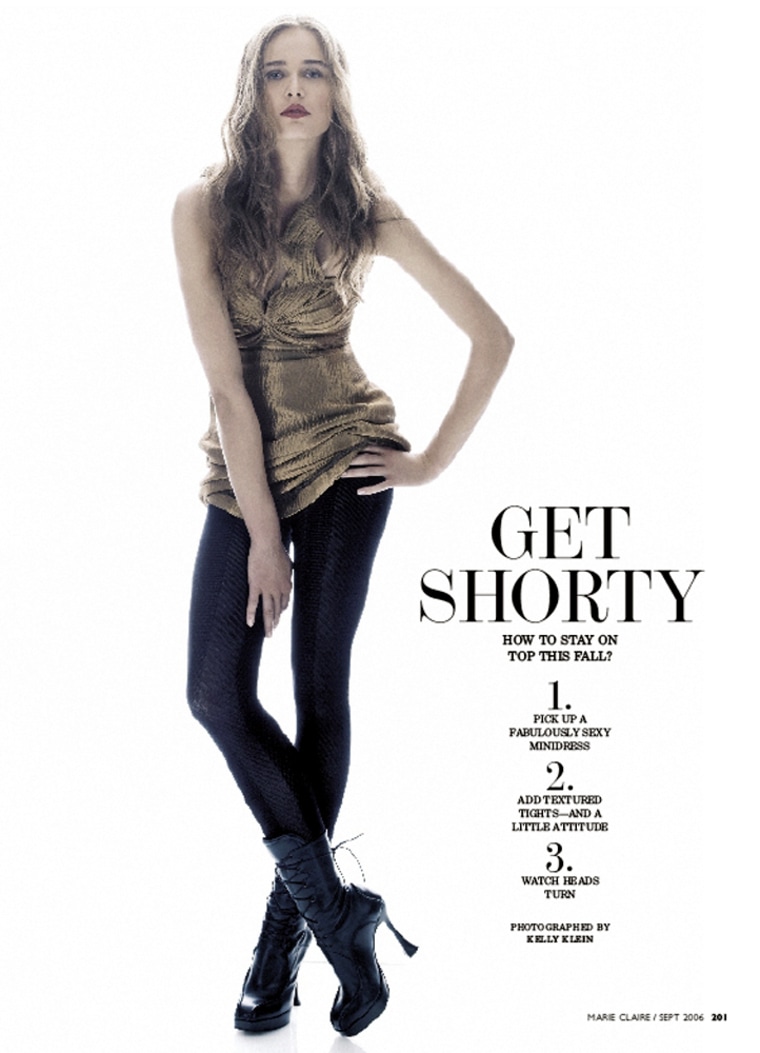 The new focus on legs also means a move away from cleavage.
"There is a new emphasis on the sexy leg," she says. "It's definitely that rock-star look."
Indeed, indie rockers did for skinny jeans a few seasons ago what Jim Morrison did for leather trousers. The Gap gets in on the action in its new TV ad campaign for skinny black pants, featuring vintage Audrey Hepburn footage.
The appeal of leggings, however, is more universal.
"You don't have to have a figure like Kate Moss," Corrigan says.Corrigan recommends buying good-quality legwear that will last and retain its shape better, especially wool-and-Lycra blends that make fashionable use of fabric technologies.
"I don't think Ben Franklin had the benefit of that," she says.
Q&A
Is the GO International designer program at Target stores going to be an ongoing thing? Who is Target's last GO International designer? When will the GO International program at Target stores end? -Angelina Moreno, Monee, Ill.
Target's well-received GO International line, which Style Patrol , brings the work of high-end designers into stores at lower price points than you would normally see in boutiques. The catch is that it's a limited-edition collection, so once it's sold out, it's gone for good.
The current collection, by French designer Sophie Albou's label, Paul & Joe, is available through Oct. 30. A company spokeswoman next designer has not yet been announced, and the program has no scheduled end date.
Chances are programs like Target's will only become more common as the links between haute couture and mass-market merchandising
Even Gap has flirted with the idea. Last month, company president Cynthia Harriss mentioned a possible collaboration at the Piper Jaffray consumer conference in New York.
Also last month, Wisconsin-based retail chain Kohl's announced it would begin carrying Very Vera by Vera Wang in stores and online, beginning this fall. (Vera Wang's runway show at fashion week in New York takes place Sept. 14.)
So stay tuned!