Cookbooks are an amazing travel aid. It's nearly 7,000 miles from Dublin to the heart of Vietnam, yet new cookbooks from the two nations can sit next to each other on your shelves.
And just as there's now a Web site and a cable channel for every specialty and hobby out there, so too is there a cookbook that focuses on nearly every course or ingredient. In addition to the books on Irish and Vietnamese cuisine, this season, we look at new cookbooks focusing on one-dish chicken meals, vegetable soups, and appetizers that can be made into full meals.
We also take a look at the giant (1,264 pages) English-language version of Italy's famed "Silver Spoon" cookbook. A treasure, to be sure, but did it lose something in the translation?
Happy cooking!    —Gael Fashingbauer Cooper
Food o' the IrishSt. Patrick's Day is over, but the recipes in Margaret M. Johnson's "Irish Pub Cookbook" (Chronicle, $25) work just fine year round. Ireland doesn't often earn praise for its cuisine, but there's a wonderful rich pubbiness to the dishes of Eire that tastes just as good on a rainy Seattle day, or during a Minnesota blizzard, or even when the sun is shining in L.A. Yet the main dishes from this book that I tested, while perfectly acceptable, didn't do much to boost the nation's culinary reputation.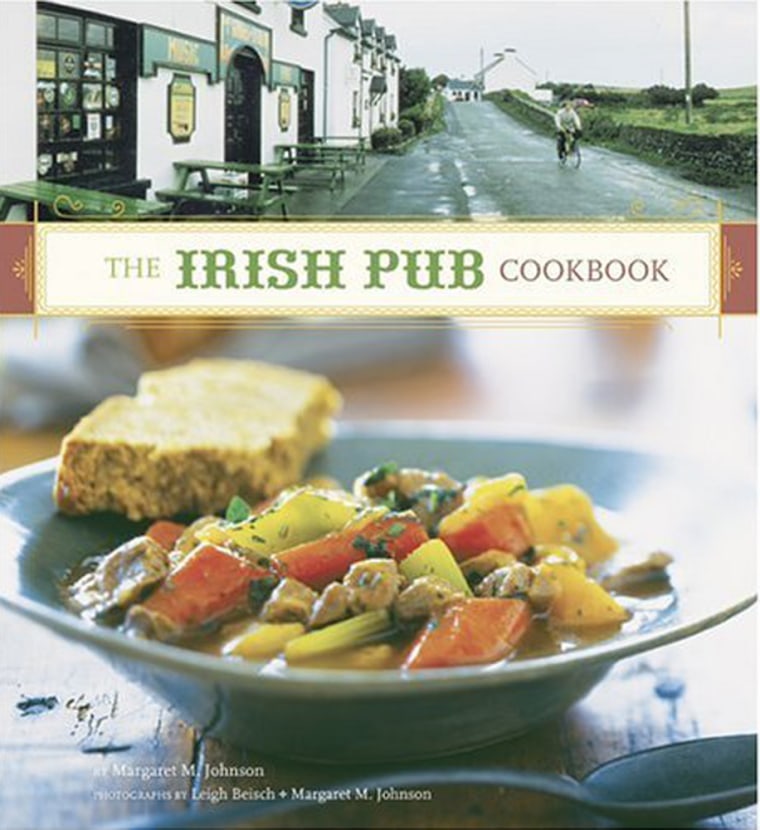 Ever since tasting the beef stew served at Dublin's Guinness brewery back in 1999, my husband and I have rhapsodized about it. Sadly, the version of that recipe in the book lacks some of the extraordinary depth and satisfying warmth of the Dublin dish (perhaps it helps to have such fresh stout at hand). Potato-leek soup from a County Kildare country inn was a bit bland, and colorful three-pepper soup from a County Galway inn was tasty but floury.
Non-main courses fared better. I've made the brown soda bread from Mac's Pub in Bunratty Folk Park three times since picking up the book — it's hearty without being dry. The Pavlova with fresh fruit was simple and sweet, yet impressed guests. A beautiful dish that combined Guinness chocolate mousse with a topping of white-chocolate mousse to look like a creamy pint was fabulously rich, but best in tiny portions (one diner took only a bite, then handed it back).
As befits an extraordinarily beautiful nation, "The Irish Pub Cookbook" is a gorgeous book, littered with color photos of the dishes and the pubs and inns that supply the recipes. It's fun to read and just to flip through. Although not every dish delighted, I'll be keeping this book handy for St. Pat's parties and beyond.    —G.F.C.
Chicken tonight
Many American cooks lean heavily on chicken, and for good reason. It's cheap, it's easy to come by, it's widely loved, and it can be a base for dishes of all cuisines, all spice levels, and can be prepared by novices and gourmets alike. Mary Ellen Evans' "The One-Dish Chicken Cookbook" (Broadway, $18) will keep chicken even more upfront in home cooks' minds.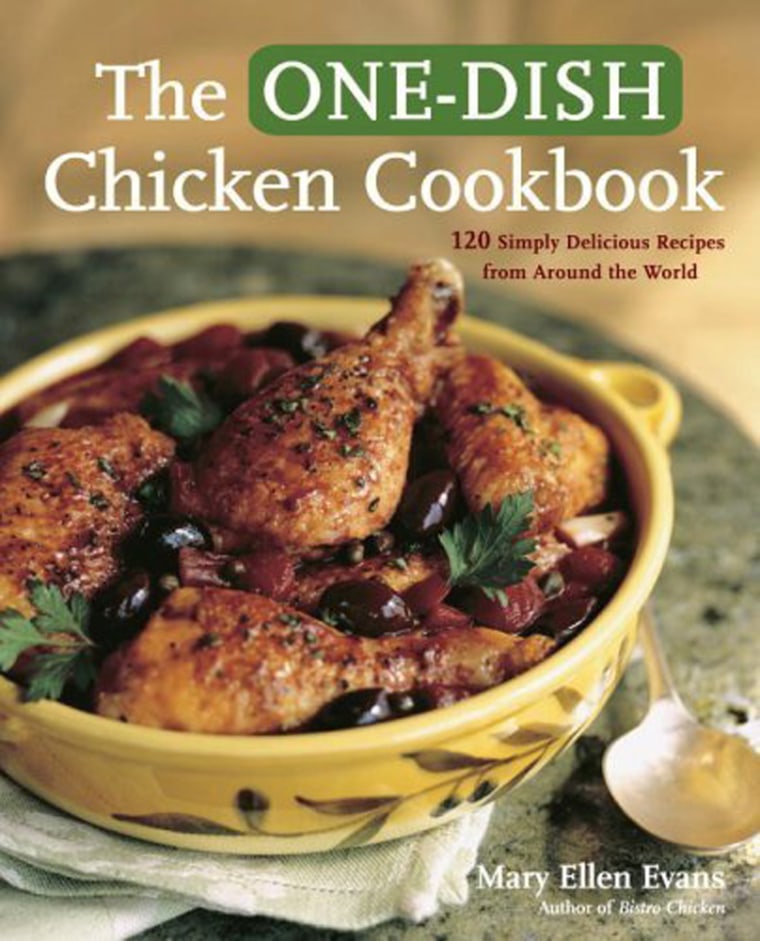 It's hard for a family to complain about getting too much chicken when one night it's chicken cacciatore, another night it's smothered inside enchiladas suizas, and another night spicing up the plates with kung pao chicken. India's chicken korma has long been a favorite of mine, but I've shied away from making it due to the complication. Evans' simple recipe is now my standby. Only one problem: I don't generally have crème fraiche on hand, and the korma isn't the only dish in the book that requires it. Shop ahead, I guess.
Her jambalaya recipe was tasty and quick, but it mixes both andouille sausage and bites of chicken. The diners in my house picked around the chicken and chomped on the andouille instead. They enjoyed the dish, but it was a bit odd to see the title ingredient shunned. Chicken and dumplings, that comfort-food classic, was a bit bland, even for such a homey dish. It was certainly quick to prepare, and would work on a weeknight when you just have to have chicken and dumplings in a hurry, but I'd rather prepare a different recipe, even if it took much longer to make.
I certainly can't argue with this book's versatility and simplicity. As promised, the dishes I tried only require you to dirty one pot (although a blender or other appliance may also get involved) For as long as chicken reigns in our kitchens and on our tables, there'll be a place for this book.    —G.F.C.
Asian accentIf you're looking for the ultimate Vietnamese recipe compendium, you won't find it in Nancie McDermott's "Quick and Easy Vietnamese" (Chronicle, $20). But if you'd like some simple dishes with Vietnamese origins that could fit easily into a modern American kitchen, you're more on track.
One guest made me repeat the simple recipe for lemongrass beef over and over, disbelieving how such simple steps and ingredients could result in such tender, tasty meat. Chicken simmered in caramel sauce was a restaurant-quality offering that took perhaps 15 minutes, start to finish. While I tend to associate chicken curry with Indian recipes, curries are popular in Vietnam as well, and this simple dish, spiked with lemongrass and chunks of sweet potatoes, was another dinnertime hit. The only main-course misfire was Vietnamese meat loaf, which used dried bean-thread noodles instead of breadcrumbs as a filler, and resulted in an odd, rubbery texture.
From the sweets and drinks chapter, warm banana-coconut pudding with tapioca pearls sounded wonderful, but the resulting dish was less what we think of as pudding and more a watery coconut-milk based broth with bobbing banana pieces. But overall, even if you've never thought you could make Vietnamese food at home, this book is a delightful way to get started.    —G.F.C.
Appetizers with the 'wow' factor
For those who enthusiastically order dinner off appetizer menus, Marguerite Marceau Henderson has written a cookbook just for you. "Small Plates — Appetizers as Meals" (Gibbs Smith, $19) leads cooks on a multicultural tasting journey as instructive as it is pleasurable. Henderson, a successful restaurateur, caterer and cooking instructor, aims not for an "I'm full" sigh, but for a "Wow!" excitement built on flavor, variety, color and texture.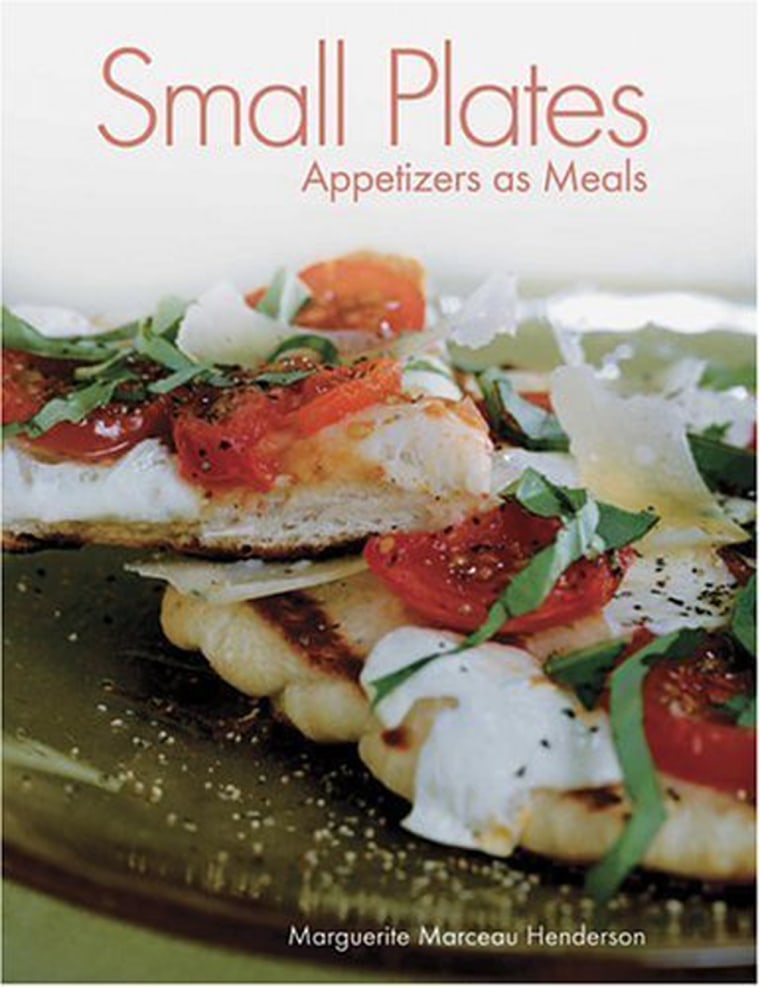 Henderson sold me with the heavenly asparagus, peas and chive risotto. The asparagus, a favorite-of-spring-vegetable, came out perfectly after a quick sauté with olive oil and salt. Crisp yet tender, a little sweet, a divine match with the risotto.
I will admit initial doubt; a quick look through the Breadstuffs chapter revealed a heavy reliance on store-bought puff pastry. And I was not reassured when the grilled pizza margherita called for pizza dough in a tube. Fortunately, many recipes proved themselves. Pear and gorgonzola crostada, both sweet and salty, earned raves. Sicilian Swiss chard, pancetta and beans satisfied with layers of contrasting flavor and texture. Hot wasabi added welcome bite to sesame-coated tuna with wasabi mayonnaise. The most festive dish, Cajun shrimp and andouille salad, sparkled, combining spinach and red peppers with spicy shrimp and sausage, blue cheese, walnuts, an orange vinaigrette and — surprise! — pomegranate seeds.
I wasn't as thrilled with the coconut curry chicken; for all the spices it seemed bland, a dish dependent on condiments. And it made a huge tureen. It's with this recipe that I learned to ignore the number of servings listed and look instead at the ingredient amounts. To be fair, Henderson notes her recipes are but a guideline and encourages deviation according to one's specific tastes and desires. For those who can improvise a tad and not be bound by pre-determined measurements, the book's a winner.    —Joan Wolfe
Born with a 'Silver Spoon'"Il Cucchiaio d'Argento" faithfully served Italian households for over half a century. Now an English-language translation has arrived. "The Silver Spoon" (Phaidon, $40) is a glorious mess of a book. Though often considered Italy's equivalent to "The Joy of Cooking," "Cucchiaio" was actually a laborious compilation of grandma recipes from throughout Italy. Once I considered "Spoon" in that light, I found it irresistible. Weighing in at a comprehensive 1,263 pages, it largely remains focused on Italian home eating, with more than enough surprise twists (grapefruit crostini) to compensate for an abundance of non-Italian recipes (quiche Lorraine, beef Wellington).
What you shouldn't do is follow "Spoon" literally: It is rife with inaccuracies, fudged measurements and vagueness (penne with lettuce? What kind of lettuce?), which you can chalk up to either translation glitches or a homespun resistance to precision. If you accept that, and resolve to use the recipes as merely a rough template — a bit like those scribbled notes found in Grandma's recipe box — it's a delight. A Barolo and mushroom risotto was heady and pungent, though Mama might wonder why the precious soaking water for dried mushrooms isn't used to moisten the rice. Loin of pork with juniper was a minor revelation, thanks to the berries' aromatic punch. Just hope you know how to secure a pancetta-wrapped loin with kitchen twine.
Editors bulked up the stylish, colorful English-language version with menus from celebrated Italian chefs and their expat counterparts, such as Mario Batali and Lidia Bastianich. While seemingly tasty, these feel out of place in a work meant to celebrate basic country food. Ironically, "Spoon's" shortcomings make it a joy for those of us who don't like to follow recipes by the letter. Its glitches, though, could leave less rebellious cooks floundering.    —Jon Bonné
Soup's onDeborah Madison continues her series of nearly-vegetarian cookbooks with "Vegetable Soups from Deborah Madison's Kitchen" (Broadway, $20), a gorgeous assembly of soups for every season and mood.  Vegetable soup doesn't seem the most exciting topic, but Madison's passion combined with innovative takes on old standards makes even split-pea soup (with lemon, rosemary, and smoked paprika) seem fresh.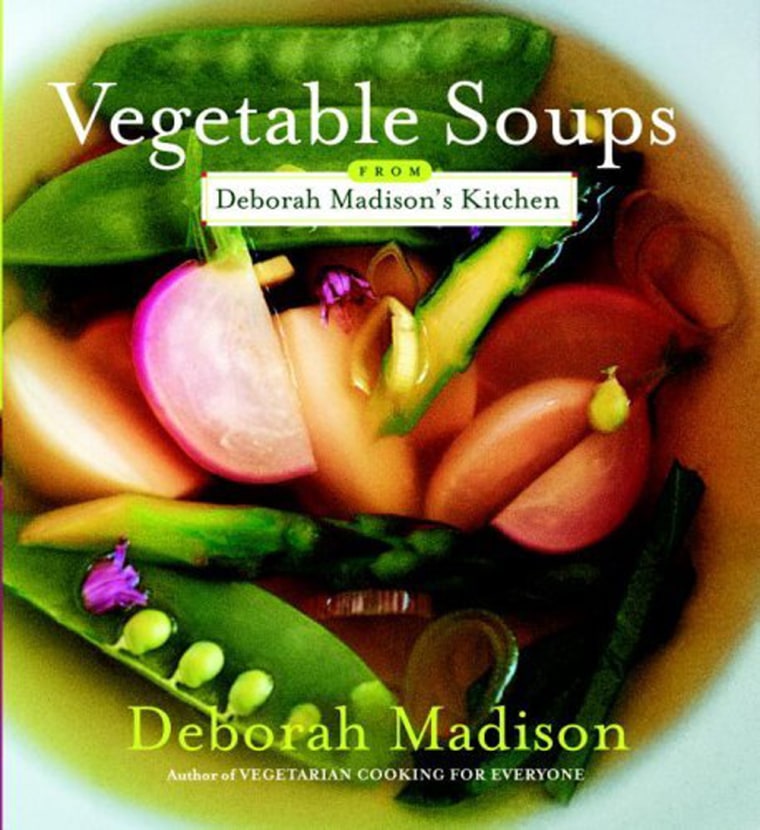 The book begins with basic broths, which can be served on their own or used as bases for some of the other soups. Erase memories of that awful cabbage-soup diet with Madison's flavorful "dieter's soup," featuring miso and a hefty dose of garlic and ginger.  Bean soups, lentil and pea soups, and bread and grain-based soups also get their own chapters. 
Three black-bean soup recipes may seem two too many, but each variation is different enough — a slow-cooked Cuban-inspired version with cumin, a quick, zesty version spiked with coconut and lime, and a simpler Boston-style soup with hard-cooked egg. Cooks could try them all in one week without tiring of black beans. 
The book also features recipe sections for each season, matching greens-filled soups to spring and warming roasted-vegetable soups to the fall. Summer's traditional gazpacho becomes iced soup in three colors, made from red, green, and yellow tomatoes, or white gazpacho made with melon and almonds.  Madison doesn't discount pre-made soups altogether, either.  Although many of her recipes are simple enough to make from scratch in the same time it takes to heat up a can, she offers a range of improvisations for canned soups and confesses to making a lunch from a can herself, on occasion. 
The spirit of improvisation runs through this book, and you'll soon find yourself eager to tweak each recipe and come up with some soup ideas of your own.  Vegetable soup will never seem boring again.    —Hannah Meehan Spector
Gael Fashingbauer Cooper is MSNBC.com's Books Editor. Jon Bonné is MSNBC.com's Lifestyle Editor. Joan Wolfe works in the Editorial Development group at MSNBC. Hannah Meehan Spector is a writer in Los Angeles.