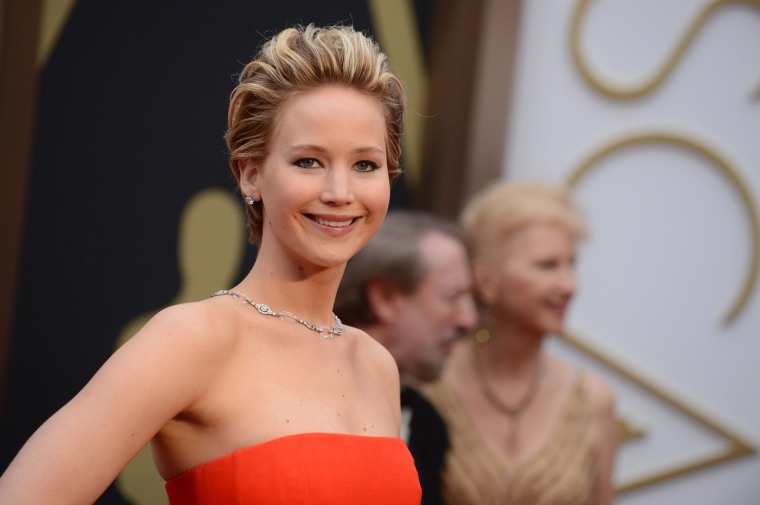 Jennifer Lawrence can always be relied upon to do something fun during award shows, intentionally or not — after all, who can forget her memorable tumble on her way to accept her lead actress Oscar at last year's ceremony? And on Sunday night, she made it two-for-two, stumbling right as she stepped onto the red carpet.
The culprit? Not Lawrence herself — she's a stand-up chick. Instead, it appears that the "American Hustle"-nominated actress tripped on a traffic cone. Making a quick grab at the back of the woman ahead of her, she didn't pancake entirely, and was quickly helped back onto her feet.
"I'm not safe," she confessed during ABC's pre-Oscar show.
It was notable enough that host Ellen DeGeneres even worked it into her show-opening monologue, suggesting to Lawrence, "If you win tonight, I think we should bring you the Oscar."
If there's more to the story, undoubtedly Lawrence will share it in the coming weeks. When she did her famous trip last year, she later explained to W magazine that cake was to blame: "I was at the Oscars, waiting to hear if my name was called, and I kept thinking, 'Cakewalk, cakewalk, cakewalk.' I thought, 'Why is cakewalk stuck in my head?' And then, as I started to walk up the stairs and the fabric from my dress tucked under my feet, I realized my stylist had told me, 'Kick, walk, kick, walk' ... You are supposed to kick the dress out while you walk, and I totally forgot because I was thinking about cake! And that's why I fell." 
But she apparently held no grudge against the dress's designer — both last year and this year, she wore Dior. This year, it appears she's just a supporting actress who could use a little more ... support.