Sure, Monday night's Emmys mostly seemed simple and straightforward, with staples such as "Breaking Bad" and "Modern Family" adding more golden hardware to their trophy cases.
But the Emmy broadcast did leave us with some unanswered questions, from red-carpet reactions to mystifying statements from the stage.
What did Sofia Vergara think of the segment that had her spinning on a pedestal?
She liked it more than many Twitter users, apparently. In the bit, Vergara's shapely curves were displayed as a supposed distraction for viewers as Television Academy CEO Bruce Rosenblum spoke.

Many Twitter users found the joke offensive, but Entertainment Weekly reports that Vergara wasn't bothered.
"I think it's absolutely the opposite (of sexist)," Vergara told EW. "It means that somebody can be hot and also be funny and make fun of herself." She went on to blame an unidentified woman for supposedly starting the backlash, but did not name names.
What was with the "liquid pot" Sarah Silverman said she had in her purse?
Sarah Silverman, who won the Emmy for outstanding writing in a variety special for "We Are Miracles," let E! host Giuliana Rancic open her elegant clutch purse while chatting on the red carpet. In addition to a cell phone, makeup, driver's license and cash, Rancic discovered that Silverman also had a pen-sized marijuana vaporizer.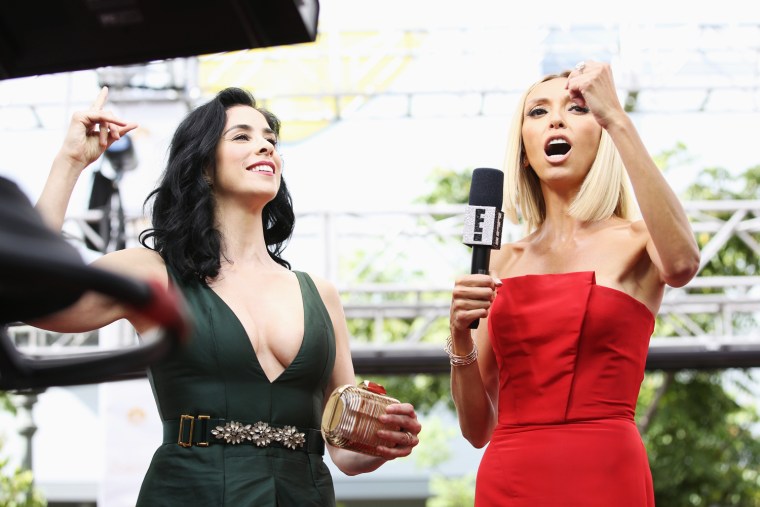 "This is my pot, it's liquid pot," Silverman said.
In a backstage interview after the awards show, the comedian said she wasn't high at the ceremony, despite ending her acceptance speech by saying "We're all just made of molecules and we're hurtling through space right now."
"I was carrying pot in my purse for later," she said. "It's legal! I like to have a puff as a treat at appropriate times."
Silverman said back in 2011 on "The Joy Behar Show" that she does have a medical marijuana prescription, meaning her vaporizer is legal in California. At the time, Behar asked her what she said to the doctor to get her prescription. "I was honest," Silverman said, explaining that she used marijuana in place of sleeping pills when she needed to get up early to shoot, that she used it to alleviate menstrual pain, "and also, I like it."
Was Kevin Spacey there with Ashleigh Banfield? And why was he using a cane?
The cane part is easy. Spacey told "Entertainment Tonight" that he strained his hamstring playing tennis, necessitating the cane. " It was the winning point, so at least there's that," Spacey said.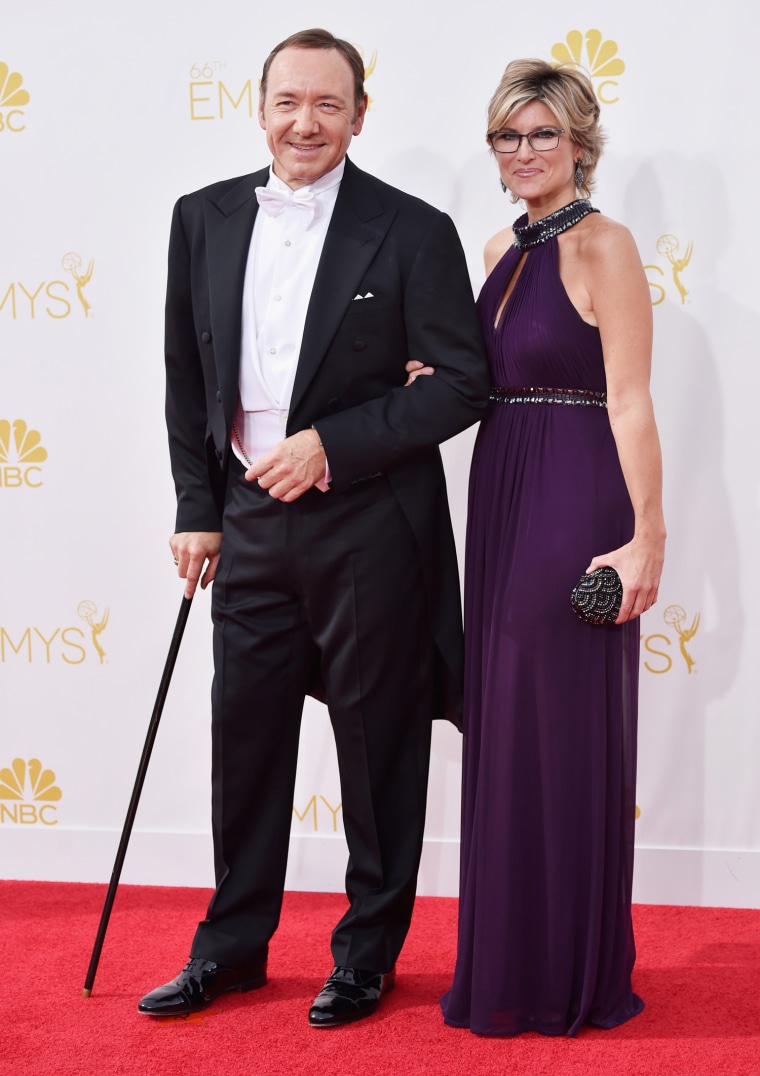 More interesting to many is the fact that Spacey's guest was CNN reporter Ashleigh Banfield, who played a reporter on Spacey's show, "House of Cards." Spacey has long refused to discuss his private life or his sexuality, and that didn't change Monday, which let Twitter users such as comedian Mo Rocca have a blast joking about the pairing.

What was Woody Harrelson's plagiarism reference?
When Harrelson and Matthew McConaughey were presenting the award for best lead actor in a miniseries or TV movie, Harrelson joked to his "True Detective" co-star, "I'm grateful you had all the plagiarized lines."

Accusations have been made that some of the lines spoken by McConaughey's character, Rust Cohle, were lifted from works by various authors, namely cult horror author Thomas Ligotti. HBO and show creator Nic Pizzolatto have denied the charges, though Pizzolatto has acknowledged familiarity with Ligotti's work.

The accusations are fairly new, and with "True Detective" not currently on the air, don't seem to have reached the ears of all viewers. Emmy audience members didn't seem to understand the plagiarism reference, leading McConaughey to ask, "Too much of an inside joke?"
What is the 'Kind campaign'?
When "Breaking Bad's" Aaron Paul won the Emmy for best supporting actor, he praised his wife, Lauren Parsekian, and urged viewers to look up her work with the Kind campaign. Parsekian is the president and co-founder of the group, which is a non-profit organization that aims to prevent female-to-female abuse, both physical and mental. Paul's onstage mention of the group sent so much traffic its way that the organization's website crashed Sunday night.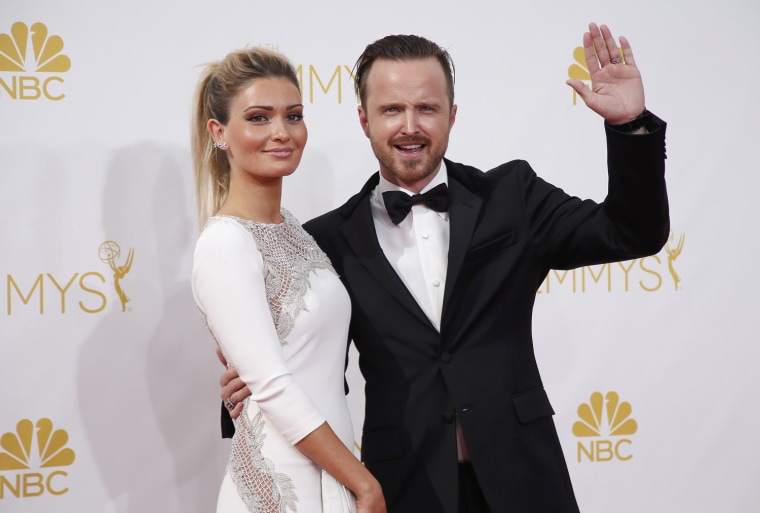 Who is Larry Kramer?
The Emmys, like most awards shows, are fast-paced by necessity, zipping from award to musical number to comedy bit. But the show poignantly slowed down when "The Normal Heart" won the Emmy for best television movie, and legendary AIDS activist and "Normal Heart" playwright Larry Kramer slowly and carefully made his way to the stage with the cast.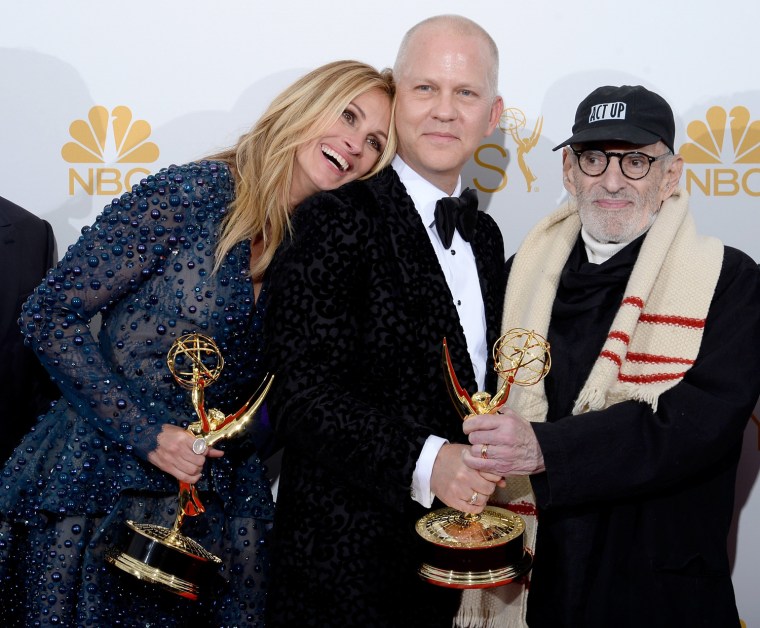 Kramer, 79, who founded the AIDS advocacy group ACT UP, looked notably frail, walking with the aid of a cane, and wearing a large coat and a scarf wrapped tightly around his neck. Kramer has known he is HIV-positive since 1988, and received a liver transplant more than a decade ago.
Director Ryan Murphy hailed Kramer in his speech. "We're only here because of one person, and that's Mr. Larry Kramer," he said. "We did this for him." Murphy went on to say, "We're going to use the rest of our time to ask young people watching to become Larry Kramers, to find a cause that you believe in, that you will fight for and that you will die for."
Follow Gael Fashingbauer Cooper on Google+.