On Sunday night, most fans were watching Super Bowl 50 for the amazing feats of athleticism from the players, entertaining commercials, and of course, Queen Bey. Then there were those whose attention was drawn to one special person on the field: a referee with a big cheek dimple and a special way with his muscular arm gestures.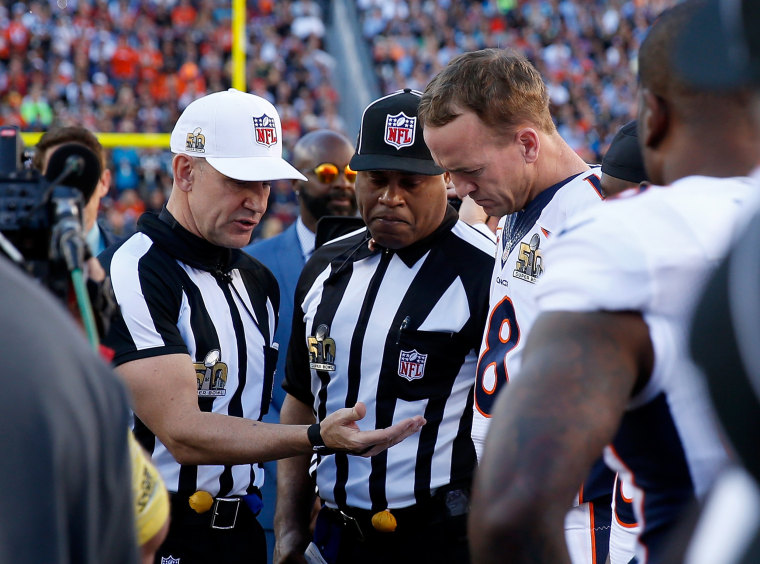 And social media scored a touchdown of love, dubbing referee No. 34 the #HotRef of the game.
MORE: Super Bowl 50 halftime: Coldplay, Beyoncé, Bruno Mars pay tribute to show history
Just who is our new social media darling? Meet Clete Blakeman, a 51-year-old lawyer in Omaha, Nebraska who in his spare time just so happens to officiate at the Super Bowl. Blakeman is a former football player himself (he played backup quarterback at University of Nebraska) who moved into the NFL as a pro officiator starting in 2008. This was his second Super Bowl (he was the alternate referee in 2014) but his first real chance at showing off his stuff before an audience of over 100 million viewers.
Did he call all the plays right? Did he make the refereeing world proud?
MORE: Super Bowl 50: See how Peyton Manning's family celebrates Broncos' victory
Social media users did not care one bit.
So thank you, Mr. Blakeman for making the Super Bowl that much more amazing for so many viewers. You can throw a penalty flag in our yard any day.
Follow Randee Dawn on Twitter.