With the right inspiration, you can open the doors you need to access the opportunities you're seeking on the strength of a brief, informal exchange. "Small Message, Big Impact" can provide that inspiration. Here's an excerpt.
Do you remember Pong, one of the first video games? When it came out in the early 1970s, my sister and I thought it was incredibly exciting. A bulky box was attached to a TV, and by using controls on the box, you could play a very simple, repetitive game that never changed: back and forth, Bonk! Bonk! And for a real challenge, you could (wow!) increase the speed.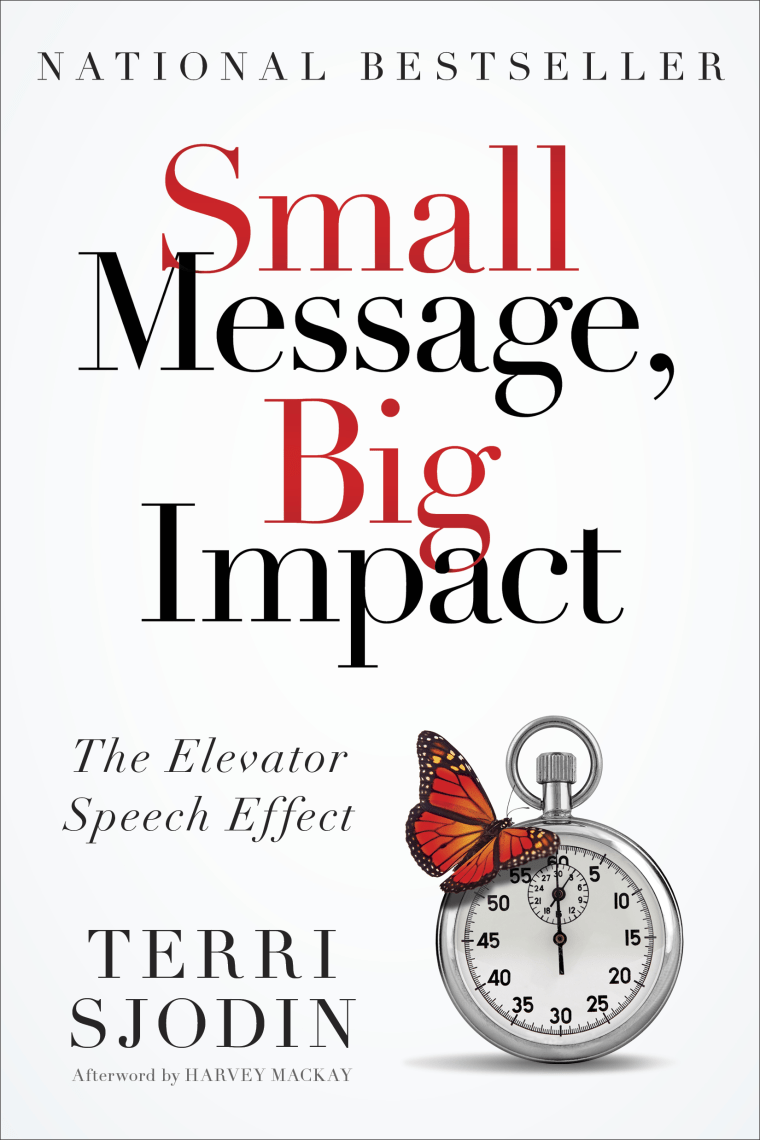 As strange as it may seem now, that game galvanized people. You may recall that at the time computers were huge, noisy machines kept in rooms to themselves. So taking one out of its environment and playing a game on it at home was an enormous technological leap.
That was then. Today, Wii is a gaming system so different from Pong that it might have come from outer space. Equipped with a wireless controller, the Wii can also receive Internet messages and updates while in standby mode. With Wii you can watch videos, play sophisticated games, and even follow an exercise program.
Wii exists because somebody dared to expand the original vision of the computer and of computer games.
In my experience, the elevator speech has made a similar transformation. When you expand your vision of what it can do, the elevator speech becomes a powerful communication tool that can act as your personal bridge to the future you envision.
THE EVOLUTION OF THE ELEVATOR SPEECH
Why is exploring this evolution so important? Because life is busier, more crowded, and more competitive. We must earn the opportunity to be heard in today's market. Think for a moment about all the people who want your attention. From the time you wake up in the morning until you turn off the light at night, you are inundated with phone calls, e-mails, and verbal requests. You deal with memos, reports, direct-mail pieces, and other hard copy— all in addition to the meetings you must attend!
It's challenging enough to give your full attention to anyone for any sustained amount of time. How can you hope to grab someone else's attention when you want to showcase what your company, or you, can do for someone else? People have little time to spare. Rivalry is rampant, whether from companies offering the same products or services as yours or charities seeking your contributions. Sure, you have something to say or a product to sell, but that doesn't mean people are lining up to hear about it. In a competitive market, you are not entitled to a person's time and attention. That means you must get serious about earning the right to be heard and making those three minutes count.
Over the years, I've found that it takes approximately three minutes to establish rapport with someone and build an intriguing message. Plus, a person will usually give you that amount of time if you ask for it. Wouldn't you give someone three minutes?
What if you were able to craft a knock-it-out-of-the-park message, deliver it in three minutes or less, arouse the interest of a decision-making listener, and open up a new world of possibilities? Wouldn't you do it?
Maybe your goal is a certain job or access to a business opportunity. Perhaps you want to promote an idea, a project, or a concept. Or maybe it is your responsibility to train your team or your associates to present your message more effectively. Whatever your purpose, be it professional, academic, political, philanthropic, or personal, you can earn the opportunity to be heard. You can bridge the gap between the goals you set and generating the results you want when you apply the principles of the Elevator Speech Effect.
THE POWER AND PURPOSE OF THE ELEVATOR SPEECH
The elevator speech I know is a concise and persuasive presentation, delivered in approximately three minutes, to a decision maker, a peer, or a potential customer. The intention is to obtain a longer, more in- depth meeting during which you can deliver your even more complete sales presentation or proposition. When your elevator speech is successfully executed you begin to benefit from the Elevator Speech Effect.
The elevator ride is a metaphor for unexpected access to someone you want to sell on some idea, project, or initiative. It is not the actual length of time it takes to ride in an elevator, but rather the spirit of the clear, brief, and persuasive message delivered in a short period of time that I'm talking about.
Today's elevator speech has several fundamental characteristics:
• It can be formal or informal.
• The typical length is approximately two to three minutes (depending on the circumstances).
• It is a clear, brief message with intention.
• It has a sole function, which is to intrigue a listener and obtain his or her interest, therefore winning the speaker the chance to offer a longer, more detailed presentation at a later time.
• It has structure.
• It has a close.
• It is a tool that helps you earn the right to be heard.
• It can, most important of all, initiate a sequence of events resulting in dramatic and amazing opportunities, both large and small, far into the future.
THE ELEVATOR SPEECH GOES MAINSTREAM
Fund-raisers, sales associates, housewives, entrepreneurs, artists, and academics all make use of the elevator speech for a good reason: It works! A compelling and carefully crafted elevator speech has the power to bridge the gap between nice ideas in theory and concrete results. Today's mini-presentation has reached an entirely new level. Its duration has increased to approximately two to three minutes. It is persuasive, not just informative, and at times in this competitive world, it is used to weed out the average performers from the exceptional performers in a matter of minutes.
(For specific examples see pages 13-16 in Small Message, Big Impact)
THE ELEVATOR SPEECH AND YOU
Do you have a fund-raising opportunity for your church, synagogue, or faith- based organization? Do you have an entrepreneurial business idea? Do you have a desire to land your dream job? Sure you do. Sometimes acting on those ideas at first seems daunting, and you don't even know where to start. The good news is that somehow it all becomes more manageable when you realize that your first step is simply to craft a three-minute message to get things rolling. And now you are beginning to understand the process of developing the tools to start making any of those things happen.
With the power to impact one person or inspire more than one person at a time and to pave the way toward future appointments, the three- minute elevator speech can be a terrific use of your time. Imagine the benefits of speaking to twenty or thirty prospects at once versus trying to cold- call them individually, one at a time, over the phone. That's a lot more ears for a short presentation.
The three-minute elevator speech is new and improved and has the power to open doors that often remain shut. I'll put it this way: If you haven't morphed your concept of what an elevator speech really is, you're still playing Pong.
Excerpted from SMALL MESSAGE, BIG IMPACT: The Elevator Speech Effect. Published by Portfolio/Penguin. Copyright © Terri L. Sjodin, 2012.