/ Source: The Associated Press
The child stars of "Slumdog Millionaire" will take their first airplane trip when they attend the Academy Awards ceremony in Los Angeles on Sunday.
Director Danny Boyle's rags-to-riches story set and shot in the slums of Mumbai has been nominated for 10 Oscar awards, including best picture and best director.
"The kids are on their way to the Oscars! Everyone is very excited!" Boyle said Friday in an e-mail.
All nine actors who play the three main characters in three stages of their lives will attend the Oscars, Fox Searchlight Pictures said. They include actors comfortable on the red carpet, like 18-year-old Dev Patel, who lives in London, and the glamorous Freida Pinto, 24, who has been praised in Vogue as a new style icon.
But also attending will be Azharuddin Mohammed Ismail, 10, and Rubina Ali, 9, who were plucked from their homes in a Mumbai slum by Boyle and his team. The trip will be their first on an airplane and their first out of the country, relatives said.
'I'm not scared'
It was a scramble to get visas, passports and tickets for Azharuddin and Rubina, whose parents didn't decide until the last minute that they wanted the kids to attend the ceremony, producer Christian Colson said by e-mail.
"I'm very happy that I'm going to the Oscars," Rubina said in her home Friday, hours before she was to leave for the United States. "My friends are saying, 'your fate is so good."'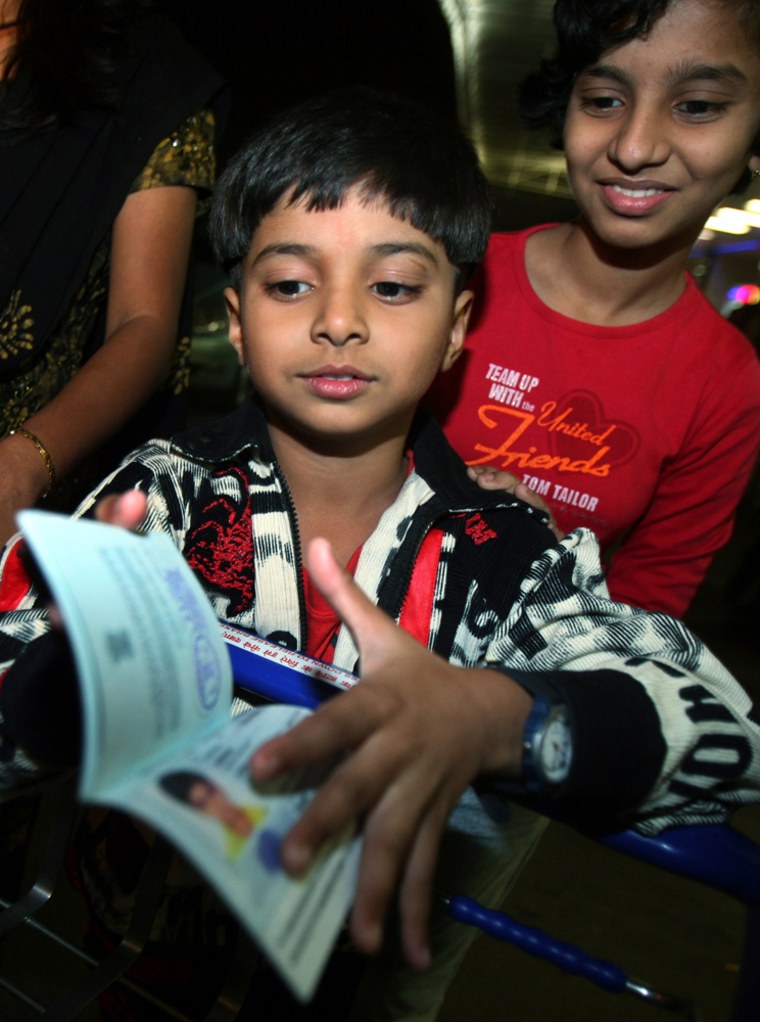 "I'm not scared," added the girl, who will be traveling with her uncle. "I'm going to go and take a lot of pictures and show them to people over here."
She plans to pick up her Oscar outfit once she's in Los Angeles.
Rubina's uncle, Mohidden Khan, 40, laughed when he was asked what he would wear on the red carpet.
"I'm thinking maybe jeans and a T-shirt," he said.
Azharuddin's father, Mohammed Ismail, said he felt "very, very good" that his son could make the trip. Azharuddin will be traveling with his mother.
More on Slumdog Millionaire