Halloween is the perfect time to enjoy a good vampire film. Yes, there are your standard Dracula films, but it's amazing the different spins filmmakers can put on that classic tale. In most of the modern tellings, black capes, bats and sometimes even fangs are simply left on the shelf.
Vampire movies tend to be the most erotic of the horror genre (and thus make great date movies) and also the most intimate — something about getting that close to make the kill. They're like serial killer films with a twist. While these may not be the "classic" vampire films, or the most popular, here are six off-beat vampire films that definitely have bite:
"Near Dark" (1987)
There's no rule that says vampires have to wear tuxedos, don long flowing black capes or turn into bats. What if they were just a dirty, hard-partying "family." This film tells the story of how one comely young vampire (Jenny Wright) seduces young farm hand Caleb (Adrian Pasdar) and tries to make him part of that twisted little group. There's something disturbingly Manson-esque about this film as the family tends to follow the orders of head vampire (Lance Henriksen of "Alien" fame). There's even a little kid vampire played by Joshua John Miller (who did another great turn as a creepy kid in "River's Edge" and certainly warrants one of those VH1 "where is he now"-type specials), who's desperately seeking a mate. But Caleb isn't interested in joining the family; he just wants to get back to his kid sister and dad, who tends to spout folksy lines like, "Caleb, those people back there, they wasn't normal. Normal folks, they don't spit out bullets when you shoot 'em, no sir." Directed by Katherine Bigalow ("Point Break," "Strange Days") this film has almost a Mad Max-apocalypse feel. It also features an over-the-top performance by Bill Paxton ("Aliens").
"Innocent Blood" (1992)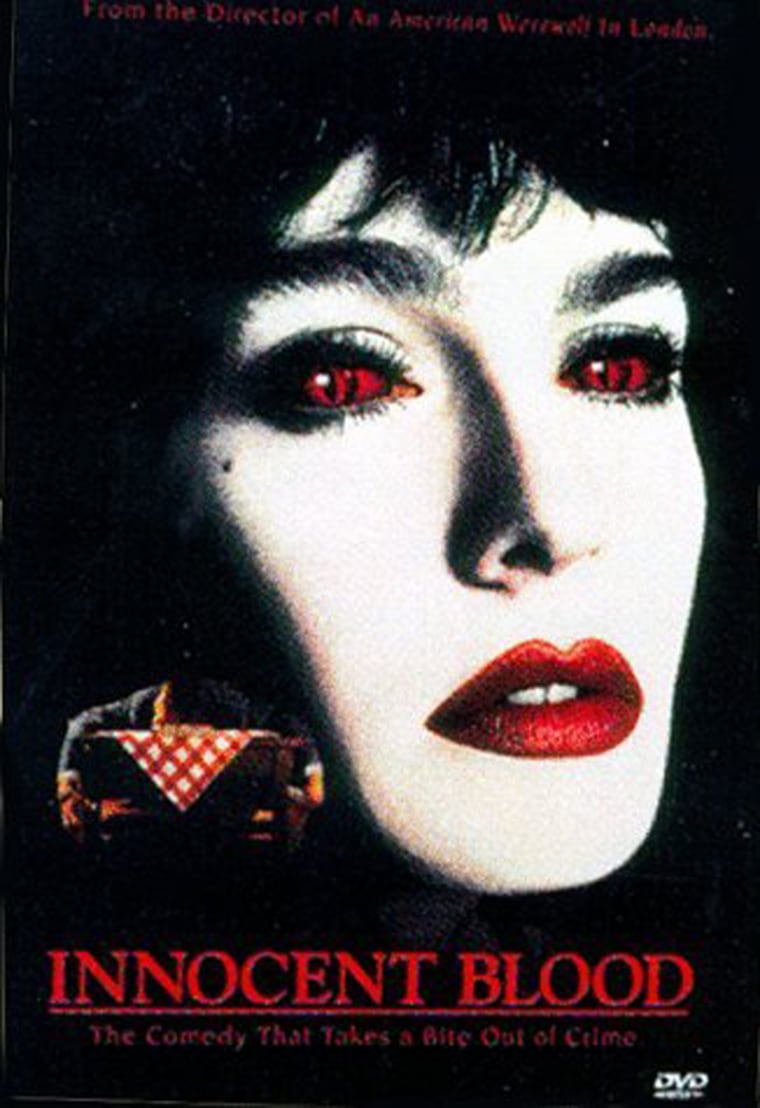 It's not surprising that John Landis, who brought us "An American Werewolf in London" would be the force behind this funny and strange film. It's a bit like "The Sopranos" with a female vampire thrown in. And not just any female vampire, Anne Parillaud ("La Femme Nikita"), who looks like she'd be just as comfortable doing "Amelie 2." When she finds herself attracted to Anthony LaPaglia ("Without a Trace"), she tells herself, "I knew I shouldn't play with my food." One night, when she "feels like Italian," she decides to feast on various mobsters and accidentally creates more vampires (and mobster vampires to boot) in the process. Landis could have shot "The Godfather 4" with this cast, which includes LaPaglia, Chazz Palminteri ("A Bronx Tale"), Robert Loggia ("Scarface") and Tony Sirico (looking exactly like his character Paulie from "The Sopranos"). While this movie is more campy than scary, it makes a great date movie — loads of chemistry between LaPaglia and Parillaud. You can tell Landis is a horror fan because he has side characters watching horror movies all the way through the film — guessing those titles is just part of the fun.
"Nadja" (1994)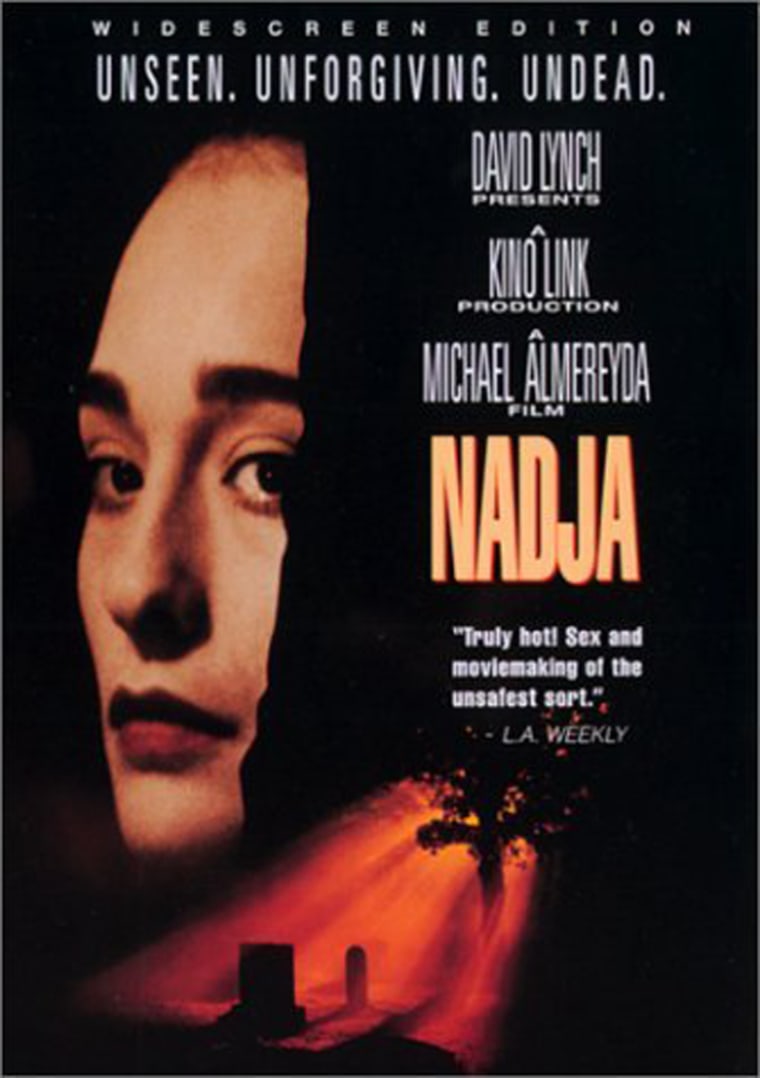 Did you know that Dracula had children? Well, this film tells the story of twins born to the Count during his one real love affair in Transylvania. After Van Helsing (a hilarious Peter Fonda) finally kills Dracula, he realizes that there may be more trouble lurking. And he's definitely onto something, specifically in reference to Drac's daughter Nadja (Elina Löwensohn), who lives with Renfield (Karl Geary) and sets her sights on the lovely Lucy (Galaxy Craze) as a potential new mate. The scenes between Craze (who, judging by her name, I can only assume had hippie parents) and Löwensohn are maybe more erotic than those in "The Hunger" — let's just say these two create some serious sparks. Martin Donavan plays Craze's unhappy husband and Von Helsing's nephew — who somehow finds himself dragged into the mix. Dracula's other child Edgar (Jared Harris) is in love with his nurse Cassandra (Suzy Amis) and just wants to stop his evil sister, who communicates with him by sending "psychic faxes." If this all sounds a little crazy, well, it is, but it's honestly one of the better vampire films I've seen. And don't be alarmed if the picture suddenly gets pixelized — that's just the director's way of showing you Nadja's rather twisted point of view.
"The Hunger" (1983)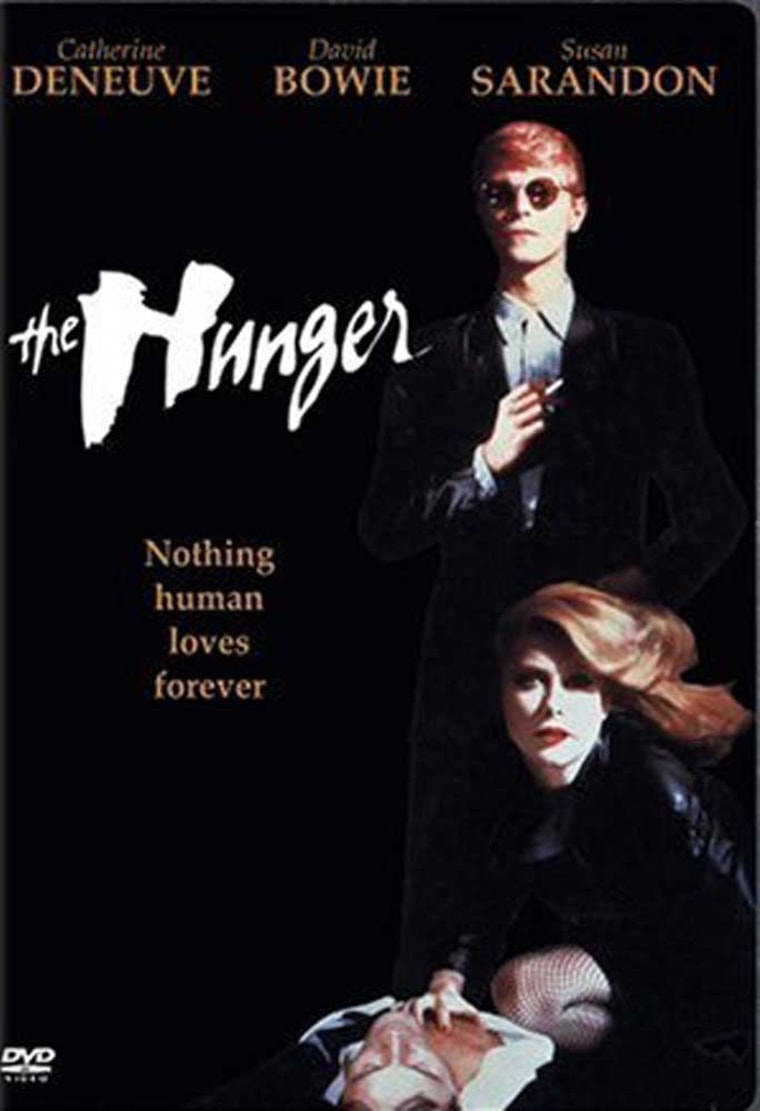 The quintessential erotic vampire movie, it features a love scene between a young Susan Sarandon and Catherine Deneuve — reason enough to watch for those of us who want a little sex with our horror. But what's really fun about this film is how many vampire "rules" it breaks. They go out in the daytime, you can take pictures of them, they see themselves in mirrors, etc. This film also takes draining the life out of someone to a whole new level. David Bowie plays John, who's been happily living the vampiric life with Deneuve, but it turns out that for him, and for others she "converts," that gift isn't exactly everlasting. When he finds himself suddenly aging at an extremely rapid pace, Bowie goes to visit Saradon's expert on aging. She doesn't believe his story at first, but once she realizes he's not lying, she comes looking for him at Deneuve's lair. Thus begins the film's awesome seduction scene between these two beauties. The film begins with the Bauhaus song "Bela Lugosi's Dead," which really sets the mood. This was Tony Scott's ("Man on Fire," "Domino") first film and you can see his signature look from start to finish.
"Ultraviolet" (1998) miniseries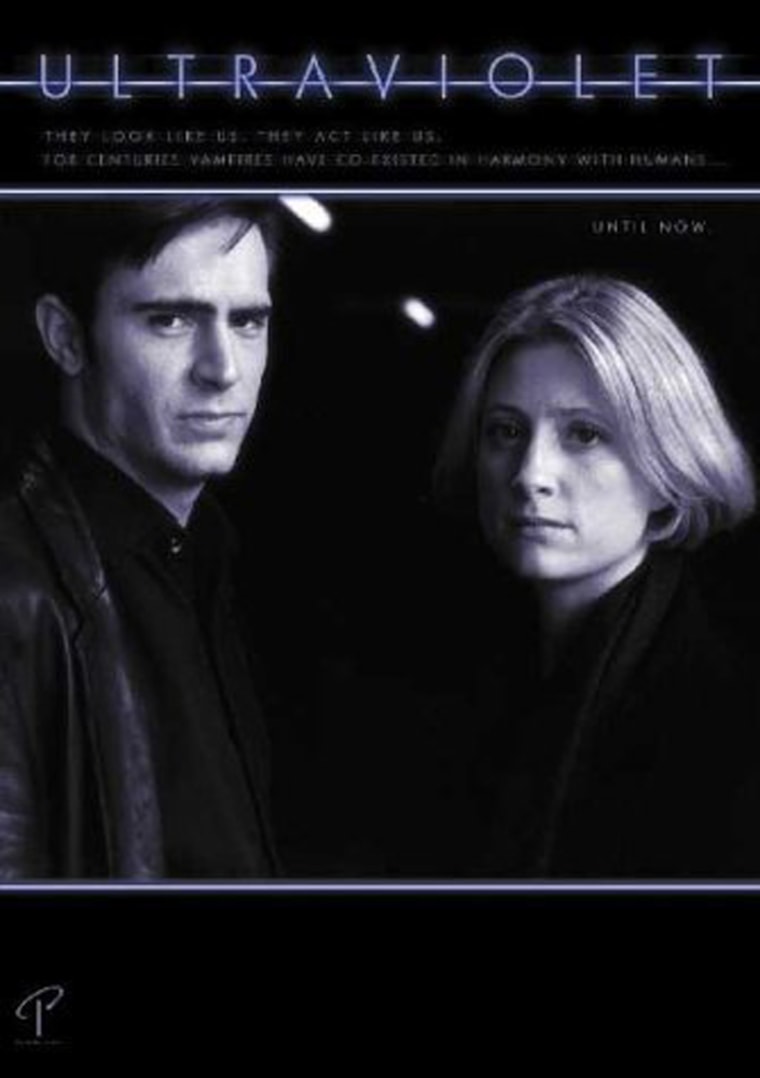 What if the "X-Files" had been about vampires rather than the potential for alien life? If so, it might have looked a little like this six-part, five-hour miniseries from the BBC that treats vampirism as a form of bio-terrorism. Vampires are slowly infecting the population (they usually don't drink enough to kill) and a mysterious FBI-style group of authorities believes that eventually they'll turn the population into a battery farm (shades of the "Matrix"). For the most part, the characters in "Ultraviolet" don't even use the word "vampire." They call them "leeches" and say that victims have been infected with "Code 5." Poor Detective Michael Colefield (Jack Davenport, who would have also made a great James Bond, by the way) gets dragged into this mess when he faces a friend who's "crossed over." He ends up joining the team of vampire fighters, who include rock-steady Vaughn Rice (Idris Elba from HBO's "The Wire") and the troubled Dr. Angie Marsh (Susannah Harker), who already lost her husband to the cause. The team is lead by Father Pearse J. Harman (Philip Quast). This is one of those great treats you stumble upon in the video store. Here's hoping the BBC makes a part 2 of this miniseries.
"Martin" (1977)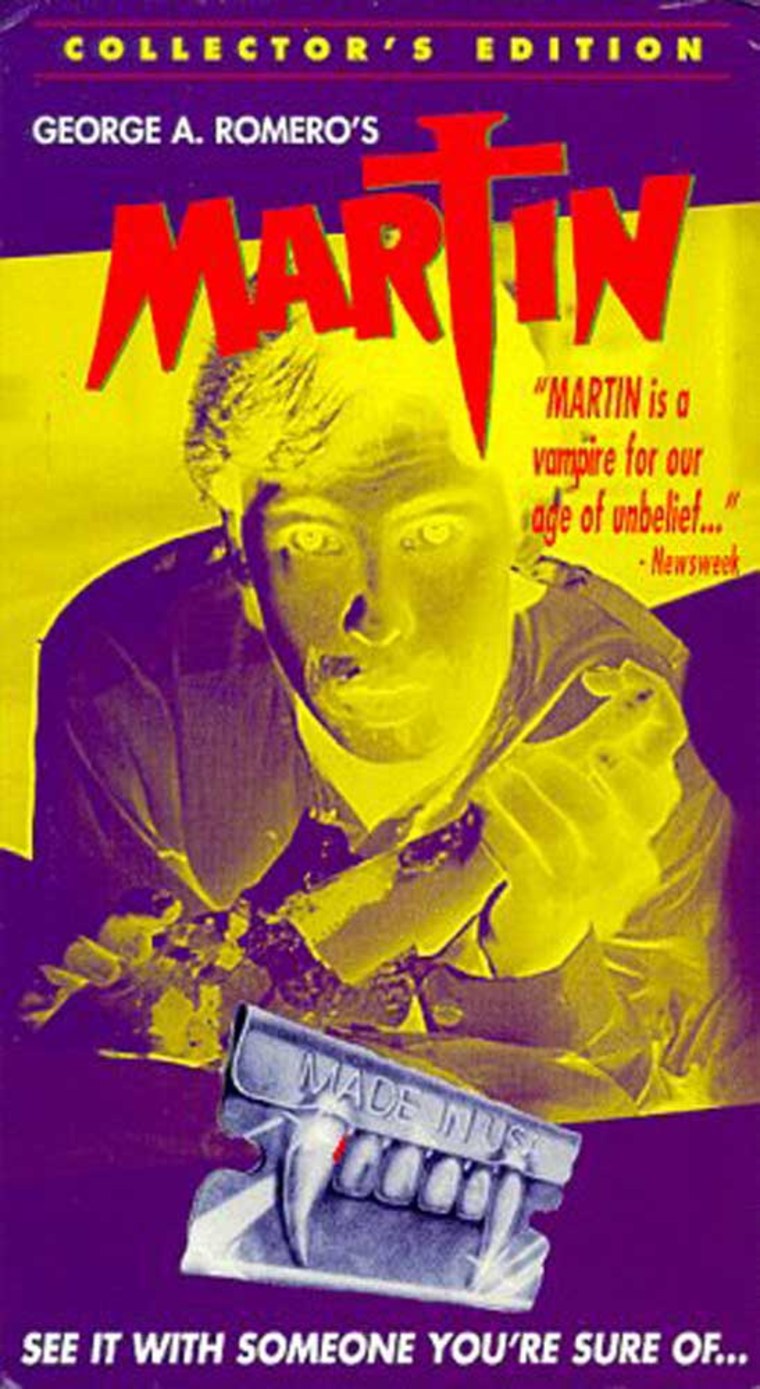 Though director George A. Romero is better known for his zombie films ("Dawn of the Dead," "Day of the Dead," etc.) in 1977 he made this little gem about a young man (John Amplas) who has been convinced by his family that he must be a vampire. Okay, he may not have fangs, crosses don't do a thing to him, and he can even take a big bite of raw garlic, but if your great uncle (Lincoln Maazel) ran around calling you "Nosferatu," you'd probably think you were a vampire, too. Martin even calls in to the local talk radio show to discuss how hard it is to find victims and how he gets the shakes if he waits to long for his next kill. Of course, his real problem could be his inexperience with the "sexy stuff" and his general lack of social skills. Or maybe it's the fact that he claims to be 88 years old and drinks blood. He also has flashbacks (or are they?) of glory days — which are shown appropriately enough in black and white.  Is Martin a vampire or a sexual deviant? Hey, Halloween makes a great night to decide.