It may be a jolly holiday with Mary Poppins, but it wasn't so jolly when Walt Disney tried to persuade author P.L. Travers to let him make a movie about her beloved fictional nanny.
In "Saving Mr. Banks," the new Disney film based on that 1960s struggle, Emma Thompson channels Poppins herself in her portrayal of Travers, her witty and edgy banter mimicking that delivered by Julie Andrews in the original movie.
The film isn't 100 percent factual. The real Travers didn't love the Disney version of her character's story, despite Thompson's teary viewing of it in "Saving Mr. Banks." And Travers almost certainly wasn't as charming as Poppins. Tape recordings of her debating the Disney filmmakers play over the film's closing credits, and the real author sounds like the grouchy grandmother of your nightmares.
But the film's sure to set "Mary Poppins" fans off in search of the real truth. Here are six secrets of the real "Mary Poppins." (Warning: spoilers for "Saving Mr. Banks" ahead.)

Supercaliwhosawhatsit?
B.J. Novak and Jason Schwartzman play Robert and Richard Sherman, the genius "Mary Poppins" songwriters. In one scene, Travers mocks their changing "responsible" to rhyme with "constable," telling them "responstible" is not a word. When they admit they made it up, she orders, "Well, un-make it up!" Richard then subtly hides the sheet music for a song featuring the ultimate made-up word, "Supercalifragilisticexpialidocious."
Truth: That super-sized word did originate with the Disney film, and isn't in Travers' books. Richard Sherman told LAist.com that the brothers were inspired by nonsense words they used to create in their own childhood.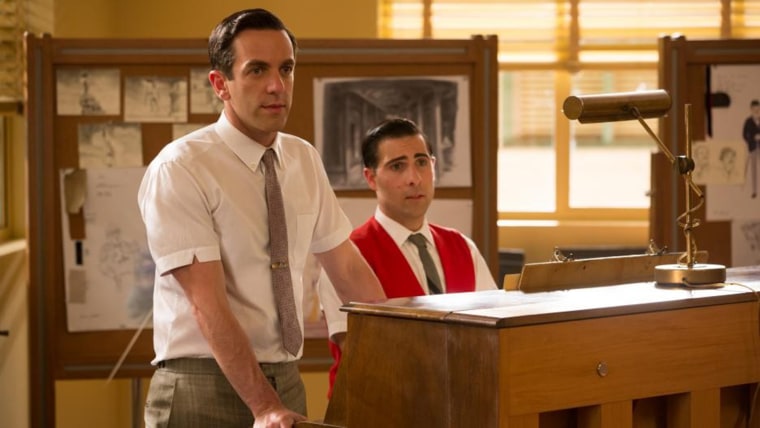 No fan of Dick Van Dyke
Who doesn't love Dick Van Dyke? The 88-year-old comic actor is so beloved in America that it's downright shocking in "Saving Mr. Banks" when Travers vetoes his casting. When the Disney folks call him "one of the greats," she laughs, saying he's not in the class with Brits such as Laurence Olivier or Alec Guinness.

Truth: Van Dyke himself has said that Travers hated him (and Brit Julie Andrews, too, he says, though Travers called Andrews a "friend"). And when Travers agreed to a "Mary Poppins" stage musical, she specified that "no Americans" could be involved.
From his long-running TV comedy to his starring film roles, the veteran entertainer has done it all.
War hero
The man who helped write such memorable songs as "Chim-Chim-Cheree" and "A Spoonful of Sugar" was also a war hero. In "Saving Mr. Banks," Travers asks why Robert Sherman walks with a cane. "Someone shot him," is the answer, to which an unsympathetic Travers replies, "I'm not surprised."

Truth: Sherman had seen dark days and grim sights before helping to create the fantastical songs of "Mary Poppins." As a soldier in World War II, he entered Dachau concentration camp after the Nazis had fled. It was during the last days of the war in Europe that he was shot through the knee, earning a Purple Heart and a permanent limp.
Tears in the theater
In "Saving Mr. Banks," Travers first refuses all of Disney's entreaties, but by the end of the film, has slowly softened and taps her foot during the Sherman brothers' songs, breaking into tears at the film's premiere. It's portrayed in the film that she's crying because she remembers her own childhood with an alcoholic father who died young, and Mr. Banks' redemption at the movie's end reminds her of her loss.
Truth: According to the New Yorker, Travers did cry at the premiere, but it was because she hated what the movie had done to her beloved character. "The picture, she thought, had done a strange kind of violence to her work," wrote Caitlin Flanagan.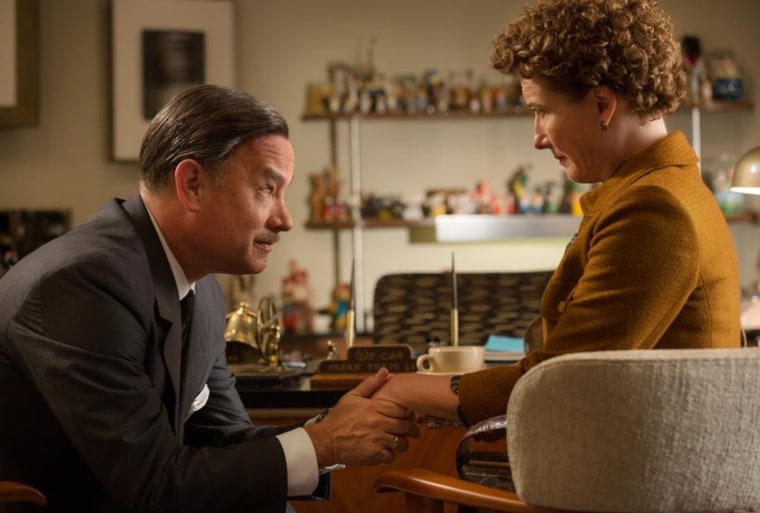 A mother does the unthinkable
Perhaps the most horrific scene in "Saving Mr. Banks" comes when Travers is 7 and her mother bids her farewell in the middle of the night and wanders off to drown herself. In the film, a terrified Travers rides off on the family's horse and finally manages to stop her mother, who's almost neck-deep in water. It's a disturbing scene to witness, and could explain why Travers spun such fantastic tales of a magical woman who came to care for children in need.

Truth: This seeming nightmare really did happen to Travers, with some variation. Instead of riding off and stopping her mother, Travers stayed with her two younger siblings and tried to distract them with a story of a magical flying horse. Her mother's suicide attempt was unsuccessful, but Travers, naturally, was forever changed.
Daughters' inspiration
Walt Disney (played by Tom Hanks) repeatedly tells Thompson's Travers that he has to make her book into a movie because of a promise to his daughters, Sharon and Diane, whose photos and sketches hang on his office wall.
Truth: According to an interview Diane Disney Miller gave in 2012 (she died in November), that's true. She lists "Mary Poppins" as among her favorite childhood books, and says that she felt a kinship with the famed nanny. "There is a little Mary Poppins in me, I think," she said.