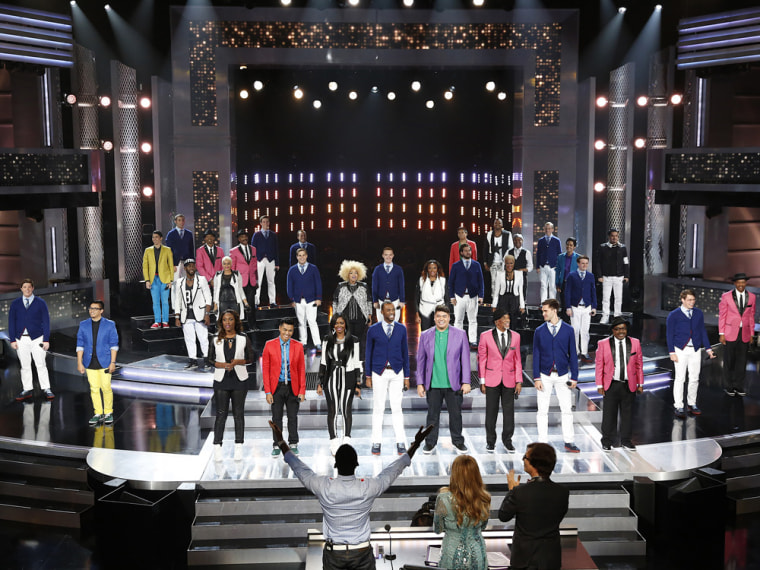 "The Sing-Off" isn't the most high-profile reality talent show on television. But who cares? Unlike its competition, NBC's a cappella contest is nothing but fun, from the introductory group medleys to the final send-off and everything in between. 
It may never replace "The Voice" or "American Idol" in the ratings, but "The Sing-Off" takes a back seat to nobody in the entertainment race. In fact, it's the differences that make it awesome. Let's take a look:
Lower stakes
Other singing shows are pressure-packed — for both performers and fans. Soloists are competing to become the next big thing in popular music, while judges tout everyone as a sure-fire star (but viewers never hear from them again). Staying on an additional week could mean the difference between superstardom and a career waiting tables, or so the impression goes.
"The Sing-Off" stakes are nice, but not life-changing. Each group is competing for a $100,000 cash prize and a recording contract. While nobody's turning down the coin (especially this year's high-school act, Vocal Rush; that bankroll would make for an awesome prom), it doesn't work out to a ton of money per person. The recording contract is nice, but it's not leading anyone straight to the Grammys.
Sure, the singers want to win, but there's not enough pressure in the mix to keep them from having fun at the same time. And because they're having fun, so does the audience.
Teamwork
It's nice to see a singing show where everyone has to work together for something other than the brutal group performances that serve as filler on the other competitions. An a cappella concert is all about each singer playing their assigned role to perfection, and watching the group dynamics and choreography is a lot more fun than trying to find the vocals amid the smoke, background singers and elaborate sets of other shows.
Most underrated judges
In Ben Folds, Jewel and Shawn Stockman, "The Sing-Off" has a trio of judges who treat contestants seriously but don't make this out to be the Ultimate A Cappella Battle of Doom.
Folds is made of awesome, looks like a professor and has both the specific advice and the arcane slang to match that image. (Here's hoping that "loosey goosey" takes wider hold and replaces "pitchy" on all shows where vocals are critiqued.) Stockman's his usual mix of praise and hard-nosed realism, while Jewel's a great addition who adds both warmth and realism to the proceedings.
All three judges add value — and more to the point, criticism. They're not Pollyannas who tell everyone they're awesome, and they're not sarcastic jerks who are out to make themselves look entertaining by cutting down unknowns. They're teaching people how to sing better ... a revolutionary concept.
Also, you gotta love the lingo. On Wednesday's episode, one of the contestant's moms was an "acousti-cougar," and the singer himself may have lost "acousti-street cred" because of it. It's acousti-riffic!
Quick run
NBC doesn't have to worry about overexposure. "The Sing-Off" doesn't run three months: Its seven episodes will be aired over a three-week period. You see it, you enjoy it and it goes away before you become sick of it. Would that "X Factor" had tried a similar approach!
The sing-off
Singing shows eliminate contestants in various ways. Some just have their host use really long and dramatic pauses to raise the tension. Others make each contestant sing one more time and pick the one who did the best. "The Voice" lets viewers save someone by Twitter.

But the ultimate sing-off is the best elimination tactic ever. Having the two worst performing groups sing portions of the same song avoids the look of desperation that viewers always see on those "sing for your life" shows. Going head-to-head makes for a fun way to end the show and leaves everyone in the viewing audience entertained at the finish.
These are just a few of the reasons why "The Sing-Off" stands out as a show not to be missed. It's entertaining right to the final note.
"The Sing-Off" airs Monday at 10 p.m. on NBC.