Simone Biles is still crushing hard on Zac Efron!
The Olympic gold medal-winning gymnast answered dozens of rapid-fire questions during a recent "73 Questions" segment with Vogue — that is, until Efron's name was mentioned. Then the tiny powerhouse burst into giggles and shyly turned away from the camera.
But, make no mistake, the athlete had an answer for what a dream date with Efron would consist of. "I think breakfast on the beach," said Biles, 19, who chatted while exercising at the Texas gym her parents built last year.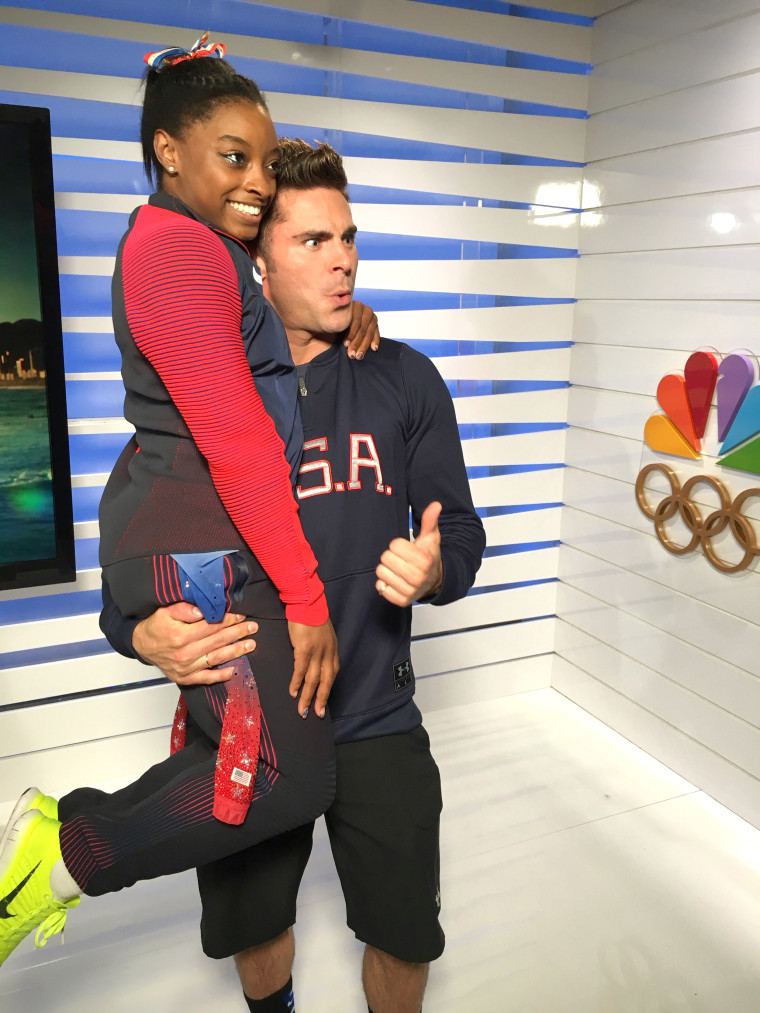 Biles famously flipped out when she met the "High School Musical" actor last month in a surprise meeting orchestrated by TODAY's Hoda Kotb. Efron arrived at TODAY's Rio set to greet Biles, who'd been racking up gold medals with her Final Five teammates, Aly Raisman, Laurie Hernandez, Gabby Douglas and Madison Kocian, at the 2016 Rio Olympics.
Biles, who once revealed that she kept a life-sized cardboard cutout of Efron in her bedroom, admitted to Vogue that she'd brainstormed a celebrity couple nickname for herself and her Hollywood honey.
And it was? "Zimone," Biles suggested.
The athlete also told Vogue if she could meet one actress, it would be Jennifer Lawrence, "because we both fell down the stairs," she said, referring to her own late-night tumble at last month's MTV Video Music Awards.
More highlights from Biles' chat:
Calories she burns in an average day? "Probably a lot."
One essential food in her diet? "Salmon."
Favorite ice cream? "Cookies and cream."
Favorite Disney princess? "Ariel."
A movie that gets her laughing? "'Vacation.'"
Last show she binge-watched? "'90210' on Netflix."
How can we get our abs to look look hers? "You can't," Biles quipped.
Watch the rest of Simone Biles' chat with Vogue in the above video!