Simone Biles and Jonathan Owens might be one the biggest sports power couples of our time.
The Olympic medalist gymnast and the NFL player started dating at the start of the pandemic in 2020, and tied the knot on April 22, 2023.
They've been in a long distance relationship since shortly after their wedding in Cabo, Mexico, the 26-year-old gymnast said on TODAY Sept. 7.
"Unfortunately, we're actually long-distance and we started long-distance like less than a week (after) we married," she said.
She said her husband signed with the Green Bay Packers and moved to Wisconsin to join the team.
"So, it's been different," she said. "But at least we're both busy and focusing on our respective sports, so it's been nice and we cherish the moments that we get together."
March 2020: Biles and Owens met on social media
The two first met thanks to Biles' younger sister Adria, who goaded her into reaching out to Owens. In an interview with the Wall Street Journal Magazine, Biles shared that they met during the beginning of the pandemic in March 2020.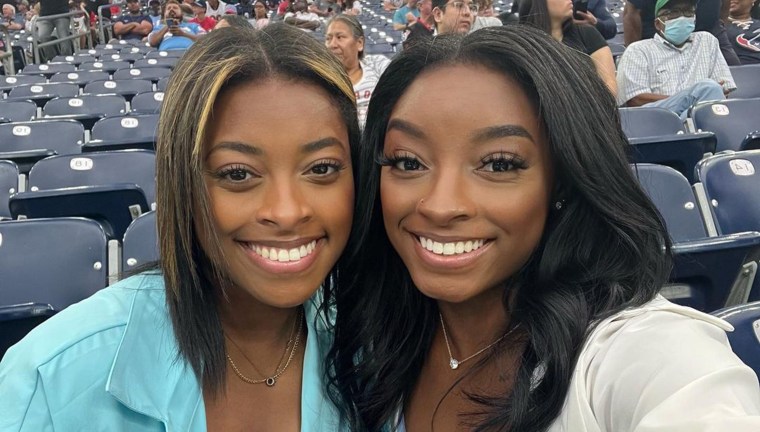 "He would say I slid into his DMs," Biles said. "I saw him, and I was like, 'Oh, he's pretty cute,' so I said hi … and then I saw that he was in the Houston area, so we started chatting a little bit, and then we went to hang out a week or two later."
They continued to flirt and FaceTime each other throughout the weeks, when her sister pulled an ultimate wing woman move, grabbed Biles' phone, and asked him to join a trip to a lake house, the magazine reported. He brought his English bulldog Zeus, and Biles brought her French bulldog Lilo. Before he knew it, Owens was asked to join the Biles family's Sunday dinners.
Despite Biles' millions of followers and athletic prowess, Owens shared with Texas Monthly that he hadn't heard of the Olympian.
"I didn't know who she was," he told Texas Monthly. "I just hadn't heard of her, and when I told her that, that's one of the things she liked."
April 2020: Biles and Owens make it official
Biles made the relationship official after posting two pictures of herself and Owens on Instagram, smiling in the first picture and Owens giving her a kiss in the second.
"It's just us," Biles wrote in the caption.
Throughout the next few months, the two would post pictures of themselves together, sharing how happily in love they were. And in 2021, Biles sat down with TODAY and gushed about her relationship with Jonathan.
"He's a real man. I just, I love him. We have a great time together," Biles said.
"Our personalities match right up," she said. "We have the same sense of humor. And he's just great. He's an athlete, too, so we really understand each other and I think that's why our relationship has been seamless."
Biles and Owens continued to support each other during 2021.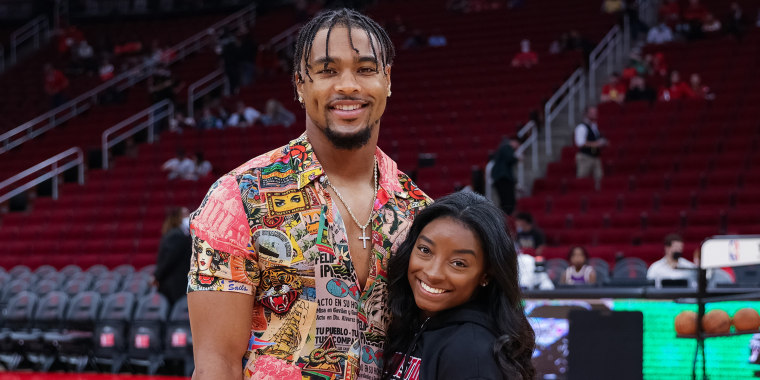 Owens watched Biles compete for the first time at the June 2021 U.S. Gymnastics Championships in Fort Worth, Texas, sharing on Instagram that it was "amazing" to see what she could do.
Biles even visited Owens at his football practice after returning home from the Tokyo Olympics. Although Owens couldn't attend the Games due to the ban of spectators, he remained positive and shared a sweet message of support after Biles' withdrawal from the team and individual all-around finals.
"Imma ride with you through whatever baby," he wrote. "Your strength and courage is unmatched and you inspire me more and more everyday SB."
Biles had withdrawn from the finals after she experienced the "twisties" phenomenon, which is when gymnasts are in mid-air and lose awareness of where they are in the skill, making it difficult to land safely.
February 2022: Biles and Owens get engaged
Following Valentine's Day, Biles and Owens announced their engagement to each other on Feb. 15 with a carousel of Instagram pictures.
"THE EASIEST YES," Biles captioned the carousel. "I can't wait to spend forever & ever with you, you're everything I dreamed of and more! let's get married FIANCÉ @jowens_3."
April 22, 2023: Biles and Owens get married in Texas
Biles, 26, and Owens, then 27, confirmed their nuptials through a series of posts on Instagram, more than one week after obtaining their marriage license. 
"I do," she captioned the post, adding, "officially owens." 
They got married at a courthouse in Houston, Texas. Biles dressed in a stunning dress with tiered tulle and Owens rocked a tan suit.
After the ceremony, Biles and Owens shared a few snaps on their Instagram stories capturing their happy moments as newlyweds.
After the wedding, Biles hosted a Q&A on her Instagram stories to answer fan questions about the upcoming wedding and explained why the two got married in Texas.
She said on her story, "We had to get married 'legally' here in the U.S. — since our wedding will be a destination wedding."
May 6, 2023: Biles and Owens get married (again)
Biles and Owens traveled to Cabo San Lucas, Mexico, to get married a second time in a destination wedding on May 6, according to Vogue. The event had 144 guests and kicked off Friday, May 5, with a welcome party hosted on the beach.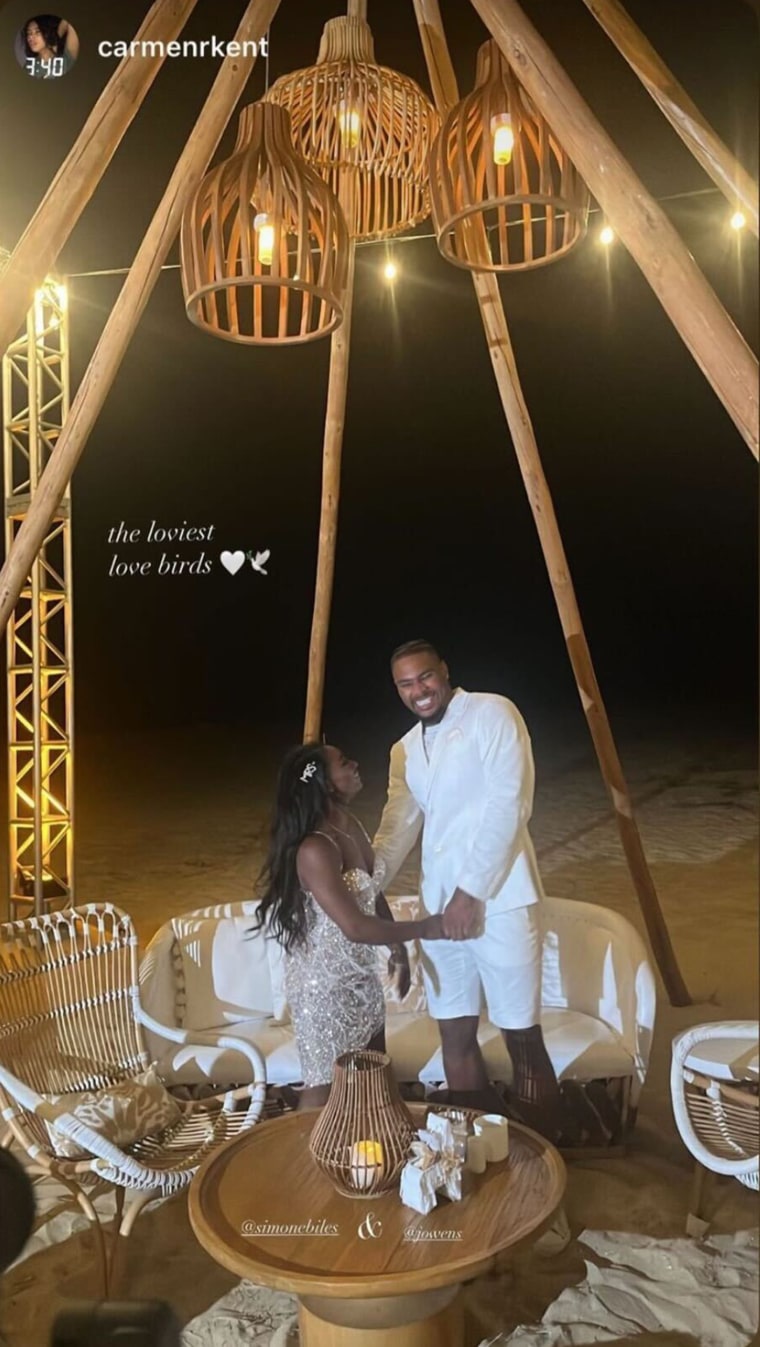 Biles documented her wedding day with a series of snaps on her Instagram story, including a balloon decorated room, confirming it was her "wedding day" in one frame — and "the most perfect day" in another. 
"I actually felt so sick the entire day, and when it was almost time to walk, my heart was beating out of my chest," Biles said in an interview with Vogue. "I've never been so nervous before in my life."
On May 9, Biles shared an Instagram reel documenting the wedding day with gorgeous visuals and sweet moments of their special day.
June 2023: Biles and Owens celebrate their one-month anniversary
The happy couple celebrated one month since their wedding day on June 6 by posting a photo on Instagram. Biles wrote in the caption, "One month into forever loving you."