Simone Biles might be headed to prom, but her date isn't who you'd expect!
While I bet you were hoping it was the ever-so-dreamy Zac Efron who popped the (prom)posal, there is another young man vying for the gymnastics superstar's heart.
Enter Noah Fehr, a high school junior from West Bend, Iowa, who appears to have *quite* the crush on Biles.
And get ready to hug your nearest stuffed animal, single friends. His sign asking for a date read, "Number 1 in the World, Number 1 in my Heart, Simone Biles, PROM?" Ah, young love.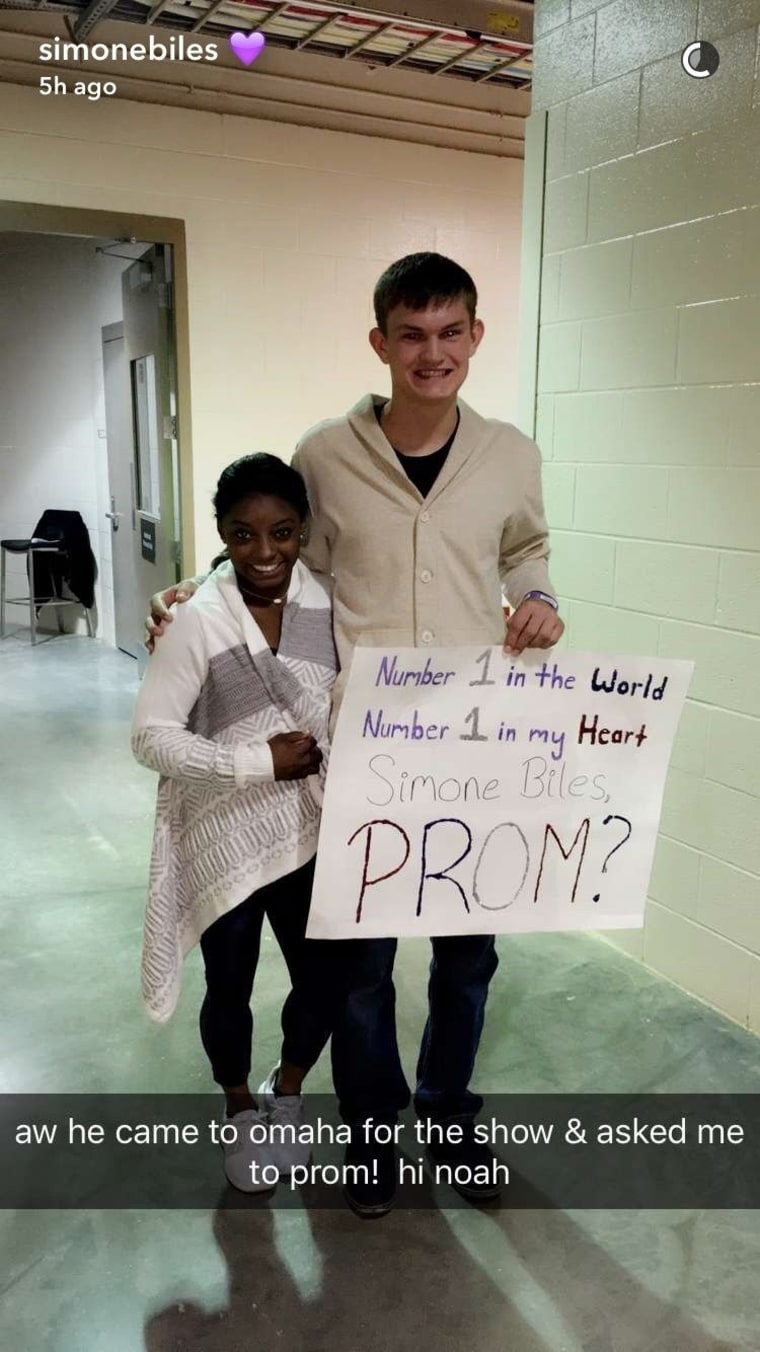 In an email on Tuesday, Fehr told TODAY he's always admired Biles for her athletic ability, since various health conditions have prevented him from playing sports himself.
The high schooler has rheumatoid arthritis and postural orthostatic tachycardia, which causes dizziness and fatigue, and, as a result, battles constant pain.
RELATED: Watch Simone Biles nearly pass out when crush Zac Efron surprises her in Rio
"I don't want Simone to come just because I suffer from these diseases," Fehr said. "I want to show other kids that suffer from chronic pain that they do not have to let that define them."
On Sept. 11, he posted a photo to Facebook in hopes of getting her attention. But when the message wasn't getting delivered, Fehr took matters into his own hands.
So on Oct. 8, he hopped in a car with a friend and the two drove nearly 200 miles to Omaha, Nebraska, for the 2016 Kellogg's Tour of Gymnastics Champions, where he met Biles and asked her to be his date.
RELATED: Simone Biles and Final Five reunite with Hoda Kotb, talk Tokyo Olympics
And let's give a collective round of applause for doing it six months in advance. That's dedication!
It's not clear whether Biles will definitely attend, but based on those smiles alone, we're crossing our fingers that it's a yes!
Here's to hoping we're looking at the next prom king and queen!