A woman who ducked into a Tennessee restaurant just to use the bathroom got a pricey surprise a few days later when she received a bill in the mail charging her for use of the facilities.
The appropriately named Flood Zone eatery tracked down Patricia Barnes using her license plate and mailed her an invoice for $5. That seems pretty steep, although there is a note in the bathroom warning non-patrons that they're subject to a potty fee.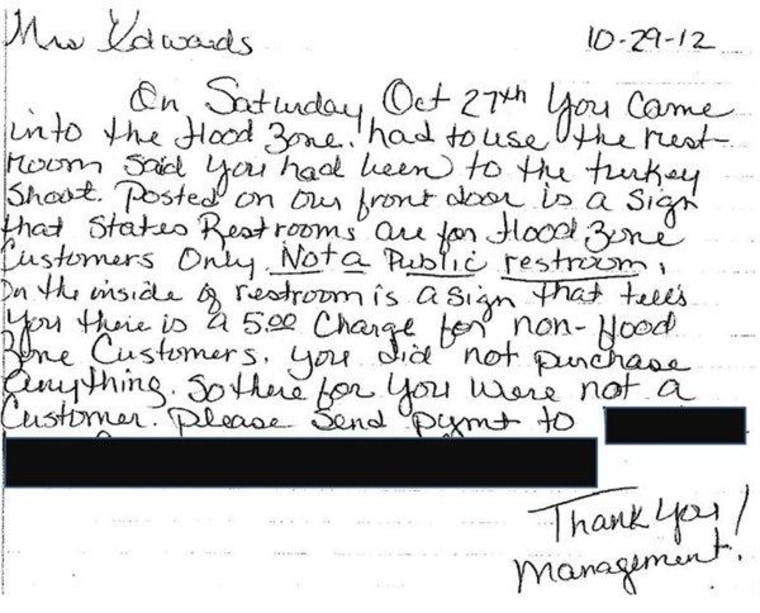 KLG said she didn't think non-customers using a bathroom was a big deal. Hoda, who is strongly motivated by guilt, says that if she stops into a restaurant use the facilities, she'll at least plunk down some cash for French fries.
Here's what our Facebook friends had to say:
Ara Sison Matias: "One chilly night, I was at Times Square and really needed to go. I went inside the first thing I saw which was Counter Burger. They were already closed but they still let me use the bathroom. I happen to work 2 blocks away from them. Because they were so nice, I have become one of their loyal customer and even had my friends try them too."
Missa Lowe: "While sightseeing on Bourbon Street my daughter and I noticed that to use the restroom in a business you must make a purchase. Thank goodness we are both over 21 since most of the places with public restrooms were bars. It made "paying to go" a little easier :) Cheers ladies!!"
Joyce Conrad: "How many times did I stop in a restaurant and not use their restrooms. I want a refund! This place must really be hard up for money!"
What do you think? Go weigh in on our Facebook page.
Julieanne Smolinski is a TODAY contributor who will use pretty much any excuse to buy fries.