It's not the most expensive back-to-school item on your list, but what receptacle your kid totes around his or her lunch on the first day of school certainly makes a statement. And these days, lunch boxes have come a long way from the simple metal pail circa 1900.
"At the time, a lunch pail wasn't chic — on the contrary, it was a sign you were far enough down the pay scale that you didn't have time or money for a decent hot noontime meal," write the authors of "Paileontology: A history of the lunchbox" in Whole Pop Magazine Online about the "heavy-duty metal thing made from a toolbox-grade metal that would protect the working man's noontime meal from anything less powerful than a small bomb."
The Golden Age
It wasn't until Nashville, Tenn.-based Aladdin plastered Hopalong Cassidy along side of a lunch box that it became a hot, pop-culture item. In recent years, vintage lunch boxes — especially from the "Golden Age" (1950-1980) — have become collectible. Collectors can snag a vintage box for as little as $20 or pay as much as a few thousand dollars, says Bryan Los, who runs Lunch Box Pad, a content site which contains all sorts of useful information about lunch boxes, including a glossary, a timeline, biographies of lunch box artists and a thermos anatomy lesson.
Superman (1954) and Bullwinkle (1962), made by Universal kits, are regarded as two of the top kits to own, according to Los, who has more than 500 pails in his collection and says the most he ever paid was $1,500 for a 1954 Superman lunch box a few years back.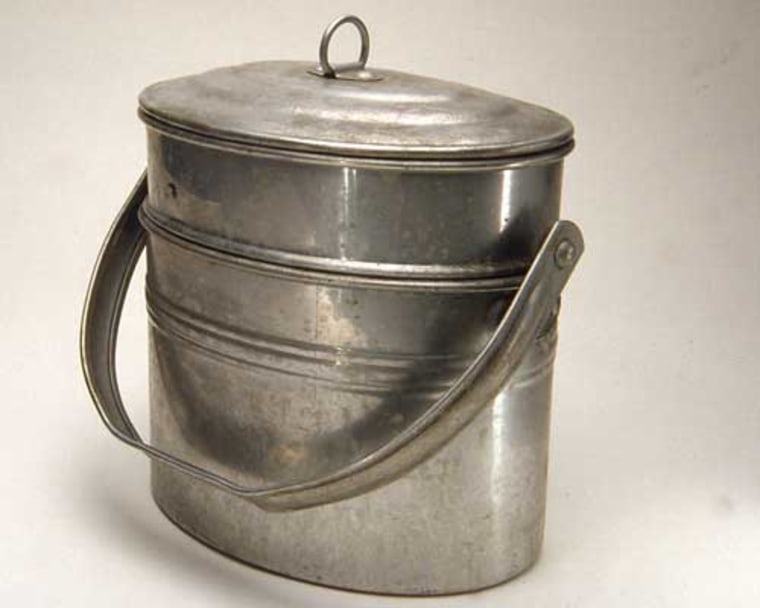 A 1978 Star Wars lunch box, however, trumps the 1978 Superman box at , where the boxes were selling for $975 and $650 respectively. Collectors also hawk their wares at auction sites, such as , where a 1968 Jungle Box lunch box recently sold for $463.26.
Serious lunch box collectors may want travel to Smithsonian's National Museum of American History, which houses an exhibit called "Taking America to Lunch." A sampling of the lunch boxes in the 75-piece collection is on view at the museum's . The collection includes several old miners' pails from the late 19th century.
From superheroes to anything pink
Fortunately for back-to-school shoppers, new lunch boxes cost a lot less than the vintage variety. At , lunch boxes average about $13 plus shipping, says company spokesperson Mike Dobbs. The one-stop cyber shop stocks more than 130 styles of three types of pails — metal, hard plastic and soft-insulated plastic. The least expensive item is a small-sized snack box for $7.65. The most expensive pail is the black dome-and-thermos set for $22.50 — "a throwback to the old construction worker lunch boxes from the 1950s and 1960s," says Dobbs.
Not surprisingly, the most popular motifs for school-aged kids, from kindergarten to about third grade, are cartoon, television and movie characters. Boys still favor superheroes, such as Spider-Man and Superman.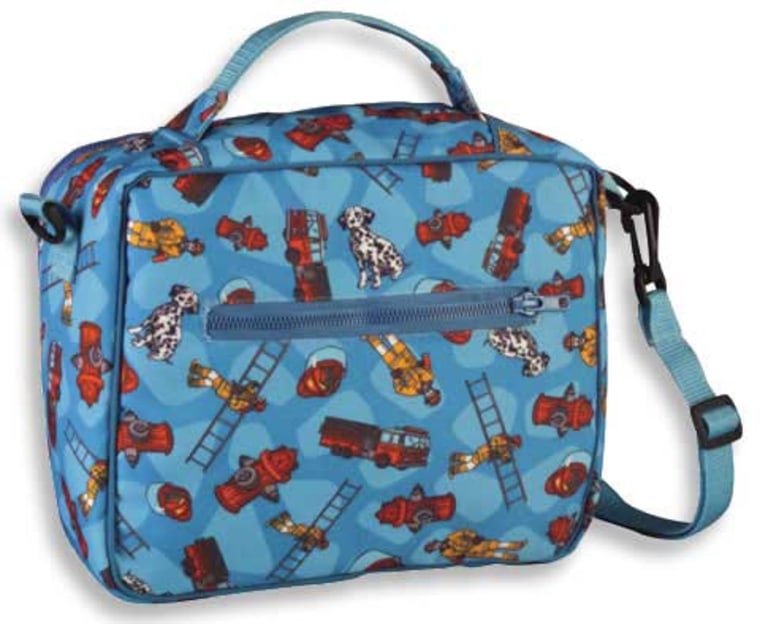 Girls seek out anything pink, from the super-sweet Strawberry Shortcake to the fashionable-yet-sometimes-controversial Barbie. Characters or themes from hot summer blockbuster films typically cross gender lines, such as Harry Potter, Hulk, Scooby Doo and Star Wars.
A relatively new trend is non-traditional shaped lunchboxes, says Dobbs. For example, the Scooby Doo Soft Mystery Machine lunch box, made by Thermos, is shaped like the microbus that the kids drive around in the cartoon, he says.
The bright turquoise lunch box sells for $13.95 at .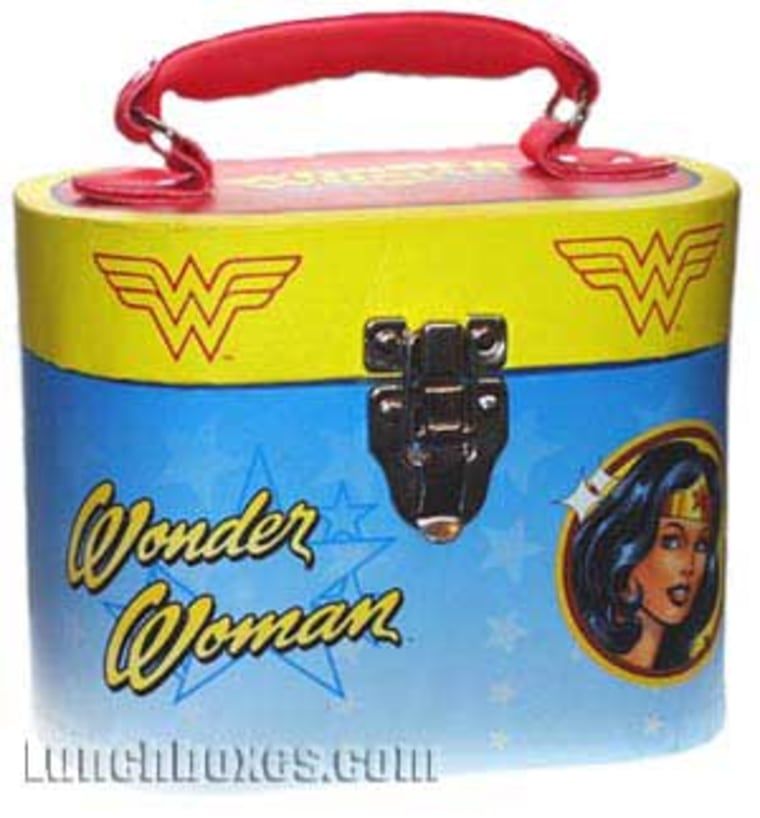 In contrast to showing off your favorite pop-culture icon, some lunch containers are "aspirational." Many of the soft-sided lunch bags from children's accessories manufacturer feature themes related to "when I grow up I want to be a ...," says Peter Hart, the company's managing partner. Fire trucks, ladders and Dalmatians cover the fireman lunch box. The astronauts' lunch box features pictures of the Earth and the moon, American flags and space capsules.
Wildkins lunch bags are sold at specialty stores nationwide, the company Web site for $14.95,   for $11.99 and for $14.99. Some shops stock matching backpacks, sleeping bags and duffels.
Hip alternativesThere's also a period where lunch boxes are just not cool, says Dobbs. And then they re-surface again. Some high school girls or "goth chicks" use a lunch box as a purse. Check out the Wonder Woman tote, complete with a mirror on the underside of the lid, at . Priced at $19.50, the cylindrical-shaped lunchbox easily doubles as a handbag. Other popular themes among high school students are the Grateful Dead, Iron Maiden and Kurt Cobain, adds Dobbs.
Alternative lunch receptacles include the very hip byo lunchbag, a new product from . The neoprene rubber bag opens up into a lunch mat and rolls up for storage. It sells for $19.99 and comes in hot pink, orange, cranberry red, navy blue and black.
At the opposite end of the lunch box spectrum is the almost indestructible Louie's lunch box from . The rugged 1200-denier tote has enough room for chow for one person throughout the day or one big meal to share with friends. Available in brown, burgundy and a two-tone black and gray, the 12 ½-by-8½-inch pack costs $24.99.
What's even cooler than buying a ready-made lunch box is designing your own.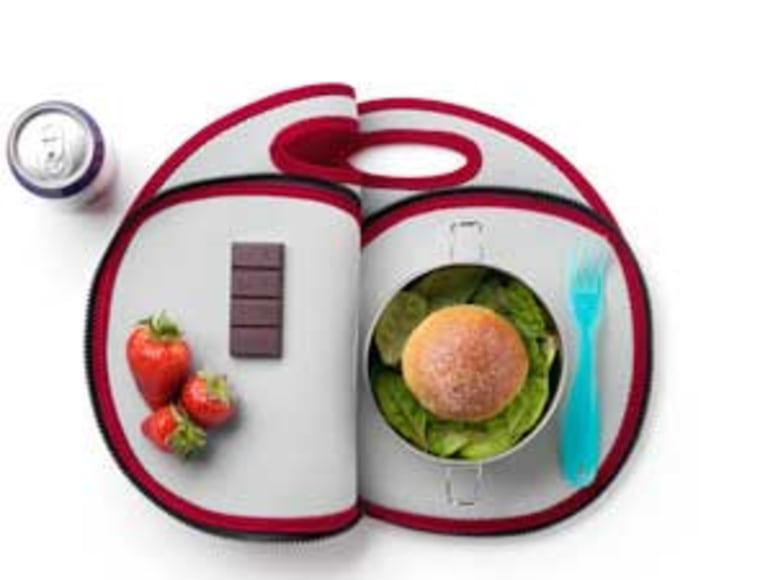 At , the process is relatively easy. Decide what you want to cover your lunch box—from a family photo to a home-made collage; send the art by e-mail or snail mail; pick a pail; and then wait 3 to 4 weeks for delivery. The pails, however, are costly. A traditional rectangular box sells for $35. A round tin cost $33.
Alison McCarthy, who founded the company shortly after Sept. 11, sees a lot of sentiment when it comes to designing lunch boxes. "I'm always amazed at the creativity and the insight you receive into people's lives," says McCarthy. "Looking through the lunch boxes is really looking in the heart of America — family, loved ones, shared memories, important first moments, even patriotism," she adds. "I never knew that a lunch box could mean so much."