/ Source: The Associated Press
This week brings us, "Wildflower," a disappointing album from the next Mrs. Lance Armstrong. On the bright side, comfort yourself with the best album Neil Young's produced in years, "Prairie Wind." It's the end of the trilogy that started with "Harvest" and "Harvest Moon." Ryan Adams tries to see how many CDs he can release in a year with "Jacksonville City Night."  Dana Cooper shows how it's done singer-songwriter style with the melodic "Made of Mud." Fiona Apple's CD, which was mysteriously leaked to the internet ages ago finally gets released. Charlie Sexton releases his first album in 10 years. And finally a little Texarkana band called Pilotdrift makes a CD well worth a listen.
Sheryl Crow, "Wildflower"Point to ponder while contemplating Sheryl Crow's new "Wildflower" CD: will a bad review earn a set of tread marks on my back?
Time to run. Don't be deceived into thinking that big rock on Crow's finger courtesy of fiancee Lance Armstrong will result in a giddy album of love songs. Instead, this disc is downbeat and downright boring.
Crow is 43 now, beyond the point where all you wanna do is have some fun. She's brooding over the big issues of life, love, loyalty and mortality, and that's more than understandable. It's just harder to make that into engaging pop-rock tunes, and that's Crow's strength, where she beat the odds to become very successful in a style that's no longer fashionable.
Here, you slog through seven earnest, mid-tempo songs until there's a sign of life: "Live it Up" has Crow urging someone to not let life pass them by, and it has the disc's strongest hook and quickest pace. "Always on Your Side" is the best of the rest, a stately ballad that benefits from stripping the music down. Otherwise, the production is simultaneously busy and rather anonymous, unwisely emphasizing Crow's thin vocals.
Perhaps "Wildflower" has a few seeds that will take time to grow. Pass the fertilizer, though. —David Bauder
Neil Young, "Prairie Wind"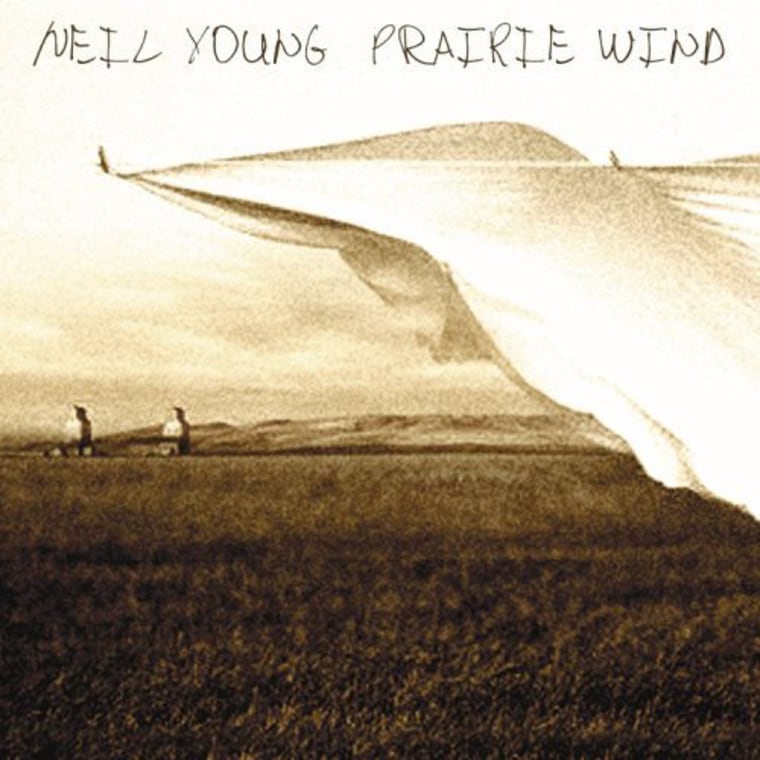 Neil Young's "Prairie Wind" is a gentle-sounding, acoustic-based album that packs an emotional wallop. It rightfully is being cast as the third in a trilogy of albums that started with "Harvest" in 1972 and continued with 1992's "Harvest Moon."
The specter of death hangs over "Prairie Wind," influenced no doubt by the diagnosis Young received around the time of its recording that he had a potentially deadly brain aneurysm.
Luckily for music fans, Young survived and now the album takes on more of a tale of survival than loss.
Really, Young does just about everything right on "Prairie Dream."
The lyrics are simple and heartfelt. The music is melodic and emotional. Together, they are classic Young and are likely to make "Prairie Wind" one of his most loved albums.
Just as the title suggests, "Prairie Wind" has an open, airy feel about it. The other musicians — Spooner Oldham on organ, Ben Keith on pedal steel guitar and Chad Cromwell on drums — provide a strong, familiar backbone.
Many of the songs seem like farewell notes — to loved ones, his father and even his guitar.
It wouldn't be much of a stretch to interpret "Here For You" as being sung from the perspective of someone who's already passed on. "Just close your eyes and I'll be there," Young sings.
On "Far From Home," Young makes a rollicking request to be buried on the prairie, not far from home, where the buffalo used to roam.
The final tune, "When God Made Me," is more a hymn than a rock song. With the Fisk University Jubilee Singers in the background, and Young at the piano, the song tackles some of the eternal questions that face many even when death is not imminent. It may be one of the most beautiful things Young's ever written. —Scott Bauer
Ryan Adams & The Cardinals, "Jacksonville City Night"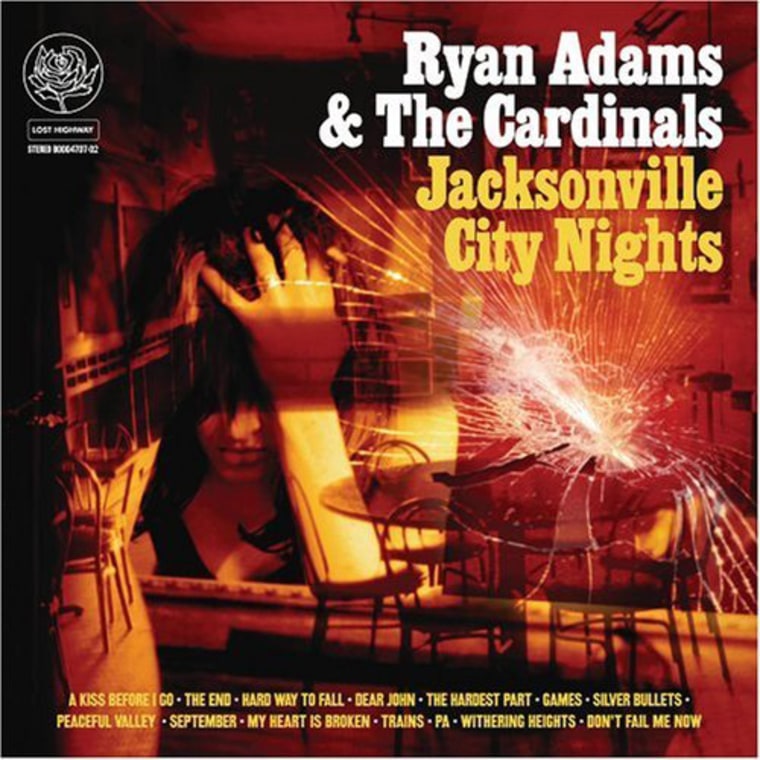 For his second of three releases this year, the super-prolific Ryan Adams offers what has become his specialty — honky-tonk songs and alcohol-soaked lyrics. Written as an homage to his North Carolina hometown, "Jacksonville City Nights" is mellow straight country.
Playing with his band The Cardinals, Adams opens with a great drinking song, "A Kiss Before I Go" and doesn't let up. Adams' signature rockabilly pace and his twangy croon continue on "The Hardest Part" and "Trains."
But the album is mostly filled with quiet acoustic songs like "September" and "Peaceful Valley." Having previously worked with actress Parker Posey and Emmylou Harris, Adams duets with Norah Jones this time around on a soulful "Dear John."
Known for his witty but achingly beautiful lyrics, Adams retains his reputation. This isn't the masterpiece that was Adams' solo debut "Heartbreaker," but few albums by any artist could be. "Jacksonville City Nights" is in the same vein and just as valuable. —Caryn Rouseau
Dana Cooper, "Made of Mud" "Made of Mud" is made of melodies — the instantly engaging kind difficult to find on the charts today. Singer-songwriter Dana Cooper's subjects range from love and death to religion and politics, with a topical undercurrent throughout, and he makes everything hummable.
Part of Cooper's secret is his relaxed, soft-focus voice. Reminiscent of Jules Shear, it coaxes fresh melodic charms from even Woody Guthrie's venerable "Pretty Boy Floyd." Other highlights include three beautiful ballads and the Byrdsian rocker "Sit This One Out," a plea for peace and quiet. The understated, guitar-based arrangements are nicely embellished with the occasional lap steel, harmonica or flugelhorn.
Cooper began making records more than 30 years ago, and he has clearly mastered the craft. —Steven Wine
Fiona Apple, "Extraordinary Machine"
Fiona Apple's long-overdue third album, "Extraordinary Machine," doesn't match up to the more minimalist 'unfinished' version that was leaked on the Internet months ago. But on its own merits, "Extraordinary Machine" is a good album and properly returns one of the most talented singers on the planet to the spotlight.
Apple and her handlers handed over the production reins to Mike Elizondo after Jon Brion took a swipe and failed to impress someone, somewhere in a suit. It's unfortunate for those who appreciate giving Apple room to shine instead of saddling her with production room bluster.
"Red Red Red" is an exceptional song about a relationship slowly changing, and the quest for emotional harmony without compromising individual identity. It's a slow-paced track, but infused with fire behind Apple's soulful voice. She's never sounded better vocally.
However, Elizondo took the sting out of many of the tracks. He botched the steamy song "O' Sailor" by adding some corny background vocals where none were needed. And he took the energy out "Please Please Please," a punchy potential hit now stuck with a lot of drum cymbals work and less of the whimsical staccato pace that made the leaked version shine.
This is still good music mind you, but it's been better. The leaked album sounded like a bunch of talented youngsters snuck into an abandoned orchestra pit and made some beautiful music when no adults were around to give them "direction."
The official release sounds like an annoying kid with Pro Tools tagged along. —Ron Harris
Charlie Sexton, "Cruel and Gentle Things"Charlie Sexton knows all about "Cruel and Gentle Things."
After rocketing to stardom as a teenage guitar whiz in the 1980s, he just as quickly fell back to Earth and out of the spotlight.
And when Sexton got what many considered the break of a lifetime playing guitar for Bob Dylan's band a few years ago, his marriage broke up.
In many ways, "Cruel and Gentle Things" — his first album in 10 years — is a lifetime in the making.
Dark, introspective and haunting, Sexton's mark is all over the disc even though there's not a showoff guitar solo to be found.
Not only did Sexton produce, he wrote or co-wrote all 10 tracks, sings lead, and plays a variety of instruments including piano, drums, bass guitar and tambourine.
The opening track, "Gospel," gives an idea of what to expect with lines like "I look to the hymns when my spirit sinks, don't look for Jesus, he's closer than you think."
"So I'm taking inspiration with the gloom, cause usually where there is a tear, there's a tune," he sings on "It Don't Take Long."
Clearly, there's a lot of pain being expressed here. A party record it is not.
Sexton's voice is unique. With a cigarette-influenced rasp, Sexton seems to channel all the juke joints, concert halls and empty hotel rooms around the world where he's made his living.
Backed with a strong rhythm section, anchored by Sexton's confident but restrained guitar playing, "Cruel and Gentle Things" certainly gets its point across in a way that many artists are afraid to express. —Scott Bauer
Pilotdrift, "Water Sphere"
"Water Sphere," a collection of synthesized symphonic sounds, worldly rhythms, operatic power chords and coffeehouse poetry, is something unlikely to be heard on commercial radio. That's because Pilotdrift's debut album fits no format known to Earth. Mars maybe; perhaps Saturn.
This juxtaposition of truly beautiful harmonics and sparse lyrics is exquisite. It makes me long for the late '70s, when any self-respecting music lover had a quadraphonic stereo system and those huge, cushy headphones that enabled you to envelope yourself in the space-bending sounds of experimental rock.
Instead, I surround myself with Pilotdrift's aura during my drive to the office, much like the corporate workers described in the second cut "Bubblecraft" who rush off in their water spheres, supported by a bossa nova beat.
There are circus rhythms, rocking laments, clever beat changes and bizarre passages that seem to have been channeled from pirates or dark characters of the Victorian era.
The five members of this Texarkana band have come up with something entirely unusual and delicately beautiful. —Michelle Morgante