Blake Shelton and Adam Levine have been known to employ some sneaky tricks when it comes to keeping their rivalry alive on "The Voice." From Levine dumping manure into the bed of Shelton's truck last season, to Blake tweeting Levine's real phone number to the masses (the act that inspired the manure retribution), the frienemies have set the competitive tone the show. But that tone may soon change a bit, now that new coaches Gwen Stefani and Pharrell Williams are taking seats next to them in the big red chairs.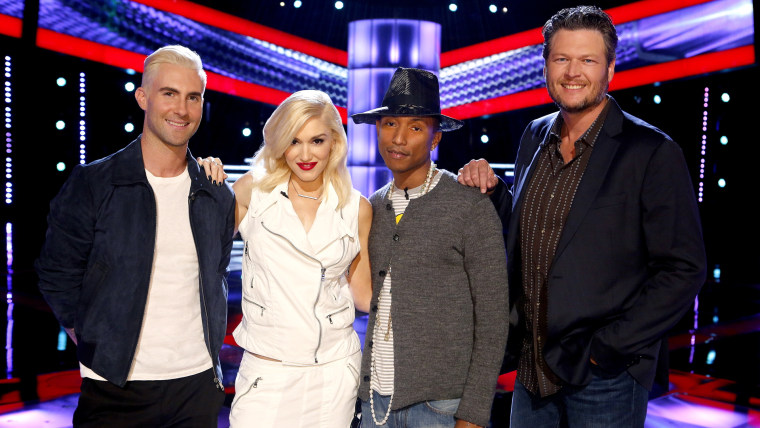 Stefani and Williams, who have been buddies since they started making beautiful music together, such as Stefani's "Hollaback Girl" in 2004 and Williams' "Can I Have It Like That" in 2005, are finding it difficult to adopt the playfully bad behavior and bickering banter of their fellow coaches. During the blind auditions for the upcoming season, the newbies often chose to turn around for the same contestants, but couldn't bring themselves to say anything mean about the other when trying to convince singers to join their team.
"It's like watching a candy cane swordfight," Levine joked as Stefani and Williams complimented each other — and at some points held hands — while trying to dissuade contestants from choosing the other coach.
Sign up to have top entertainment news sent directly to your inbox.
"They're going to nice each other to death!" Shelton said, adding that Stefani and Williams fight with "rainbows and happiness."
During the blinds, Williams told his fellow coaches that he refuses to "sling mud." (That probably goes for manure as well.)
Stefani and Williams may be playing a good-natured game, but Levine and Shelton appear to have thought up new ways to get to each other since we last saw them. At one point, when Shelton poked fun at Williams' famously over-sized Grammys hat by plopping on an even bigger version, Levine compared Blake to a horse's behind.
Although Stefani and Williams are being kind to their fellow judges, it certainly doesn't mean that they aren't in it to win it. Each brings a very distinct coaching style to the show. Stefani has a maternal presence on set, which is no surprise since the No Doubt front woman is the mother to three boys. While she was very picky about which contestants she turned around for, she did her best to comfort those she didn't choose, often going up on stage to provide a consoling hug.
Williams brings a much more psychological approach to coaching than any of the big red chair's previous occupants. Delving deep into the contestants' motives for trying out for "The Voice," Williams provided plenty of thought-provoking encouragement to rejected contestants.
Stefani and Williams may have very different coaching styles than Levine and Shelton, but the senior coaches appear to be doing their best to welcome their new fellow panelists and give them advice on how to succeed on the show. In fact, Levine even offered Stefani tips on how to achieve the perfect "leg up" stance while sitting in the Big Red Chair. Stefani didn't quite master the move, but luckily she has a few months to get it right before the live episodes begin.
Season seven of "The Voice" kicks off Sept. 22 on NBC.