When Syfy's "Sharknado" hit the small screen in 2013, it was a surprise success. And as it turns out, no one was more surprised than the stars themselves.
"I wasn't talking about it before it aired," shark slayer Ian Ziering admitted during a Tuesday visit to TODAY. "I thought it would be a bomb. I thought it would be completely under the radar. I thought no one would see it. Then it blew up, and then I talked about it."
Leading lady Tara Reid felt the same.
"I had no clue," she said of the made-for-TV film's potential. "I was in Mexico on vacation and I get this phone call, 'Oh, my God! Do you know what's happening? Can you believe it?" I'm thinking, 'What?' 'Sharknado's getting a million hits per minute on Twitter!'"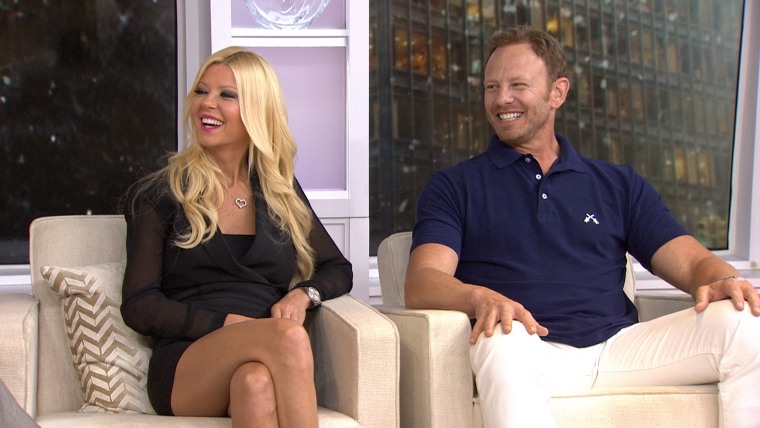 But looking back now, following the success of a sequel ("Sharknado 2: The Second One") and with a new installment ("Sharknado 3: Oh Hell No!") on the way, they think they know to secret to the franchise's success.
"[It's] the fact that we play it serious in such an absurd situation — it's comedy," Reid explained.
As for a sample of the absurdity that's on the way in "Sharknado 3," Reid's character, who lost a hand in the last movie, will be back in business with a bionic replacement.
"It's something Inspector Gadget would be very envious of," Ziering teased.
And we're sure it'll look somewhat, kinda-sorta realistic! After all, all of the "Sharknado" movies are known for their budgets — or lack thereof.
"Hundreds of millions of dollars!" Ziering joked of the money used to bring the sharks and more to life before adding that it's really "not much" at all.
See the movie magic for yourself when "Sharknado 3" airs Wednesday night at 9 p.m. ET on Syfy.