Batten down the hatches, "Sharknado" fans: The year's most highly anticipated TV film sequel based on aquatic creatures and weather systems gone amok is almost here. And TODAY viewers who tune in to "Sharknado 2: The Second One" Wednesday night will get a special treat: seeing Matt Lauer and Al Roker helping to save humanity.
On TODAY Wednesday, Lauer led viewers through a behind-the-scenes preview of the Syfy sequel. In moving the action from Los Angeles to New York City — news capital of the world — the filmmakers knew they needed gravitas from some esteemed broadcasters. Lauer and Roker were the perfect fit.

"Who were we to deny destiny?" Lauer asked during the tongue-in-cheek segment about the anchors' roles in the film, which revels in its B-movie so-bad-it's-good awesomeness. Director Anthony Ferrante joked that Judah Friedlander and Meryl Streep had been angling to play Lauer and Roker, but their schedules were booked. 
Fans sure are making time for the film. They all but had a feeding frenzy on the TODAY plaza, donning shark heads and toting ominous signs.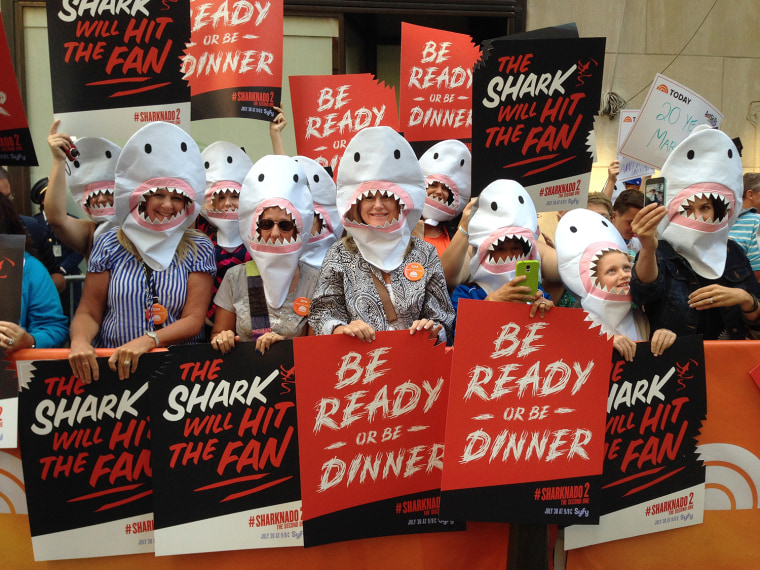 Lauer isn't surprised by the outpouring of interest. "We think we did fairly fin-tastic," he quipped.
"Sharknado 2: The Second One" premieres Wednesday night on Syfy at 9 p.m. ET.