/ Source: The Associated Press
The Cannes Film Festival has had its first shark attack.
Will Smith, Angelina Jolie and Jack Black rode a 14-foot inflatable shark Friday along the beach in the Mediterranean resort town to promote their upcoming computer-animated flick "Shark Tale," which debuts in October.
Robert De Niro, Renee Zellweger and Martin Scorsese also provide key voices for "Shark Tale," the latest animated movie to hook a string of top-name talent. Since Tom Hanks and Tim Allen's original "Toy Story," more and more leading Hollywood actors have lent their voices to cartoons.
"It's so much fun to get in there and be able to create these characters," Smith said in an interview with The Associated Press. "As the films start getting better and getting more attention, this is something that top talent absolutely will be more and more involved in."
For DreamWorks, the studio founded by Steven Spielberg, Jeffrey Katzenberg and David Geffen, Cannes has become a habitual launch spot for animated movies. The studio's 2001 hit "Shrek" was the first cartoon movie to play in the main competition at Cannes in nearly 30 years, and the sequel "Shrek 2" debuts at the festival Saturday, also in competition.
Spreading the animation messageDreamWorks' animated horse story "Spirit: Stallion of the Cimarron" was at the festival in 2002, and the studio showed Cannes reporters about 25 minutes of "Shark Tale" footage. Also in the Cannes competition this year is "Ghost in the Shell 2: Innocence," a Japanese anime adventure that DreamWorks is distributing in the United States.
"For a 10-day period of time, for the entertainment media from the world, this is the center of the universe," Katzenberg, DreamWorks' animation overseer, told the AP. "Everybody comes here, everybody participates, so it's an incredibly effective way to be able to send your message out around the world."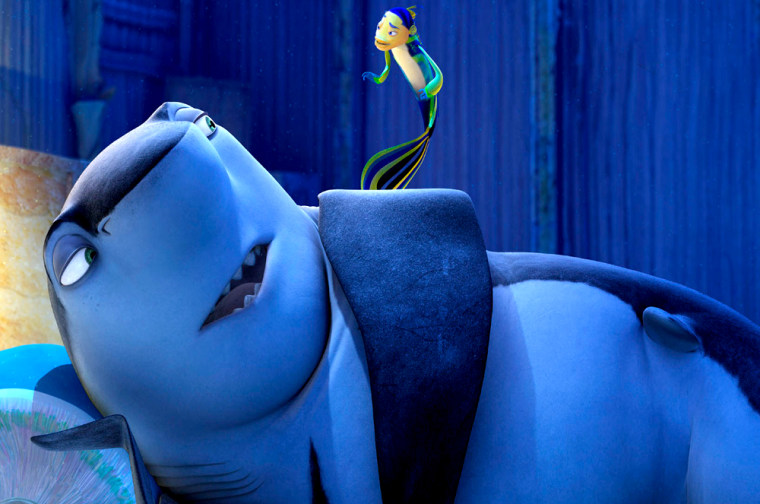 As Smith, Jolie and Black took their shark ride, dozens of photographers and TV camera crews shot images, while hundreds of celebrity gawkers watched. At the end of the ride, Black leaped off the shark into the water.
Black was equally animated earlier, when he, Smith and Jolie introduced clips from "Shark Tale" for reporters.
"If nothing else, I can at least say that I have made a movie with Martin Scorsese and Robert De Niro," Black joked. Since the voice actors recorded their scenes separately, "I haven't met Martin Scorsese and Robert De Niro," Black added.
Directed by Eric "Bibo" Bergeron and "Shrek" co-director Vicky Jenson, "Shark Tale" follows the exploits of small fry Oscar (Smith), a fish scheming to get out of debt to a puffer fish loan shark (Scorsese), whom he owes 5,000 clams. Oscar finds bigger trouble with his fish story about slaying a great white shark that was the son of the local mob boss (De Niro).
Black plays the mobster's other son, a sensitive vegetarian shark who befriends Oscar. Zellweger provides the voice of an angel fish smitten with Oscar, and Jolie plays a sexy, gold-digging dragon fish.
Femme-fatale fishThe animators crafted creatures whose features bear eerie resemblances to some of the stars. Jolie joked that her femme-fatale fish has her own "big mouth and pointy eyebrows," while Smith said the animators really captured his ears with Oscar.
"I didn't realize they were going to make it resemble me that much. Again, it's the ears, the perfect resemblance of the ears. It's fun. My kids love it," Smith said. "That was one of the big reasons why I wanted to do it, just something that my kids could watch and enjoy and have a little daddy resemblance."
The animators also created a beauty worthy of Jolie, Smith said.
"When I first saw Angie's fish, I started eating sushi," Smith wisecracked.
"Shark Tale" comes in the wake of last year's fish story "Finding Nemo," the top-grossing animated movie ever. The filmmakers have no worries audiences will view "Shark Tale" as a copycat, though.
"I highly doubt it. This is kind of mafia underwater. I think just the scene alone with De Niro and Scorsese shows that this is a very different film," Jolie told the AP, referring to wise-guy banter reminiscent of dialogue in Scorsese's "Goodfellas." "I really wouldn't compare them, other than they are animated and they're fish."