Shannen Doherty is reminiscing on the good ol' "Beverly Hills, 90210" days, and it'll have you longing for those fun times back at the Peach Pit.
In a new Instagram pic, featuring Doherty in character as Brenda and Luke Perry as Dylan, our fav '90s couple are having a pre-smooch moment.
"I don't Even know what day it is right now due to jet lag but here's a throwback anyway," Doherty, 47, captioned the cute photo.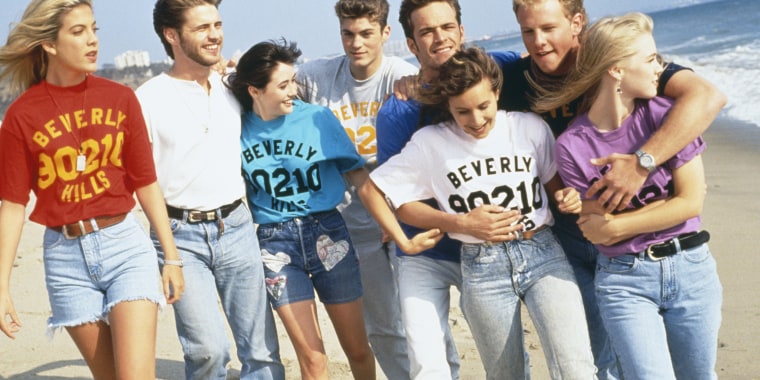 The "90210" gang still cherishes their time together even after leaving West Beverly High, often posting pics of their get-togethers over the years. Back in 2016, when Doherty was being treated for breast cancer, the cast members honored her during the "90210" reunion at REWind Con in Chicago when Doherty couldn't be there.
Luke Perry, 52 — who we all remember as the show's brooding heartthrob, Dylan, and now plays the dad of teenager Archie Andrews in The CW series "Riverdale" — recently said on TODAY that he would be interested in a "90210" reboot (as long as he could bring back Dylan's signature 'do).
"I'd like to go back and work with my guys," he said. "Yeah, I've been doing something else and that's been fun, but I'd love to do scenes with Shannen again."
Looks like the Brenda-Dylan connection is still strong! In the meantime, we'll have to be satisfied with these throwbacks — keep 'em coming, Shannen!