Shakira says her journey in the last year has reminded her who she is.
While accepting the Woman of the Year at the first Billboard Latin Women in Music show in Miami on Sunday, May 7, Shakira spoke about her year of growth and change.
"As you all know, this has been a year of seismic change in my life where I've felt more than ever ... what it is to be a woman and what it means to be a woman," she said in Spanish. TODAY translated her speech to English.
"It's been a year where I've realized we women are much stronger than we think, we are braver than we believed, and more independent than we were taught to be."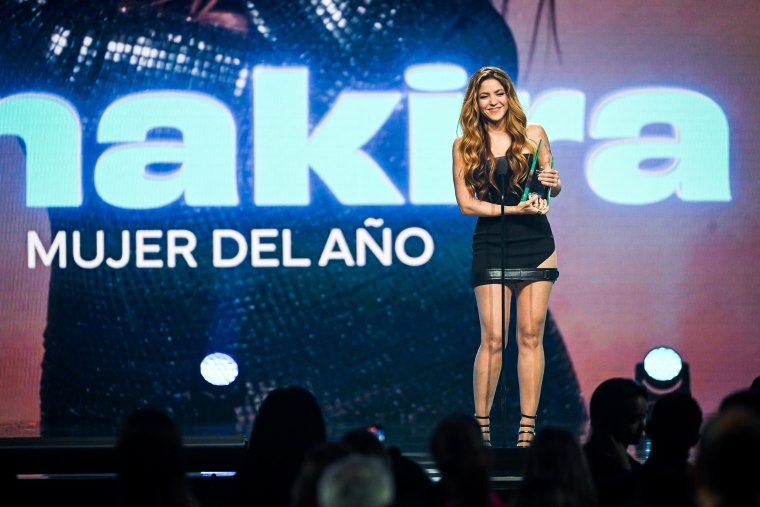 The "as you all know" Shakira said seems to be referring to her headline-making series of life changes. In June of 2022, Shakira and her former partner, retired soccer player Gerard Piqué, announced they were splitting after 11 years. Less than year later, Shakira moved from Barcelona to Miami with their sons Milan, 10, and Sasha, 8.
"What woman hasn't at some time in her life forgotten herself because she's seeking the attention and love of someone else?" she asked the crowd. "It happened to me, more than once."
There is a time for women when the search for someone else is replaced by the search for oneself. A time when the desire to be perfect is replaced by the desire to be authentic.
- Shakira
"But there also comes a time in the life of every woman where she no longer depends on someone else to love and accepts herself just as she is," the pop star continued. "I believe there is a time for women when the search for someone else is replaced by the search for oneself. A time when the desire to be perfect is replaced by the desire to be authentic. And where finding someone who is faithful is less important than being faithful to ourselves."
The "Hips Don't Lie" singer credited music for helping her through difficult times.
"It's true that when I felt most lost, it was music that put me back on the road back to myself," she said.
She also thanked her mom for inspiring her.
"There is one special woman who has inspired me more than anyone else — she is not here now, but my mother, Nidya Ripoll," she said. "Mami, if you are watching me on the TV: Despite the hardships you've faced this year, you're still standing with limitless love and resilience. For me, Mami, you are my woman of the year."
She also accepted the award for her sons: "For them, I want to be a better woman every day, so this recognition is for you."
She went on to pay tribute the women she shares the award with.
"I receive this honor with lots of love, but for me, more than celebrating the woman of the year, we should celebrate the year of the woman. A year where women have touched subjects we shouldn't have touched and said things we shouldn't have said. And though some may have complained about it, there's no going back.
"Together, we've taken a step forward and with each step, we're more free and more fulfilled," she closed. "Thank you for this recognition ... I share it with those incredible women I call 'sisters,' who have taught me so much because they understand their own vulnerability, but also their own strength."
Shakira has been previously candid about her recent upheaval. In February 2023, during her first TV interview since separating from Piqué, Shakira said this has been an "honest and brutal time" in her life.
"Not all dreams in life come true," she said. "But life finds a way to make it up to you in some way."
Piqué has since gone Instagram official with his girlfriend, Clara Chia Martí.
Many Shakira fans saw her song "BZRP Music Session #53," released in January, as a revenge song. In the track, she sings about being too good for the person and references his new partner: "I wish you luck with my supposed replacement." She also sings, "I'm too good for you, and that's why you're with someone just like you."