TODAY's own Hoda Kotb stopped by the "Watch What Happens Live" clubhouse Tuesday, and participated in a bit of late-night morning-TV talk when a viewer called in with one tough question.
"Marry/Shag/Kill: Matt, Carson and Willie?"
Yes, that viewer went there.
The pained looked on Hoda's face said that she really didn't want to field the question that would make her pick between co-anchors Matt Lauer, Carson Daly and Willie Geist, but her words said a whole lot more!
"OK, I'm going to have to — oh, man — OK, here we go!" she started. "Um, shag Matt, marry Willie, kill Carson."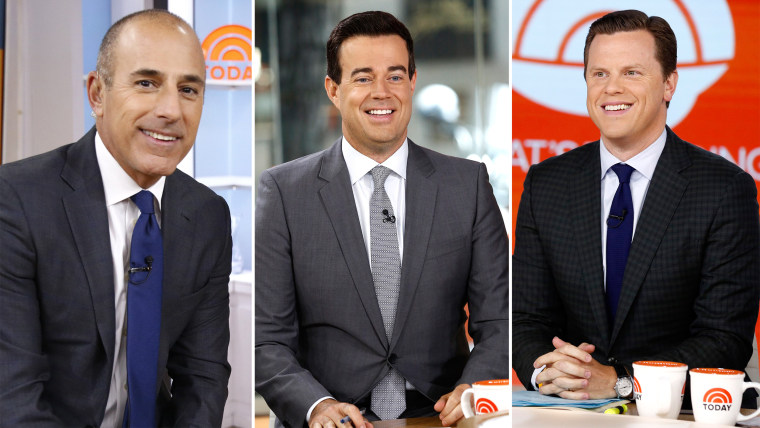 Throwing her hands up in the universal I-didn't-want-to-do-it gesture, Hoda added, "I'm sorry, and I love Carson. I love Carson."
But Carson wasn't feeling the love Wednesday morning, when he sat across from her as the clip played.
"I wanted to shag two people!" she assured him, making the anchors, including would-be husband Willie, perk up.
Oh, but Carson wasn't the only one who got the regretful short shrift Tuesday night. Another caller asked Hoda to pick an on-air replacement for her TODAY BFF Kathie Lee Gifford.
The catch was that the replacement had to come from the "Real Housewives of Beverly Hills" pool — and Hoda couldn't pick Lisa Vanderpump, who was seated by her side during the "WWHL" interview.
So who got the job? In that alternate universe, it would be Hoda Kotb and Kyle Richards on TODAY's Fourth Hour.
Follow Ree Hines on Twitter.