Whether you're a Carrie, Miranda, Charlotte or Samantha, you've got a reason to celebrate because Wednesday marks the 20th anniversary of the "Sex and the City" television premiere.
Kristin Davis, who played good girl Charlotte York on the groundbreaking HBO series, honored the special occasion on Instagram with a note of gratitude for everyone — including fans — who helped make "SATC" great.
Davis, 53, shared a tearful photo of herself with co-stars Sarah Jessica Parker, Cynthia Nixon and Kim Cattrall taken on their final day of shooting.
"I like this one of the last day we filmed the series because it shows the writers and crew. An incredible bunch of humans who are not acknowledged enough!" she wrote.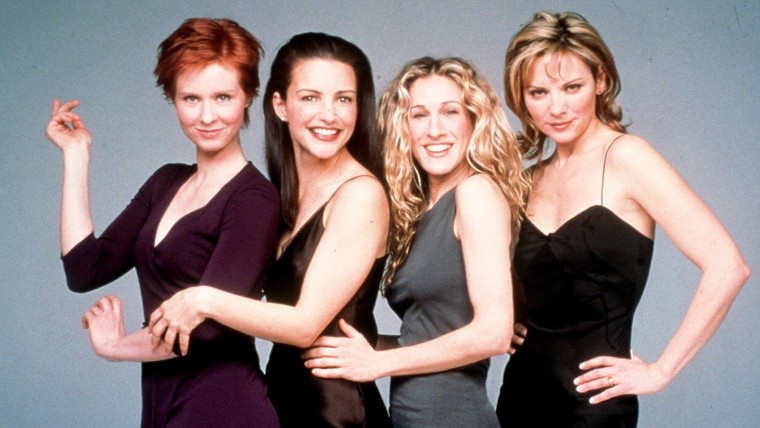 The photo also captures "how much the show mattered to us," Davis continued.
"Sarah Jessica Parker and I cried like babies on the street. What we were all able to do together and the support from the fans around the world was beyond our wildest dreams. We are connected forever and I am so grateful," she wrote.
As for Parker, 53, she shared her own memories on Instagram, including some of her character Carrie's most memorable fashions — like that Dior newspaper-print dress from back in the day — and a few sweet pics alongside her fellow former cast members.
The actress captioned the shots with a verse about how difficult it was to choose the photos and words she included, and she added this: "'Were those some of the best years of your life?' Abso-f&*#-ing-lutely.​"
Nixon, 52, who's currently running for governor of New York, toasted the show's 20th with a new line of "SATC"-inspired campaign swag. The actress and activist, who played career-minded lawyer Miranda Hobbes, shared a video of the new goods, which include a tote bag adorned with the phrase "I'm a Miranda and I'm voting for Cynthia."
Funnyman Mario Cantone, 58, who brought laughs as blunt and bawdy wedding planner Anthony Marantino, celebrated with a throwback of Carrie Bradshaw (Parker) in her wedding dress from the first "Sex and the City" movie.
Willie Garson shared a giggly throwback with Parker, writing, "What a ride our little family has taken together."
The 54-year-old actor, who played Carrie's sassy BFF Stanford Blatch, said he was "grateful" to be able to tell so many stories during the Emmy-winning show's six seasons and in its two feature films.
"Happy 20th anniversary and thanks to all viewers everywhere," he wrote. "We sure have appreciated you taking us into your lives and what you let us get away with."