Broadway musicals have so much to offer, but as stage veteran (and host of "The Late Late Show") James Corden knows, there's not nearly enough opportunity for performers to become roadkill.
He decided to remedy that on the show Wednesday night, as two stars from "Neighbors 2: Sorority Rising," Seth Rogen and Rose Byrne, joined him for "Crosswalk the Musical: The Lion King."
The extended segment featured Corden playing an egoistic taskmaster of a musical director (who naturally snags the key role of Simba for himself) revving up his troupe of excited performers for a performance of "The Lion King" — which just so happens to take place on a crosswalk in Los Angeles.
MORE: James Corden brings 'Grease' to the streets of LA in crosswalk tribute
Byrne and Rogen are both enlisted to the cause, and while Byrne is delighted, Rogen is baffled. "What is happening?" he asks the camera. "I think there's been a mistake."
"Rose, I know has a lot of the theater [experience] and a joy of performing theatrically," Corden says later. "Seth's agent ... is very pushy."
Thus kicks off one of the best running jokes of the skit: That Rogen doesn't want to be there and Corden doesn't really want him there (apparently Rogen landed a role in "Steve Jobs" that Corden claims he was asked to play). Rogen's name badge is even misspelled as "Sath," and he's assigned the role of "scenery."
But then the music and the magic and the mayhem starts as everyone, in costume, takes it to the streets: The cast dashes into the crosswalk when a light turns red and launches into "I Just Can't Wait to Be King," then dashes off again when the light turns green (or when people start honking).
"The stakes are higher" in the crosswalk, admits Byrne.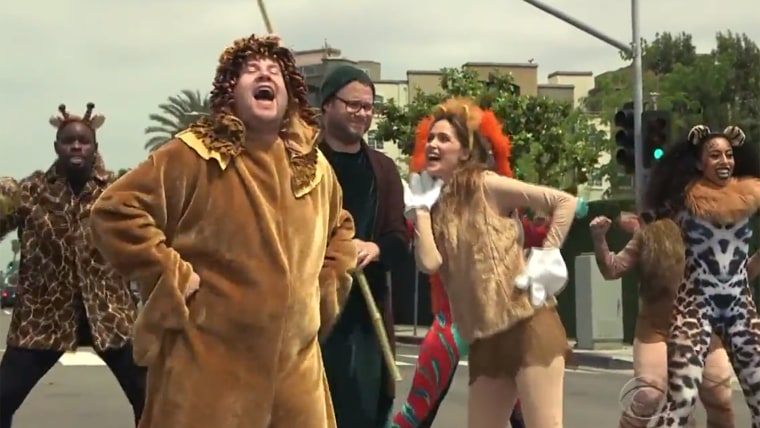 The cast run through several hit songs, including "Hakuna Matata" and "Can You Feel the Love Tonight," all told in fits and starts and all with the potential to end in bodily injury. Most of the "audience" in their cars seem to be into it, clapping along or gaping their mouths, but at least one looks bored out of his mind.
MORE: Seth Rogen on how he learned to smoke … brisket & what he won't serve at cookouts
And believe it or not, "Sath" even manages to win Corden over after he holds a giant moon over "Simba" and "Nala."
"Did anybody see what just happened there? I didn't see this guy, I just saw the moon," Corden gushes.
Yep, we can totally feel the love.
Follow Randee Dawn on Twitter.